Down in the dumps? Considering an asymmetrical haircut? Thank goodness you came to us first — partly because not every head shape can make that look work, but also because the best way to get rid of the blues is with plenty of bleus — cheese, that is. Moldy gold. French cave fruit. Oklahoma City is lousy with the stuff.
— by Greg Elwell,
photos by Mark Hancock and Garett Fisbeck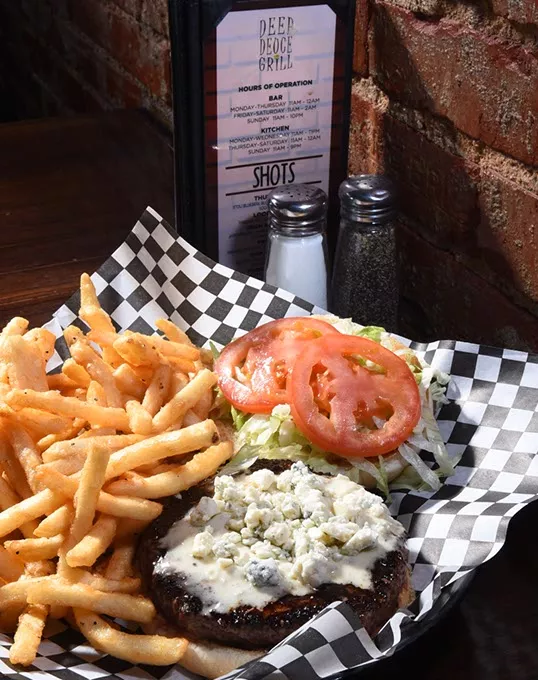 Mark Hancock
Blackened Bleu Cheese Burger at Deep Deuce Grill, in Deep Deuce, Oklahoma City, 2-3-16.
Deep Deuce Grill
323 NE Second St.
235-9100
Rumors that the chefs at Deep Deuce Grill have actual fistfights with the blackened bleu cheese burger are just that. Maybe they tenderize the steaks or tune up the chicken breasts, but those cheeseburgers are just coated in spices, fried to perfection and topped with a bleu cheese cream sauce for a sandwich that is moist and nearly dripping with powerful flavors. Fights could break out if someone tries to take a bite of yours, though.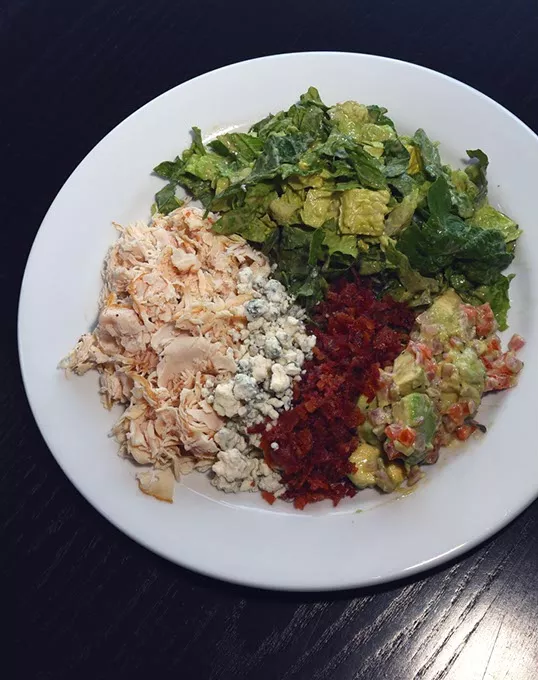 Mark Hancock
Deconstructed Cobb Salad at West Bricktown, 2-3-16.
West in Bricktown
1 S. Mickey Mantle Drive
601-5306
After decades of construction in Bricktown, it's nice to finally see some deconstruction. So when you order the deconstructed Cobb salad at West, you don't have to worry about taking a wrecking ball to a pile of roasted chicken, bacon, avocado, tomatoes and bleu cheese — unless you count your mouth as a wrecking ball, in which case, put on your hard hat and level that salad.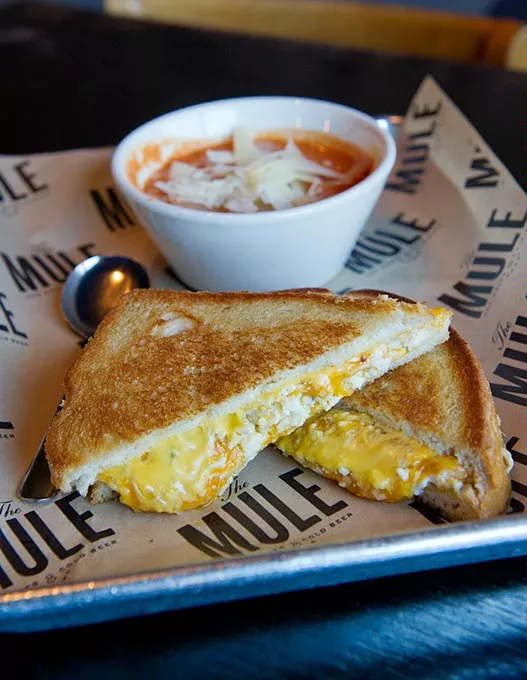 Garett Fisbeck
Big Ass Grilled Cheese (Feeling Bleu) at The Mule in Oklahoma City, Wednesday, Feb. 10, 2016.
The Mule
1630 N. Blackwelder Ave.
601-1400
The Mule is perhaps the most sensitive sandwich shop in the metro. The caring, emotionally available wait staff has been known to frequently ask customers if they are "feeling bleu." It's OK to cry. They're used to it. But after drying those eyes with a few paper towels, don't forget to add some tangy bleu cheese to the Big Ass Grilled Cheese, which, as the name implies, is quite large.
Garett Fisbeck
Blue cheese cookies at Rococo in Oklahoma City, Wednesday, Feb. 10, 2016.
Rococo
2824 N. Pennsylvania Ave.
528-2824
Cookies are not cookies at Rococo. No doubt owner Bruce Rinehart could whip up a batch of chocolate chip cookies that would heal a troubled soul, but at his East Coast-style eatery, the cookies are slices of baguette with a myriad of tasty toppings. The bleu cheese cookies are toasted with a mix of three cheeses to mellow out that big bleu bite and mixed with toasted garlic. They're a good appetizer before the main course arrives.
Mark Hancock
Fire and Ice salad at Deep Fork Grill, 5418 N. Western Avenue in Oklahoma City, 2-3-16.
Deep Fork Wood Grill & Seafood
5418 N. Western Ave.
848-7678
James Taylor said it best when he sang, "I've seen fire and I've seen rain. I've seen bleu cheese crumbles that I hoped would never end. I ate candied pecan when I could not find a friend. But I always thought we should go to Deep Fork Grill one more time again."
Of course, the music industry changed the lyrics to "Fire and Rain," which makes no sense and isn't even about a delicious salad.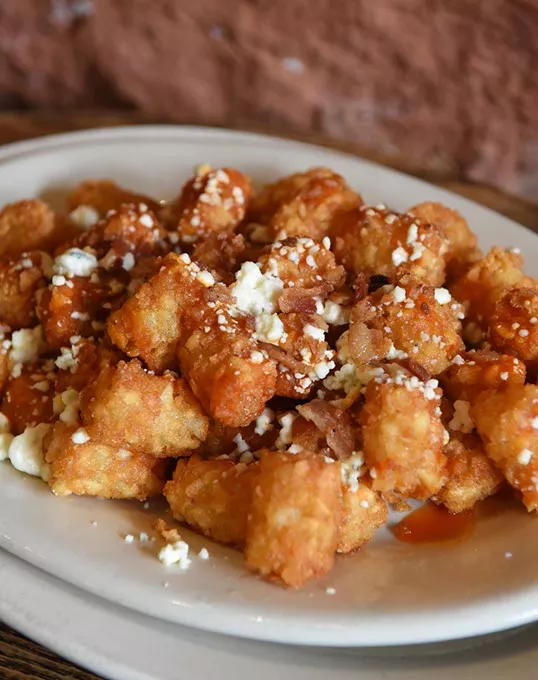 Mark Hancock
Buffalo Blue Bacon sothered tots, at McNellie's The Abner Ale Hous on Main Street in Norman, 12-19-16.
McNellie's The Abner Ale House
121 E. Main St.
928-5801
There's got to be a better name for the "smothered tots" at The Abner Ale House, right? It's not technically incorrect, but it brings up some very uncomfortable imagery. Still, if you're going to smother tots, at least make sure they're tater tots and they're being deluged by a mixture of Buffalo sauce, bleu cheese and bacon. In the land of potatoes, that's basically going to a deep-fried, delicious Valhalla.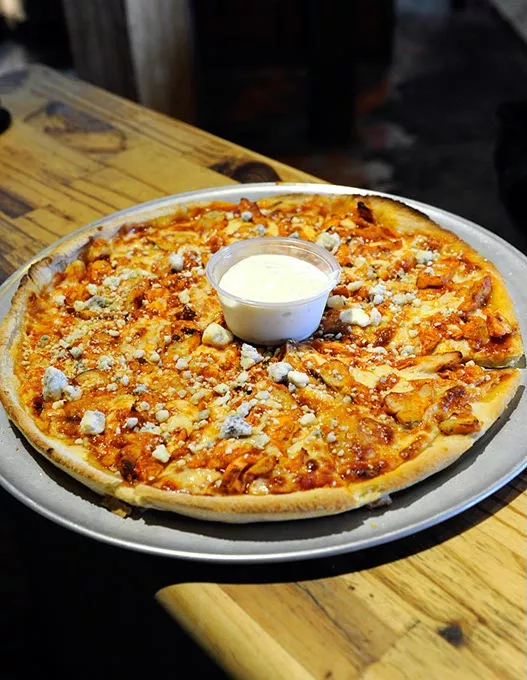 Garett Fisbeck
The Thunder Pizza at Jo's Famous Pizza in Edmond, Thursday, February 4, 2016.
Jo's Famous Pizza
900 S. Kelly Ave., Edmond
340-7070
How did we ever get by before the Oklahoma City Thunder? How many sandwiches went unnamed? How many drinks were just blue for the fun of it? Thank goodness for our basketball overlords, because now we get The Thunder pie from Jo's Famous Pizza. It's a large disk of dough covered in red sauce, mozzarella, spicy Buffalo chicken and a heaping helping of bleu cheese crumbles.