Eyeballs — if you're reading this, you probably have at least one. And what a burden they've become, right? Yeah yeah yeah, sight is great if you're crossing the street or admiring art, but most of the time, it's just a drag. Stop assaulting your vision with run-of-the-mill restaurants and go somewhere that's a feast for the eyes and the stomach.
— by Greg Elwell,
photos by Garett Fisbeck and Mark Hancock
Mark Hancock
Dining with a view at the Redrock Canyon Grill, on Lake Hefner in Oklahoma City, 7-4-2009.
Redrock Canyon Grill
9221 Lake Hefner Parkway
749-1995
When the sun hits the water just right on Lake Hefner, people literally become blind for a minute and everybody tries to echolocate until their sight returns. But after that minute, it's just gorgeous. And there's no place better to enjoy the setting sunlight glinting off the ripples than Redrock Canyon Grill. Order the tenderloin, seared and sliced, and enjoy a glass of wine as night falls and the werewolves come out.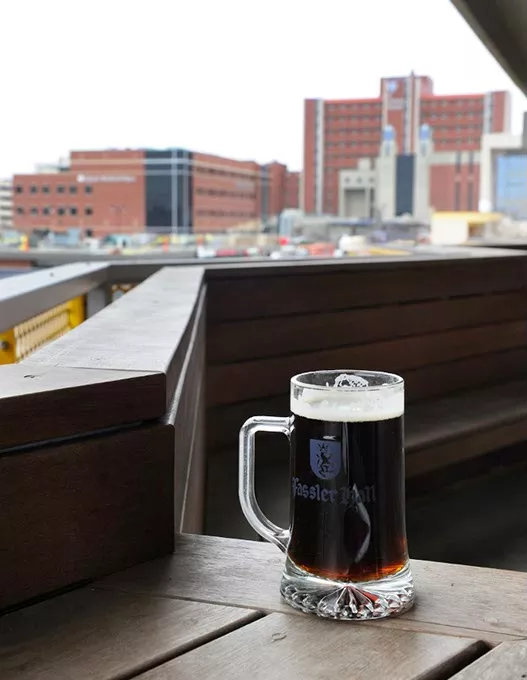 Garett Fisbeck
Fassler Hall in Oklahoma City Friday, Jan. 22, 2016.
Fassler Hall
421 NW 10th St.
609-3300
Hoist a stein full of hefeweizen and look around at the sea of humanity that washes over Fassler Hall on a nightly basis. The key to people-watching is volume, and there is no lack of subject matter in this massive beer hall. Best of all, you can gnaw on some housemade sausages and down some comically large mugs of beer while getting your fill of questionable fashion choices and hairstyles.
Mark Hancock
UCO Ensamble during the OKC Jazz Fest, on the patio at the Museum Cafe, 9-24-15.
Museum Cafe
415 Couch Drive
235-6262
The management at Museum Cafe, inside Oklahoma City Museum of Art, asked us to pass along an important message: Please stop eating the art. It might be difficult to tell the difference between the artfully plated food and the artfully arty art, but one is way more expensive than the other and much more difficult to prepare. Remember the old saying, "If it's in a frame, leave it the same. If it's on a plate, it probably tastes great."
Mark Hancock
Specialty coctails including the popular Caipirinha, at right, with a view at the Bossa Nova Caipirinha Lounge in MidTown Oklahoma City, 1-22-16.
Bossa Nova Bar
440 NW 11th St.
cafedobrazilokc.com/bossa-nova
525-9779
The view from the Bossa Nova Bar patio is gorgeous sober, but it gets even better after you enjoy a couple caipirinhas, the official cocktail of Brazil. The menu is full of drinks you won't find anywhere else, including a few with roasted cashew fruit and a variety of crushed grapes. And if it's too cold to go outside, there's a giant television on one wall and bar brimming with more beautiful drinks to try.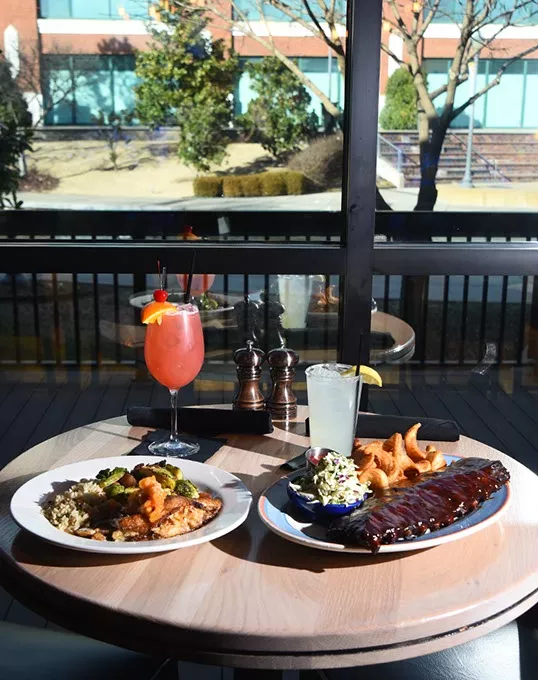 Mark Hancock
Stuffed Catfish with a KD's Breeze cocktail, left, next to Baby Back Ribs with a Loud City Lemonaid, next to the window overlooking the Bricktown Canal at KD's in Lower Bricktown, Oklahoma City, 1-25-16.
Kd's
224 Johnny Bench Drive
701-3535
There's no guarantee you'll see Kevin Durant at the restaurant that bears his initials, but it's not unheard of, either. After walking the bustling sidewalks of Bricktown, it's nice to settle in at this opulent eatery and look for celebs. The Baller Menu has gone away, but there are still a lot of KD's favorites waiting for you to try. Honey-fried chicken? Check. Blackened stuffed catfish? Double check.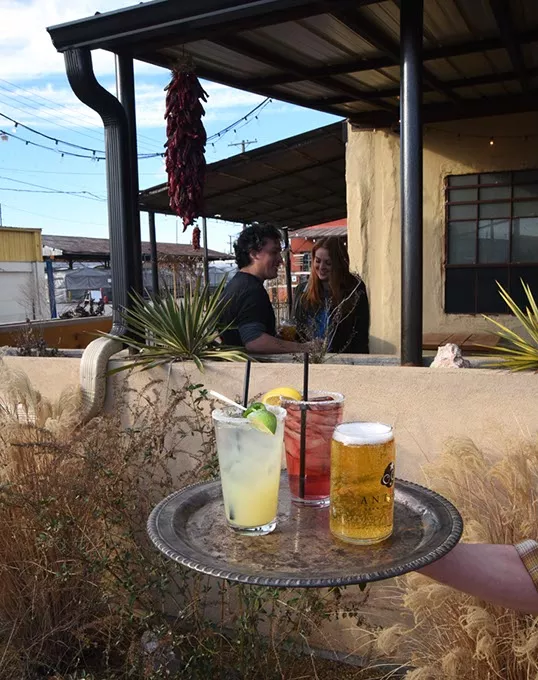 Mark Hancock
Drinks from left, Spicy Sexton Margarita, Friendly Punch, and a Power Pilsner, in the Southwest environment at Powerhouse, in the Farmer's Public Market area, Oklahoma City, 1-25-16.
Power House
1228 SW Second St.
702-0699
You can't have great people-watching without great drinks. Down in the Farmers Market District, Power House packs them in with a killer list of cocktails. If you like a Bloody Mary, you'll love the Little Fat Cowboy. Those looking to light up their taste buds in the perpetually dim bar should order a Spicy Sexton Rita. But if all you get is a beer and a basket of Hawaiian pig biscuits, grab a seat on the patio and enjoy watching all of OKC drop by.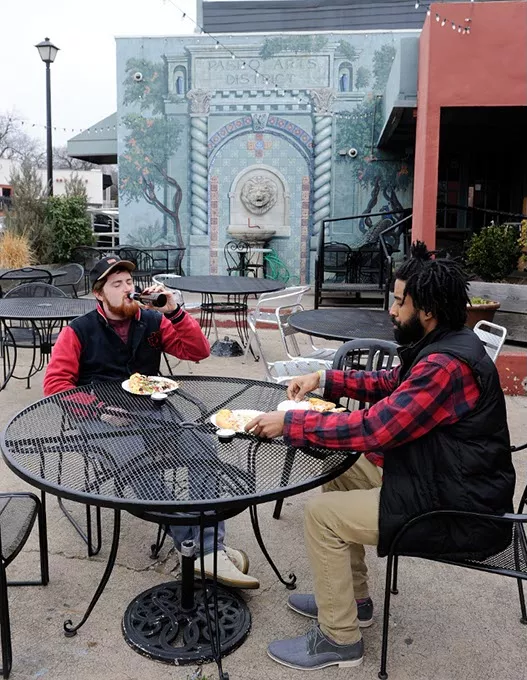 Garett Fisbeck
Zedek Shaughnessy and Alano McClain at Sauced on the Paseo, Friday, Jan. 22, 2016.
Sauced on Paseo
2912 Paseo St.
521-9800
The phrase "You will not believe what I just saw at Sauced" gets thrown around a lot. Nestled in the art-acular Paseo Arts District, Sauced's wide-open patio gets used all year and draws in as diverse a crowd as the toppings on the Suicide Pie. Whether it's an impromptu jam session by local musicians, an open-mic comedian or someone eating an entire Rice Krispies treat in three bites, you won't believe what you saw, either.