Oh. My. God. Becky, look at that pork butt. Oklahomans like big portions and they cannot lie. Some other states might deny. But when a waitress walks up with an itty bitty tray and a giant plate in your face, we get hung...ry. Put on your fat pants, belly up to the table and gorge yourself on dishes that will have you saying, "It's too big!"
— by Greg Elwell, photos by Mark Hancock and Garett Fisbeck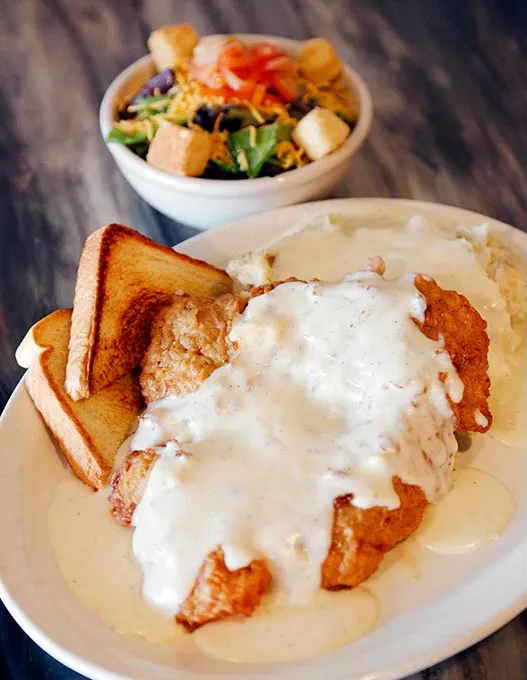 Garett Fisbeck
Chicken fried steak at Miller Grill in Yukon, Wednesday, May 13, 2015.
The Miller Grill
326 Elm Ave., Yukon
265-2775
Breading and frying a big hunk of beef isn't the healthiest thing on the planet, but when a chicken-fried steak tastes as good as the one at The Miller Grill, it doesn't matter. This whopping cut of cow is sizable enough that it overwhelms the plate and satisfies even the biggest appetite.
Lamb Tagine at Cous Cous Cafe at 6165 N. May Ave. mh
Couscous Cafe
6165 N. May Ave.
286-1533
Couscous Cafe doesn't shy away from feeding its customers a lot of food, but it takes a massive hunger to make a dent in the succulent lamb tagine. This braised dish is a tender, saucy delight with plenty of rice to soak up the flavor and stuff your stomach.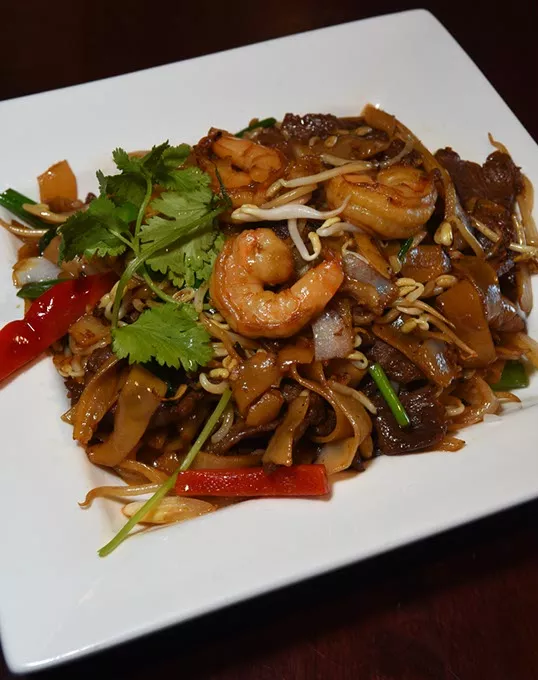 Chow Fune with Beef & Shrimp. mh
Grand House
2701 N. Classen Blvd.
524-3988
An entree that's big enough for a crowd but too good to share, the chow foon with beef and shrimp at Grand House has everything you love: delicious pieces of steak, perfectly cooked shrimp and fat noodles in a spicy, sweet sauce. It's lots of foon. Uh, we mean fun. Or maybe it's both.
Garett Fisbeck
Devil Dog at Ingrid's Kitchen in Oklahoma City, Tuesday, May 12, 2015.
Ingrid's Kitchen
3701 N. Youngs Blvd.
946-8444
Why is it called a devil dog when it tastes like heaven? If you want a dessert that will have you stuffing your face, chow down on this classic creation: two slabs of rich chocolate cake, decadent cream filling and lots of frosting. The capper: a cherry on top. Or for an even better capper, order two.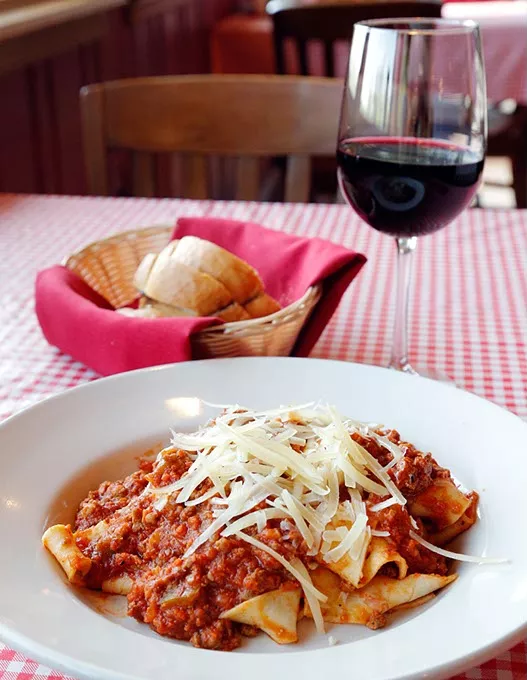 Garett Fisbeck
Bolognese Papardelle at Gabriella's in Oklahoma City, Tuesday, May 12, 2015.
Gabriella's Italian Grill & Pizzeria
1226 NE 63rd St.
478-4955
Mama never made a meat sauce like this. Get over your memories of bland ground beef mixed with store-bought sauce with Gabriella's ridiculously filling bolognese pappardelle. These monster noodles are the perfect canvas for a rich red sauce made with veal, beef and pork. You'll mangi until you can't walk-i.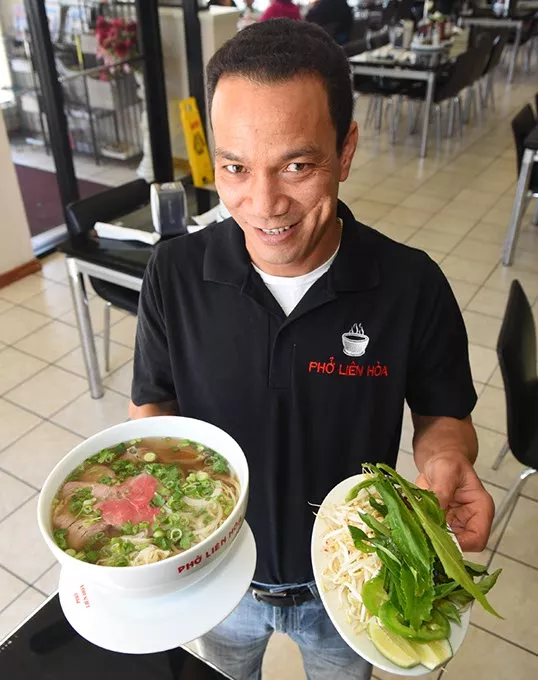 Phong Nguyen with an extra large #P1 combo at Pho Lien Hoa. mh
Pho Lien Hoa
901 NW 23rd St.
521-8087
Even a small bowl of pho can seem like a lot, but when you order the extra large at Pho Lien Hoa, they basically bring you a punchbowl full of noodles, beef and delectable broth. Choose your favorite meat combo (rare steak with brisket is a popular choice) and fix it up with basil, jalapeños and lots of Sriracha. Then call a friend to help.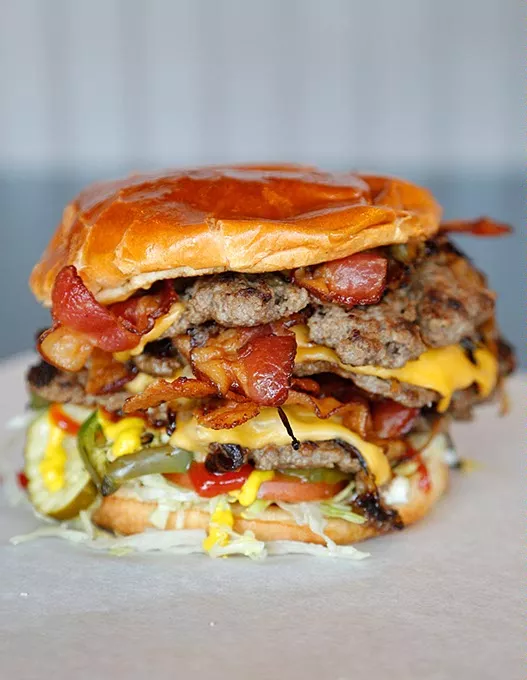 Garett Fisbeck
Big Mother Tucker at Tucker's Onion Burgers in Oklahoma City, Monday, May 11, 2015.
Tucker's Onion Burgers
5740 N. Classen Blvd.
286-3331
How big is The Mother Tucker? Too big. When you order one, the staff in back yells at you. It seems like a cheer, but it's probably a warning. This is more than a lot. But it's just sooooo goooooood. It's three giant patties of fresh, organic beef; melting cheese; and lots and lots and lots of grilled onions. If you didn't walk in looking like an expectant mother, you will when you roll out.
Print headline: Bigger, better