According to the Oklahoma Tourism and Recreation Department, the state boasts nearly 50 wineries. That's enough to keep you busy touring for a while. We've rounded up a few that are closer to the metro. You can brag to your friends that you spent the weekend touring wine country and didn't even have to book a plane ticket.
[gallery ids="42231,42232,42233,42234,42235,42236,42237"]
Shannon Cornman
Strebel Creek's vineyard faces N.McArthur traffic and grows nicely from red dirt.Photo/Shannon Cornman
Strebel Creek Vineyard & Gift Shop 11521 N. MacArthur Blvd. strebelcreek.com 987-6543
Gary Strebel and his wife Sherry got started as hobby winemakers in 1997 so they could always have their favorite varieties on hand. The couple renovated the property's 100-year-old barn as the seat of their winemaking operation. They produce several wines, including Syrah, Gewurztraminer and Muscat. Enjoy the beautiful view from the patio by the creek.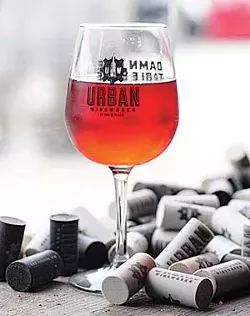 Urban Wineworks 1749 NW 16th St. urbanww.com 525-9463 This winery is a far cry from those pastoral vineyards outside the city. Right smack dab in the Plaza District, Urban Wineworks boasts a large selection of locally sourced wines and small bites to keep your thirst and hunger satisfied. It also serves a killer brunch starting at 10 a.m. on Saturdays and Sundays. The staff is incredibly helpful, so don't feel insecure about your wine knowledge; they are happy to teach you.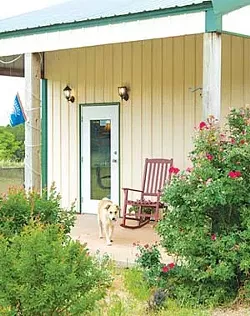 Visitors to Natve Spirits Winery are greeted by one of the resident dogs when arriving to this rural, lake area east of Norman. mh
Native Spirits Winery 10500 E. Lindsey St., Norman nativespiritswinery.com 329-9942 Located near Lake Thunderbird in Norman, this picturesque winery and vineyard offers a tasting room and gift shop. Visitors are welcome to walk through the vineyard, where Cabernet Sauvignon, Riesling and Syrah grapes are grown. Sample a variety of wines available for purchase. The winery is also available for private appointments and tours. Call for details.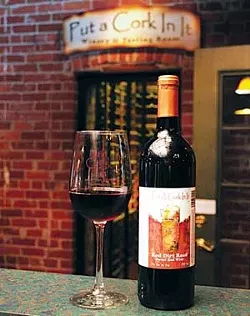 Put a Cork In It Winery 115 E. California Ave., Suite 103 ucorkit.com 605-6656 This winery is another example of a casual winery that makes fine wine without the pretense. Its prices per bottle are $16- $20, and it offers a 10 percent discount if you buy a case. Tours and three tastings are always free and do not require an appointment. It also features two event spaces and a shop with unique gifts.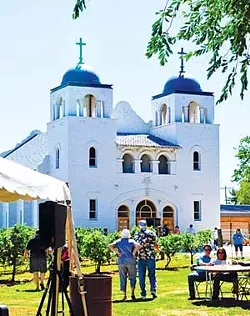 Chapel Creek Winery 5005 Darlington Road, El Reno chapelcreek.samsbiz.com 343-2463 Settled on the grounds of what was once the home of a Masonic refuge for widows and orphans, the Chapel Creek Winery is now owned by Redlands Community College as a research vineyard. The large chapel is now available for private events, and tastings are booked by appointment in the former dormitories. The winery produces several award-winning wines; one even won the Double Gold in the Indy International Wine Competition.
Clauren Ridge Vineyard and Winery 6000 W. Waterloo Road, Edmond claurenridge.com 412-8630 The winery is a cozy, elegant setting complete with a series of caves any hobbit would find comfortable. Within the caves, there are two dining areas. They are also used for aging the wines in oak barrels that line the room. The winery manufactures a large selection of wines. It's well worth the short trip to Edmond for a unique wine-tasting experience.
Rosebrook Vineyard has rows and rows of greening grapevines into their 3rd year of growth, and this nice red tractor parked out front. mh
Rosebrook Vineyards 3800 SW 134th St. rosebrookvineyards.com 361-9821 Seven varieties of grapes are grown on 10 acres to produce Oklahoma Terrior Wine. The property is also a sought-after wedding destination with its picturesque Sears & Roebuck Craftsman house and historic barn. There are 160 acres in all. The wines produced on-site include those made with the Norton grape, which is a uniquely American grape, along with several other varietals that thrive in Oklahoma's climate.