Hola. Bonjour. Hey. Hi. How ya doin'? Every day, around the world, people are tragically forced to interact — some with greetings and others with handshakes or hugs. But even a simple nod of the head and eye contact is too much. Do your part to end this international reign of terror by eating these foods from different countries without engaging in human contact.
— by Greg Elwell,
photos by Mark Hancock and Garett Fisbeck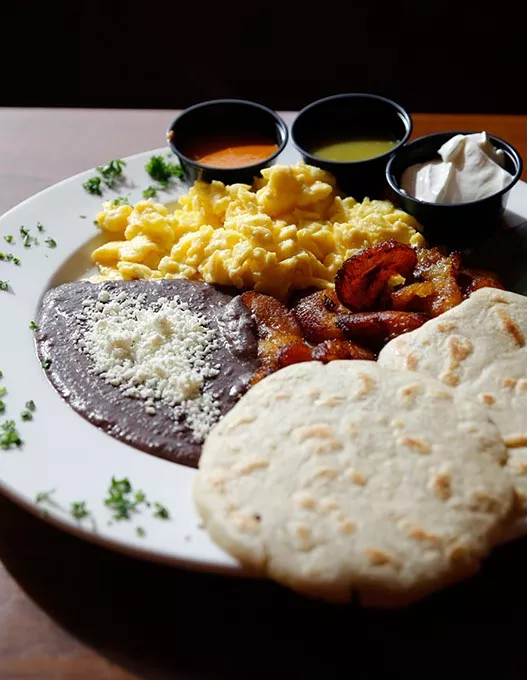 Garett Fisbeck
Desayuno Chapin at Cafe Kacao in Oklahoma City, Tuesday, Oct. 20, 2015.
Cafe Kacao
3325 N. Classen Blvd.
602-2883
Guatemala, land of mystery! Take a trip to South America as you experience the cuisine of Guatemala at Cafe Kacao. Discover the answers to long-held questions like, Why is there a line outside of that restaurant at 10 a.m. on a Saturday? (Hint: It's because Cafe Kacao is really, really good.)
Garett Fisbeck
Spaghetti and meatballs at Primo's d'Italia in Yukon, Wednesday, Oct. 21, 2015.
Primo's d'Italia
1215 Garth Brooks Blvd., Yukon
350-9090
Italy, land of mystery! If the only thing you know about Italy is that it's shaped like a boot, you'll be delighted to find that it absolutely does not taste like a boot. Primo's d'Italia will let you indulge in cheesy, carby pastas or cut into juicy prime rib. The only heel you'll find is the one who didn't take you to Primo's sooner.
Garett Fisbeck
Gyro combo, veggie plate, and baklava at Ol' Gyro in Oklahoma City, Tuesday, Oct. 20, 2015.
Ol' Gyro
3513 N. Classen Blvd.
606-2266
The Mediterranean, land of mystery!
Stalking the wild plains of the Mediterranean is the gyrosaurus, a deliciously seasoned beast that might kind of taste like a blend of beef and lamb. Lapping at creamy lakes of tzatziki sauce, it can only be defeated by being wrapped in pillowy pita bread, as it is at Ol' Gyro.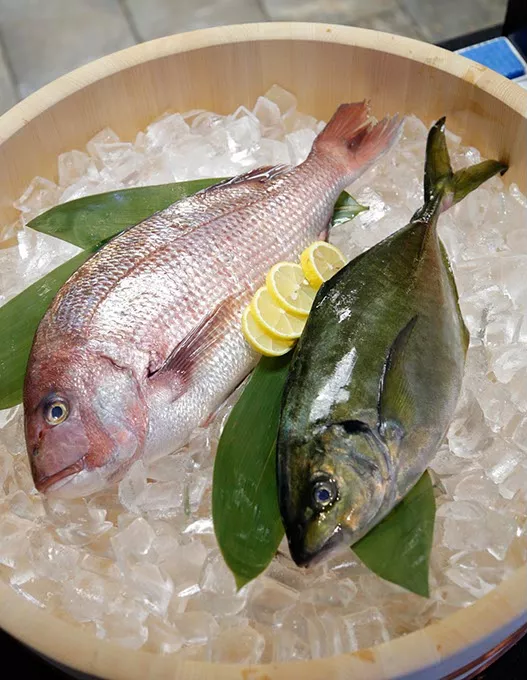 Garett Fisbeck
Madai and Shima Aji at Tsubaki Sushi & HIbachi in Oklahoma City, Tuesday, Oct. 20, 2015.
Tsubaki Sushi & Hibachi
5900 W. Memorial Road
792-7818
Japan, land of mystery! So many mysteries. Are dragons real? (No.) Are ninjas real? (Maybe.) The biggest mystery, of course, is how sushi changed so radically by the time it got to Oklahoma. Cream cheese and jalapeno? C'mon, guys. While you can get "Okie" sushi at Tsubaki, it's also one of the best spots for truly fish-forward Japanese-style sushi.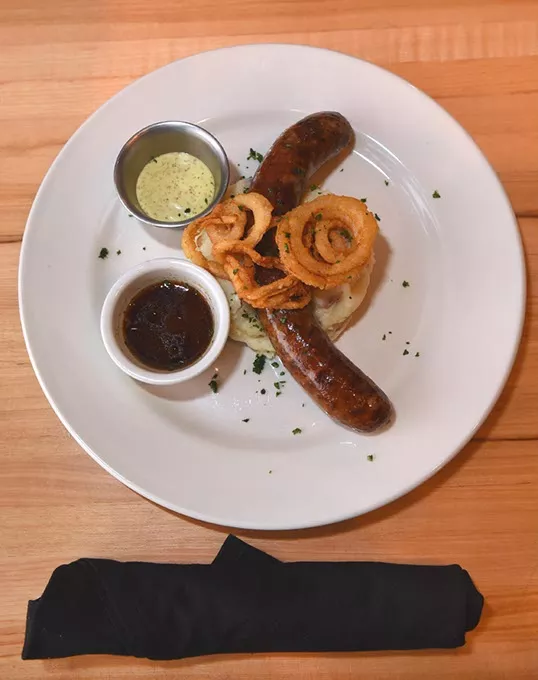 Mark Hancock
Irish poached bangers are English, at Blackbird Gastropub in Norman, 10-26-15.
Blackbird Gastropub
575 S. University Blvd., Norman
928-5555
England, land of mystery! What dark delights hide on the River Thames? Will you ever be the same once you see what real Cadbury chocolate is supposed to taste like? You can start down that dangerous path at Norman's Blackbird Gastropub with an incredibly English dish of ... Irish-poached bangers and mash. Okay, maybe that's more Great Britainish than English, but whatever.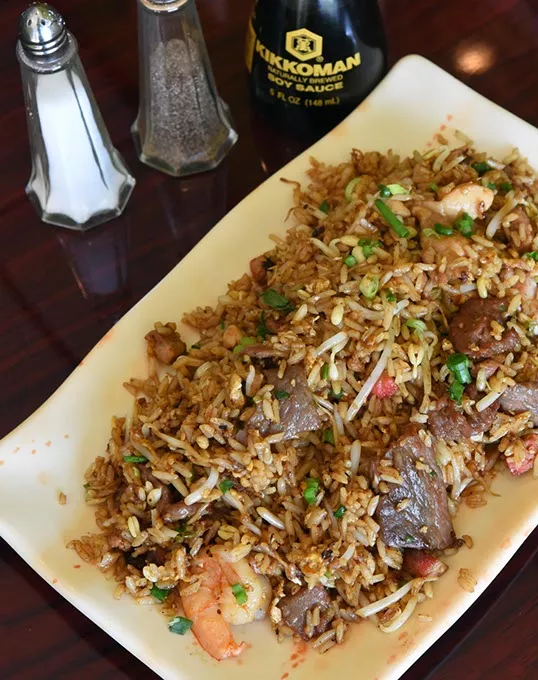 Mark Hancock
Combination Fried Rice at Speedy Wok, 10-21-15.
Speedy Wok
11122 N. Rockwell Ave.
721-3559
China, land of mystery! If you'd like to solve the mystery of how American Chinese food came to be, I suggest you watch the excellent documentary The Search for General Tso. And there's no better way to enjoy that fascinating look at the rise of Chinese-American cuisine than with a pile of takeout from Speedy Wok: egg rolls, hot and sour soup and, of course, an order of General Tso's Chicken.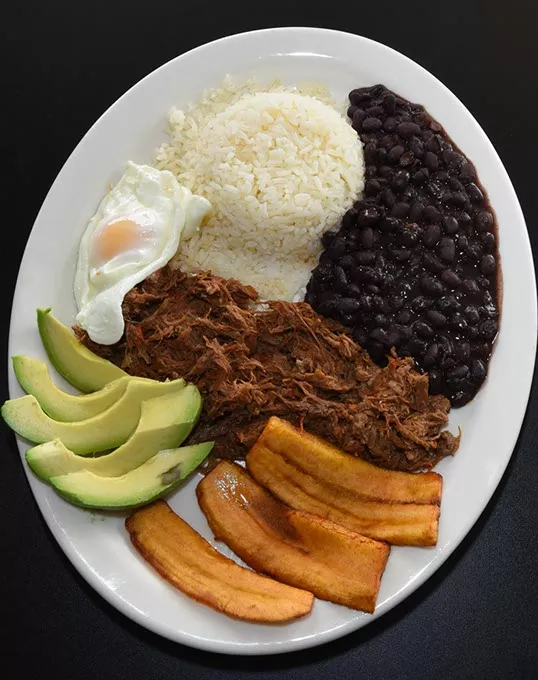 Mark Hancock
Pabellon (Traditional dish from Venezuela), at Amazonia Latin Flavor in Moore, Oklahoma USA, 10-15-15.
Amazonia Latin Flavor
825 NW 12th St., Moore
759-2699
Venezuela, land of mystery! The mystery is why you haven't been to Amazonia. While Mexican food reigns supreme in Oklahoma, for a real south-of-the-south-of-the-border treat, you must stop at Amazonia for some authentic, home-style Venezuelan cooking. Owner Einar Perdomo is especially proud of his national dish, pabellón, which combines rice, beans, plantains and tender shredded beef.