Fictional boxer/brain damage enthusiast Rocky Balboa famously drank a few raw eggs as he trained for his failed bid against the superior fighter Apollo Creed in the classic movie Rocky. Now, you can do the same in a much tastier way as we explore some of Oklahoma City's finest cocktails featuring eggs.
— by Greg Elwell, photos by Garett Fisbeck
Garett Fisbeck
Clover Club at O Bar in Oklahoma City, Friday, April 24, 2015.
O Bar
1200 N. Walker Ave.
600-6200
ambassadorhotelcollection.com/oklahomacity
For a fruity treat, it's hard to go wrong with O Bar's Clover Club cocktail. Egg white, lemon juice, simple syrup and muddled raspberries are joined with gin in a way that will have you asking every bartender you see to crack an egg in your glass.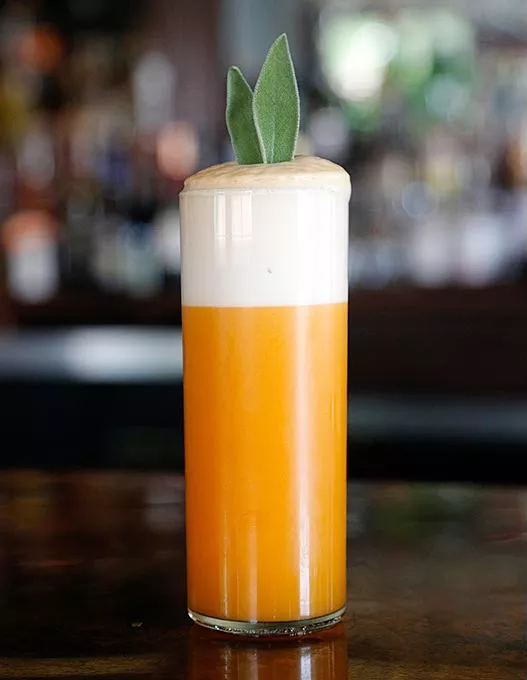 Garett Fisbeck
What's Up Doc at WSKY Lounge in Oklahoma City, Friday, April 24, 2015.
WSKY Lounge
228 NE Second St.
606-7171
Watch out for devious ducks and diminutive duelers as you down WSKY's delicious What's Up Doc-tail from its new seasonal menu. Flavor- packed from the get-go, this drink includes 12-year-old El Dorado rum, Ancho Reyes Ancho Chile Liqueur, egg white, lemon, simple syrup and a spirited kick of ginger beer. But you'll really feel your ears twitch when you taste the carrot juice, you wascal.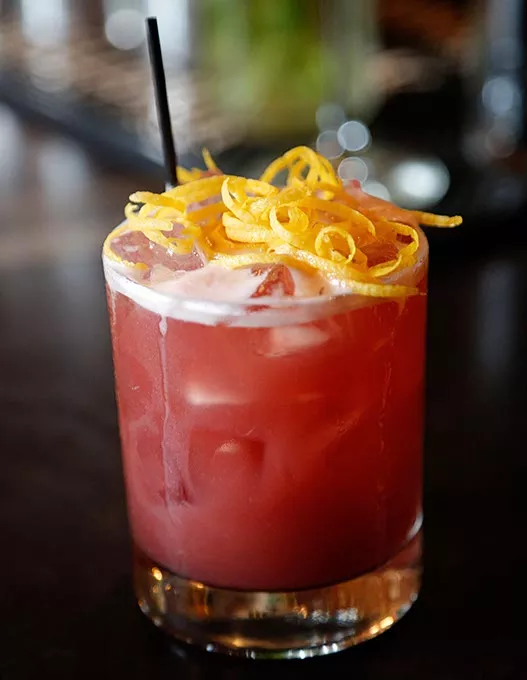 Garett Fisbeck
7th Street Hibiscus Fizz in Oklahoma City, Friday, April 24, 2015.
Ludivine
805 N. Hudson Ave.
778-6800
A party for the eyes and the mouth, the 7th Street Hibiscus Fizz from Ludivine gets its signature effervescence from egg whites, but the color is pure Campari aperitif, Hibiscus Strong Tonic and grapefruit. Add in gin, bitters and agave syrup and you might drink it down before you remember to take a picture.
Garett Fisbeck
Japanese Fizz at Will's Lobby Bar in Oklahoma City, Thursday, April 23, 2015.
The Lobby Cafe & Bar
4332 N. Western Ave.
604-4650
Whiskey and eggs — they're not just things your unemployed uncle has every morning. At The Lobby Cafe & Bar at Will Rogers Theatre, the Japanese Fizz is a sweet concoction with a base of whiskey, a tart twist of lemon and the sweetness of simple syrup and ruby port, all with a frothed-up egg white in the mix. Do you want another? Hai!
Garett Fisbeck
Oklahoma Redbud at Whiskey Cake in Oklahoma City, Thursday, April 23, 2015.
Whiskey Cake
1845 Northwest Expressway
582-2253
The secret to Whiskey Cake's Oklahoma Redbud is that it's shaken twice: once dry, with egg white, blueberry-infused Veev acai spirit, lemon juice and simple syrup to add frothy texture and again with ice to cool it down. Then it's strained into a glass and topped with Prosecco sparkling Italian wine for a refreshing twist on the classic French 75.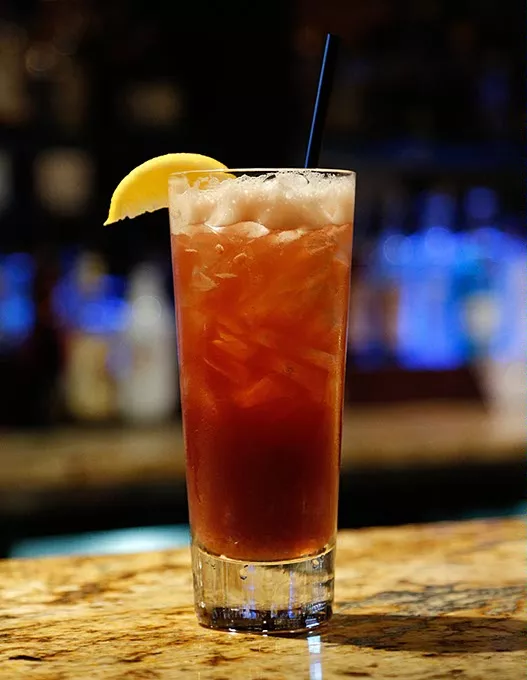 Garett Fisbeck
Chicago Fizz at Opus Prime Steakhouse in Oklahoma City, Monday, April 27, 2015.
Opus Prime Steakhouse
800 W. Memorial Road
607-6787
Some of the best steakhouses in the country are in Chicago, but Opus Prime imported something tipsier with its Chicago Fizz. This rum-based cocktail includes a fine tawny port, egg white, sugar, lemon juice and sparkling water for a refreshing drink that will blow the Windy City blues right off you.
Garett Fisbeck
Friends Like These at Scratch Kitchen & Cocktails in Norman, Thursday, April 23, 2015.
Scratch Kitchen & Cocktails
132 W. Main St., Norman
801-2900
With the Friends Like These cocktail at Scratch, you might need a ride home. This original blend of vodka and house-made coffee liqueur is a riff on a White Russian with cream, egg white, blackstrap molasses bitters and even Cynar, an artichoke liqueur. Don't expect this coffee to keep you up, though. You'll need a cup of joe on the side to do that job.
Print headline: Yo, Adrian!