As the legislative session convenes on Feb. 2, we highlight Capitol Hill district restaurants. Even legislators have to eat, and here's where you might find some of them when they do. — by Devon Green, photos by Mark Hancock and Garett Fisbeck
Grill on the Hill
324 SW 25th St.
grillonthehillokc.com
634-9866
Popular for its home cooking and friendly service, our readers voted Grill on the Hill one of Oklahoma Gazette's Best of OKC restaurants in 2011. Its broad menu includes breakfast items such as burritos, omelets and, of course, bacon and eggs and lunch and dinner offerings including its popular Cajun chicken, burgers and sandwiches.
Thai Garden
3913 S. Western Ave.
635-1752
Thai Garden offers house specialties from pad thai to cashew fried rice and classic favorites such as spring rolls, orange chicken and pepper steak. For a delicious adventure, try its curry of the day. Each one we tried perfectly blends both heat and sweetness. Vegetarians can substitute tofu for any meat item on the menu.
Breakfast with 2 eggs, bacon and Sasage, featuring a short stack of blueberry pancakes, at Woodbridge restaurant. mh
El Asadero
2703 S. Western Ave.
778-8924
Experience the warm colors and flavors of Mexico at this charming eatery that serves breakfast, lunch and dinner. Its menu features traditional dishes such as enchiladas and well-marinated, tender carne asada. Posole, a stew made with hominy, pork and chili peppers, is often eaten during special occasions. At Asadero, it's served every weekend.
Restaurant El Milagro
2534 S. Robinson Ave.
602-6826
El Milagro means "the miracle," and you'll feel you've stumbled on your own little secret miracle at this taqueria. The meat is tender and perfectly seasoned with just the right amount of spice. You've been warned: The green and red salsas have a kick. Order a Jarritos soda to complement your meal. Please note that El Milagro accepts cash only.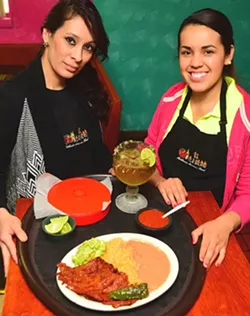 Left, Cesilia Marquez, and Maria Dolores, with Carne Asada, beans, rice, and beer, at El Asadero. mh
Coney Island
240 SW 25th St.
232-8734
This local fixture has served straightforward hotdogs, chili dogs and Frito pies to generations of Oklahomans. Its ambience is neighborly and relaxed. Since it opened on Capital Hill in 1971, its menu has changed little but never gets old. Finish with a piece of baklava; it's some of the best in town.
La Michoacana Meat Market
1125 SW 29th St.
lamichoacanameatmarket.com
635-8795
If you're looking for Latin flavors, La Michoacana is your place. The regional markets and delis, with locations in Oklahoma and Texas, are bright with a helpful staff to navigate your search for international products, produce and deli items including fresh tacos, tortas and burritos. And the market sells pre- marinated meats for your family recipes. Don't forget to stop by the panadería (bakery) for tasty breads and sweets.
Woodbridge Restaurant
3701 S. Western Ave.
facebook.com/WoodbridgeRestaurant
609-6166
This restaurant does several things well, but its breakfast is exceptional. Dozens of menu selections — from fluffy pancakes to three-egg omelets — mean that you'll always find what you're craving. The coffee keeps coming, and you can get gravy on anything.
Print headline: On the Hill