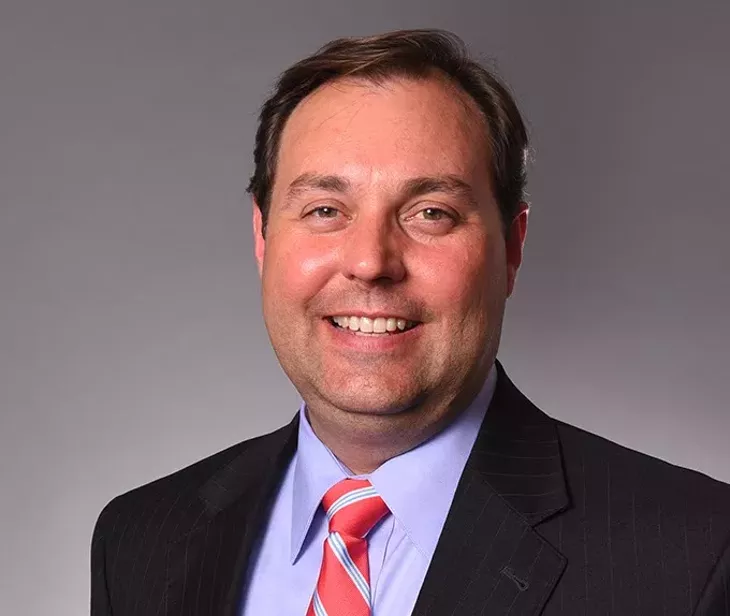 Shot in the Gazette office. mh
Following the death of House District 85 Rep. David Dank in April, a special election was announced for the district, which includes northwest portions of the city.
One Democrat and four Republicans filed for the Sept. 8 special election, and a Republican primary vote is scheduled for July 14.
Prior to the Republican primary, Oklahoma Gazette will present Q&As with candidates, starting with first-time Republican candidate Chip Carter, vice president of corporate communications and business development at Jones Public Relations in Oklahoma City.
Oklahoma Gazette: Do you remember when you first became interested in politics?
Chip Carter: When I was a sophomore in high school, my best friend worked at Safeway, and he complained about having to pay union dues. I came home and asked my dad, "Surely this is a mistake ... Brian's only 14." My dad said we weren't a right-to-work state and if he wanted that job, he had to pay those dues. I remember saying "Dad, that's not fair." He said, "Well, that's what right-to-work is about" and "You ought to go do something about it."
I honestly remember that, and it was always a pet issue for me, so in the late 1990s, I would talk about it and we had a governor in Frank Keating who supported it. A group of us ... would talk about how to bring it to a vote of the people. We did, and I was the campaign manager for that campaign.
OKG: Did you know Dank, and when did you decide to run?
CC: We were not terribly close; I don't want to overstate it. We would talk three or four times a year. My son would drive a go-kart in the Fourth of July parade with a Dank sign on it.
I had just talked to David on the Wednesday before he passed. He said, "Let's get together in a couple weeks." And he died two days later. It was a punch to the gut. Then I got two phone calls from some friends who asked if I was going to run. In politics, people immediately start planning, and I got a couple more calls, and by Monday, I began to think it was something I should consider.
OKG: What about Dank's work do you want to continue?
CC: Dank was much like my old boss Sen. (James) Inhofe in that he was very direct and honest. He had a reputation for telling people exactly how he was going to vote. He was polite but straightforward. That's something I think I am, and I would like to have the same reputation.
[Dank] had two issues that were really important to him: The first was tax incentives and asking if they are transparent and are working. The other was senior issues.
OKG: What issues do you believe are important to HD85 voters?
CC: I have been knocking doors almost every afternoon for six weeks ... People ask, "Are you going to create jobs and grow the economy?"
If not tied for No. 1, it's an immediate No. 2, and that's education reform. The public — certainly the Republican public — is sick and tired of mediocre education, and they want reform. They are ready for bold measures because the status quo simply isn't working. That's something that is easy for me to respond to.
OKG: It sounds like you support school choice.
CC: I'm an absolute advocate for allowing parents greater control on where they send their children, whether that's [via] vouchers, education savings accounts or greater charter schools. Pretty much any measure like that, I'm going to be supporting and embracing as well.
OKG: Democrats see this as a seat they might win. How important is this seat to the Republican Party?
CC: I think because it's a special election, the Democrats are particularly targeting it. I think [Democratic candidate Cyndi Munson] proved herself last time to be a hard worker, and I fully expect that again. I tell people that I fully expect this to be a difficult race. I have three primary opponents, each of which I believe could win. I think this is an important race.
OKG: If elected, what legislation would you want to pitch first?
CC: I don't think I'm ready to say that yet. I have some ideas and thoughts I'm keeping close to the vest.
I think it's not outside the realm of possibility that there could be a special session later this year if the economy falls. The budget has some optimistic revenue projections to hit its marks, but I won't be surprised if we have to come back in to try and fill some gaps. I'm prepared, if I'm elected, to quickly get to work.