Yep, it's April Fools' Day, and there's no better way to celebrate it than by using some (or all) of these great ideas today (or any day). Laughter is the best medicine, especially during allergy season. Just don't laugh so hard that you accidentally blast a snot rocket onto a stranger or, worse, your mom — because that's disgusting. — By Gazette Staff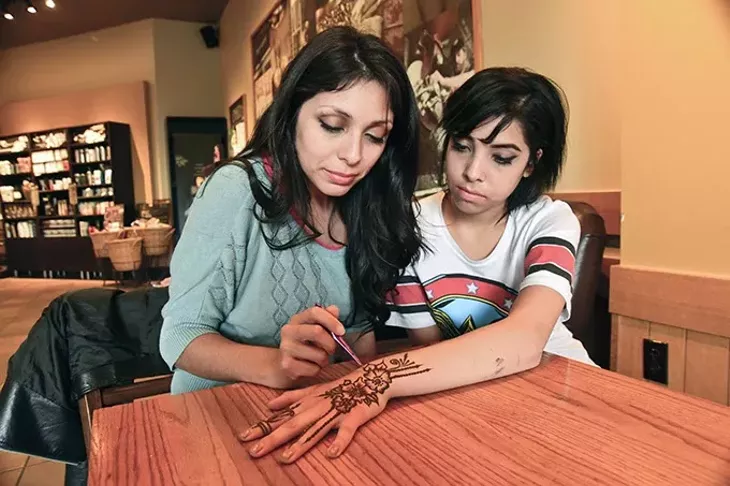 From left, Rebecca Hale of Steady Hand Creations, paints a henna tatoo on her daughter Roxanne. mh
Steady Hand Creations STEADYHANDCREATIONS.COM 582-0088 Show the ultimate faux devotion by temporarily tattooing your significant other's name across your chest (spelled wrong, of course). And, oh boy, get ready for the laughs that are sure to follow those horror-wracked sobs! Call a henna art studio for that temp tat. We recommend Steady Hand Creations, which does henna, face and body painting and more. Its website also features a page so you can draw out your ideas in advance. Call or visit its website for an appointment.
Snap Me Crazy Photo Booths SNAPMECRAZY.COM 343-7468 Everyone loves making photo booth memories. May we suggest renting a photo booth, setting it up at a park or other public place and then photobombing every single person who enters? Talk about memories that'll last a lifetime! With the help of friends, this is a totally affordable laugh riot. Just remember, stay in character, especially if you're dressed as Sexy Sax Man. Snap Me Crazy booths come with social media uploading capabilities, too.
Party Galaxy MULTIPLE METRO LOCATIONS PARTYGALAXY.COM Where's Waldo? you ask. Dude, he's right here. No, not behind you. Look in the mirror. You're Waldo! Party Galaxy says its Where's Waldo costume is a year-round favorite. Pull over that goofy, striped sweater and puffball hat and make yourself the center of a selfie scavenger hunt. Post the images to your Instagram and make your out where you are you land in jail.
The Okay See 7 N. LEE AVE. THEOKAYSEE.COM 748-0718 Thunder superfans, this is your day! Cherish and celebrate it in the most wonderfully obnoxious ways imaginable. And that, of course, means actually going to Wednesday's home game against the Dallas Mavericks. Does anyone sell vuvuzelas? No? Well maybe they should. (We digress.) Don all your Thunder swag, including these great tees from The Okay See, with clever themes like "My Hero is a Zero" (Russssseeeelllllllll!), a KISS-themed Kevin Durant logo and Russy Stardust. Game time is 7 p.m.
A trumpeter in the Mariachi Orgullo de America band performing at Plaza Major at the Crossroads recently. mh
Mariachi Orgullo de América 7000 CROSSROADS BLVD, SUITE 1020 ENYE.COM ORGULLO@ENYE.COM 579-3693 Any time of year is the best time to hire a roving mariachi band, especially if it's the exceptional Mariachi Orgullo de América. Hire the fellas to follow your boss around for the day. Voilà! Instant theme music. Your boss can't — nay, won't want to — escape this gallant act as it plays a blend of suspenseful, traditional, make-you-wanna-dance tunes replete with trumpets and guitars.
The Loony Bin 8503 N. ROCKWELL AVE. LOONYBINCOMEDY.COM/OKLAHOMACITY 239-4242 Go straight for the laugh — without any of the work — and still get all the credit. Grab your pals and head over to one of the city's longest-running comedy venues this week to catch one of comedian Dan Chopin's stand-up shows 8 p.m. Wednesday-Saturday.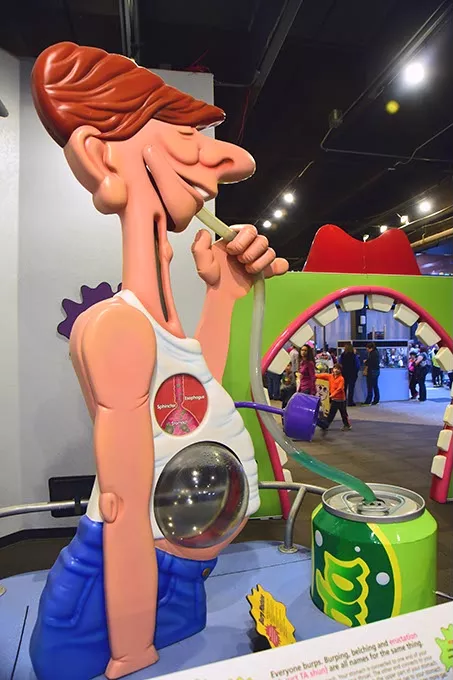 What happens when you drink soda exhibit inside Gossology: The (Impolite) Science of the Human Body at Science Museum Oklahoma. mh
Grossology: The (Impolite) Science of the Human Body SCIENCE MUSEUM OKLAHOMA 2100 NE 52ND ST. SCIENCEMUSEUMOK.ORG/GROSSOLOGY 602-6664 During this membrane-filling spring season, explore the newest traveling exhibit at Science Museum Oklahoma. Remember that hangover that had you puking in your bathtub until 5 p.m. last Sunday? Well, this display also explains "the four communication processes that occur right before puking," according to the museum's website. The website also says it's for ages 6-14, but barf, halitosis and acid indigestion are things every human should enjoy.