We're expanding what Valentine's Day means, and "love thy neighbor" seems a natural approach. Celebrate with hearts and flowers of the ideological kind. Pick one of these nonprofits and donate your money or time. For a comprehensive list of Oklahoma charities, visit oklahomacenterfornonprofits.org.
A Chance to Change
Foundation
5228 N. Classen Circle
840-9000
A Chance to Change Foundation is a nonprofit organization that Rachel Whelan and Jackie Landler started in 1979. The organization started as a student assistance program to help young students deal with alcohol or drug problems. The nonprofit grew into an award-winning initiative that empowers people of all ages to get the help they need and support for them and their families. You can help with donations, volunteer your time or just spread the word. To learn more, visit achancetochange.org.
Kyle Moore, director of career coaching during a session recently at Bridges of Norman. mh
Bridges of Norman
1670 N. Stubbeman
Ave.

, Norman

579-9280

A cooperative effort of Norman Public Schools, the Norman Housing Authority and the Norman community, Bridges of Norman helps high school-age children living alone. The nonprofit offers sliding scale rent for individual apartments, assistance with school activities, mentoring and social services.

The program is affiliated with United Way of Norman and gets funds through grants and donations. Bridges of Norman helps these at-risk students reach their potential through teaching and encouragement. You can donate your money or time and get in touch at its website.
Freedom Oklahoma , formerly The Equality Network/Cimarron Alliance Fondation, held a press conference at the Oklahoma State Capitol, 1-26-15, to discuss fighting back recent anti LGBT legislation. mh
Freedom Oklahoma
5613 N. May Ave. Suite 400
tstevenson@theequalitynetwork.org
495-9300
Freedom Oklahoma is a nonprofit organization that speaks out for the rights of all Oklahomans, especially LGBT members of the community. It is the result of the merger of two of the most visible pro-equality organizations in the state: Cimarron Alliance and The Equality Network. United, the organizations continue to fight for all Oklahomans to be treated with the same respect and protection under the state's laws.
Rocktown Climbing Gym
200 SE
Fourth

St.

319-1400

Rock climbing is a unique experience that provides a challenge and a sense of accomplishment. Rocktown Climbing Gym in downtown OKC consists of indoor and outdoor climbs. Situated inside a decommissioned grain silo, the gym offers a straight climb to dizzying heights. It runs a program that helps at-risk youth have an activity and a mentor to act as coach, boss and friend. Taking the family to the gym can be a special weekend activity and a chance to support a worthy charity.
Planned Parenthood of Central Oklahoma
619 NW 23rd St.
528-0221
Planned Parenthood of Central Oklahoma (PPCOK) is the local chapter of the larger nonprofit organization that specializes in education surrounding men and women's reproductive health and family planning. PPCOK's clinics offer services — including family planning, sexual-health checkups, prenatal care and treatment and prevention of sexually transmitted diseases — on a sliding scale. Why not donate your time or money to this worthwhile cause?
Angela Spindle, adult literacy coordinator with Oklahoma Literacy Coalition, in the John and Eleanor Kirkpartric Reading Room, at the Oklahoma History Center. mh
Oklahoma Literacy Coalition
5830 Northwest Expressway #196
(580) 762–4580
The Oklahoma Literacy Coalition believes that every adult should have the means to learn how to read. The organization provides resources for statewide councils and coalitions, and is funded by memberships, grants and fundraisers. You can learn more by visiting its website.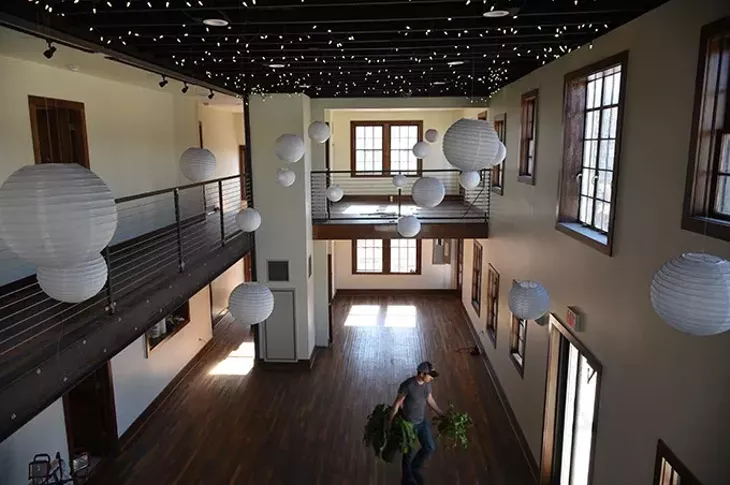 Sixtwelve from the second floor, as the project on the Paseo nears completion. mh
SixTwelve
612 NW 29th St.
SixTwelve owners Amy Young and James Varnum transformed the old church at 612 NW 29th St. into a community center. The community-oriented organization is dedicated to helping OKC residents learn about making rain barrels, gardening and arts and crafts. There is also a special area devoted to children's educational activities. The venue now features a heating system designed by Varnum, and there's enough space for an artist-in-residence and an in-house chef. The duo's plans involve other educational activities about how to be a better resident of the planet.
---
Print headline: Love thy neighbor