Alexa Ace
OKcollective carries soaps from Bell Mountain Naturals and Prairie Dust.
Jessi and Kelli Newsome always knew they wanted to start a business together.
The couple, both longtime allergy sufferers, soon realized they weren't happy with the candles or diffusers they were using at home. They saw a need for clean-burning, eco-friendly soy candles, so their company, OKcollective, 12 NW Ninth St., was born.
They began in 2016, making hand-poured soy candles in small batches.
"Everything started in our house," Kelli Newsome said.
Specifically, it started in a double boiler in their kitchen. The business is truly cooperative, with Jessi Newsome handling manufacturing, wholesale fulfillment and events while Kelli Newsome acts as designer, social media expert, salesperson and accountant.
Their early focus was making appearances at trade shows and pop-ups. At one event, they ran into a friend who owned a furniture store and got their first wholesale order.
"We have been going, I feel, full steam ahead from that moment," Kelli Newsome said.
She estimated that they scheduled over 60 events from May to December of 2016. In the beginning, they were both still working full-time jobs, but Jessi Newsome was able leave her position at the Apple Store just six months after they started.
OKcollective's candles come in amber jars in three different sizes. Their wide variety of scents range from the woodsy richness of Oakmoss Amber to the fruity citrus notes of a candle they named Yas Queen.
They have also recently added a Tattoo Collection featuring taller jars that includes a cannabis scent known as High Five.
Through consistent appearances at trade shows and local events like The Paseo Arts Festival, 16th Street Plaza District Festival and Holiday Pop-Up Shops, they grew both their brand and their space. Their candles can now be found in almost 40 states.
Their first retail location was the bright pink shipping container near their current shop, which clothing boutique Cargo Room, 14 NW Ninth St., now occupies.
"From the get-go, we've always wanted and a pretty big priority has been to have a combined studio and retail space," Kelli Newsome said. "I got a little starry-eyed when I saw the container was available."
Although it wasn't ideal, she thought it would be a good idea to start with retail and work on brand recognition first.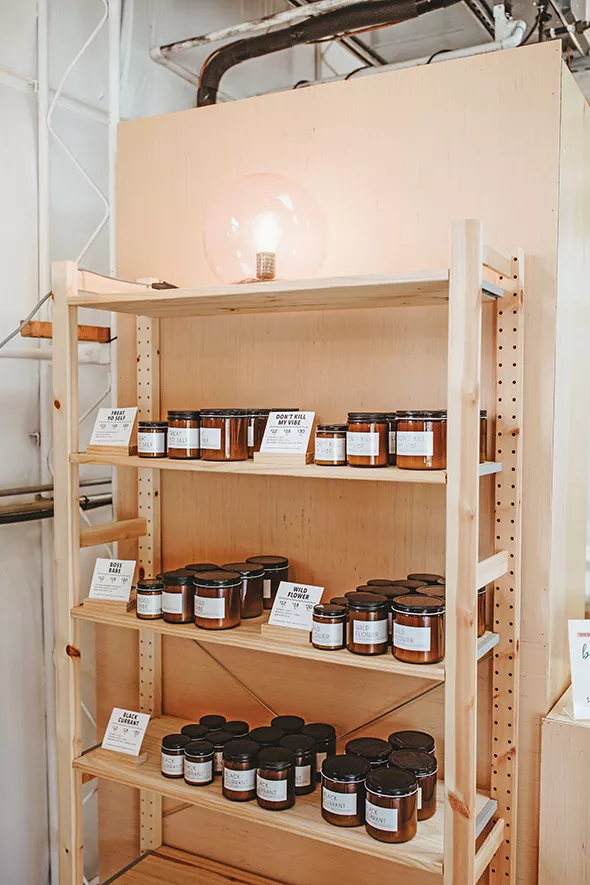 Alexa Ace
OKcollective Candle Co. started as a small hand-poured soy candle company in the Newsomes' home.
"Yeah, that's how it happened," Jessi Newsome said, drawing a laugh from her wife.
They moved their home manufacturing studio into their detached garage, but Jessi Newsome said she still outgrew it quickly. They continued looking for what they both wanted, which was a combination retail and studio space, preferably still in Automobile Alley.
"I think we came at a time where it's starting to get revitalized and getting a lot of attention," Jessi Newsome said of the area. "And so we really wanted to stay down here and be a part of the upswing of this neighborhood."
After about a year, when the multi-use garage behind the pink shipping container opened up, they pounced. They were able to renovate and move in time to open the same day as Mix-Tape at the Womb, 25 NW Ninth St., on March 21.
Jessi Newsome said the garage had been used in the past as a screen-printing building for Shop Good and a storage unit for Schlegel Bicycles. Now, for the first time, it is a retail space.
The updated, climate-controlled building now has plenty of room for Jessi Newsome to hand-pour dozens of candles at once while customers can browse shelves of local and handmade goods at the front of the store.
Not only is it important for the couple to be a part of the area's vibrant retail community, but they also care about being an openly LGBTQ+-owned business. They said they receive widespread love and support as queer business owners.
"When you start a business, you're no longer in your bubble," Jessi Newsome said. "Now you're exposed to the world, essentially. And so you want to put your authentic self out there and be who you are."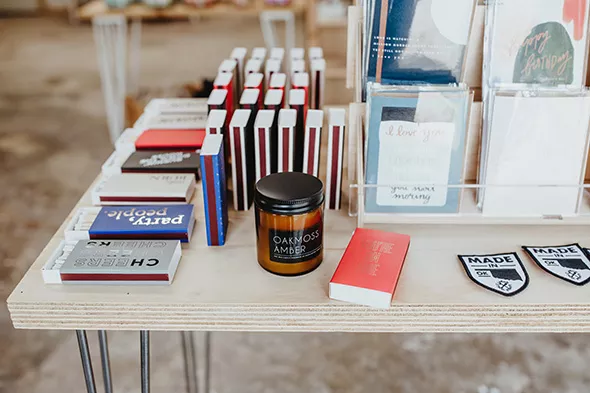 Alexa Ace
OKcollective carries a variety of local and handmade products.
Kelli Newsome agreed that simply being genuine and open is something they care about.
"We want to be a really safe space," she said. "And I think the more we put ourselves out there, all of our selves, I think the more that we attract people that can be their true selves, too, which is really nice."
In June, they produced a limited-edition candle to coincide with Oklahoma City Pride festivities, with a portion of sales going to Freedom Oklahoma.
"We have a lot of friends and a lot of people we follow that are very outspoken," Jessi Newsome said. "And then you have people like us that are outspoken, but we're also just like, 'This is who we are. These are our beliefs. Here's our candles.'"
The couple also both commented that being open has helped them become part of a supportive, friendly group of area businesses.
"I think the time of people being competitive over their business or guarded has kind of gone away," Jessi Newsome said. "I think that a lot of people now want to build the connections, which is so great."
"And collaborate," Kelli Newsome said.
In addition to their candles, OKcollective carries other local and handmade products, like soaps from Bell Mountain Naturals and Prairie Dust or enamel pins by Eastside Pin Co. and LuxCups Creative.
They said they are already looking forward to holiday events and will make another appearance during week two of Holiday Pop-Up Shops.
Visit weareokcollective.com.