Back-to-school shopping doesn't have to break the bank. Find everything from fine-fitting shoes to this semester's on-trend cosmetics at these local retailers.
— By Taylor Duane Photos by Mark Hancock
Sunglasses at Makeup Bar. mh
The MakeUp Bar
7646 N. Western Ave.
810-1226
If you've been going sans makeup all summer and you're in need of a new cosmetic haul, The MakeUp Bar is the place to go. It carries skin care and hair products as well as makeup, so you can treat your skin and indulge in the last of the season's colors in just one stop.
The Outlet Shoppes at Oklahoma City
624 W. Reno Ave.
theoutletshoppesatoklahomacity.com
787-3700
Tuition certainly burns a hole in your wallet, but back-to-school shopping doesn't have to, thanks to tax-free weekend this Saturday and Sunday at The Outlet Shoppes.
Lush Fashion Lounge
14101 N. May Ave., Suite 115
936-0680
To get back in the school spirit state of mind, stop by Lush Fashion Lounge for all things University of Oklahoma (OU) and Oklahoma State University (OSU). They have shirts and tanks that you won't find at the campus spirit shop and trendy dresses, shirts and shorts that make it easy to stop going to class in pajamas.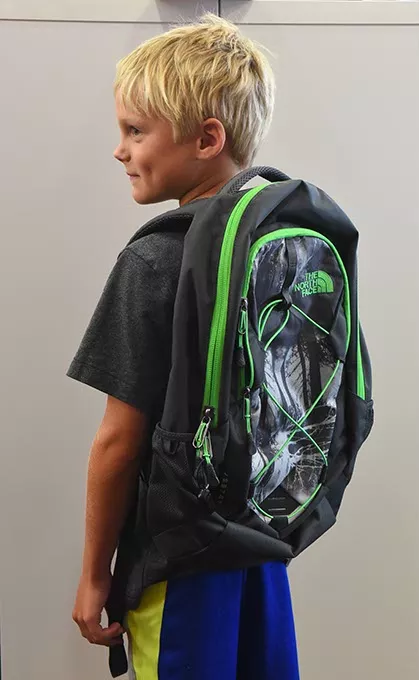 Jack Mawer models a The North Face back pack at Metro Shoe Warehouse. ( mom signed my release) mh
MetroShoe Warehouse
2210 W. Memorial Road
302-5150
The first day of school is all about first impressions, and nothing makes a better first impression than a stellar pair of shoes. Whether you need a new pair of kicks for gym class or a classy pair of sandals, MetroShoe Warehouse has you covered. And they also sell backpacks!
Freeman's Liquor Mart
4401 N. Western Ave.
524-8031
Who said college students are the only ones drinking? Freeman's Liquor Mart has alcohol for the whole (of-age) family. With the best selection of beers and liquors in OKC, parents will find an escape from the sorrows of shipping their precious babies off to college, and students can stock up on enough vodka and 'ritas to last them through finals week.
Mannequin decked out to "run" back to school at Red Coyote on the Classen Curve. mh
Red Coyote Running and Fitness
5720 N. Classen Blvd.
840-0033
Summer vacation might be ending, but the summer heat is sticking around for a while. At Red Coyote, you'll find quality tennis shoes to quickly get you across campus and into some blessed air conditioning. Plus, you can pick up workout clothes to motivate yourself to stay active throughout the school year.
Scarfs and Blouses at Bow & Arrow in Downtown OKC. mh
Bow & Arrow Boutique
617 N. Broadway Ave.
601-0605
The most awful thing that could possibly happen to a girl on the first day of school is having the same outfit as a classmate. To make sure that doesn't happen, head to Bow & Arrow for threads that are sure to impress.
Print headline: School cool