Chances are your dad does not need a frame made with macaroni again this year. Where did you even get that many? As Father's Day approaches, it's high time you find your dad a gift. Whether he's a fashionable man about town or a reliable dude about the couch, he deserves something wonderful. If you're drawing a blank, one of these suggestions should point you in the right direction.
Garett Fisbeck
Shaving kit at Shop Good Tuesday, May 23, 2017.
Shop Good
3 W. Ninth St.
shopgoodokc.com
405-702-0517
True (or dubious) fact: When your dad started shaving, the only products available were water and dull rocks. Technology has advanced so far since then that now, people don't have to have a medic standing by when they want to get rid of stubble. Shop Good, which gives a portion of its proceeds to charity, sells Harry's razors, handles and shaving cream. Suddenly, shaving is a joy. And when it's time to replace the blades, they're downright affordable.
Coffee Slingers Roasters
1015 N. Broadway Ave.
coffeeslingers.com
405-609-1662
After years of watching your dad stumble into the kitchen to pour you a bowl of cereal, it's clear he's not much of a morning person. Make him forget those bitter cups of mass-market coffee by getting him some freshly roasted beans from Coffee Slingers Roasters. Bags of small-batch whole-bean coffee from Guatemala, El Salvador and Mexico start at $17. Or take advantage of a biweekly coffee subscription to keep your pops well-caffeinated for the next three months.
Commonplace Books
1325 N. Walker Ave., Suite 138
commonplacebooksokc.com
405-551-1715
The eclectic selection at Commonplace Books is like no other bookstore around. Owner Benjamin Nockels created a haven for lovers of the written word, and he's an enthusiastic guide to finding your father's next favorite author. Browse a variety of gorgeous volumes new and old, including foreign editions of some classic titles. Whether he's into fantastical fiction, scholarly histories or essays on every subject, Commonplace is the best place to find the book you didn't know you had to read.
Garett Fisbeck
Grills at Everything BBQ, Tuesday, May 23, 2017.
Everything Barbeque
13833 N. May Ave.
everythingbbq.com
405-463-3227
The urge to char meat over a fire is written into a father's DNA. For years, dads everywhere have suffered with rusty old grills, ineffectual spatulas and dirty grates. Take back the backyard barbecue with help from Everything Barbeque. The shop has gas and charcoal grills, smokers and accessories to make searing steaks a breeze. If he needs instruction, the store carries cookbooks and DVDs, and if flavor is the problem, it sells sauces and spice rubs aplenty.
Garett Fisbeck
Steak at Bill Kamp's Meat Market, Tuesday, May 23, 2017.
Bill Kamp's Meat Market
7310 N. Western Ave.
billkampsmeatmarket.com
405-843-2455
Maybe Dad already has an awesome grill, but he keeps buying sub-par meats to cook on it. You don't put leaded gas in a Bugatti, so why would you put bargain-basement ground beef on a state-of-the-art grill? Bill Kamp's Meat Market is a specialty grocery store with high-end cuts of beef, pork, chicken and sausage that'll have the neighbors peeking over the fence to have a look at the meal he's grilling. The market's friendly staff can point you to the right product for any occasion.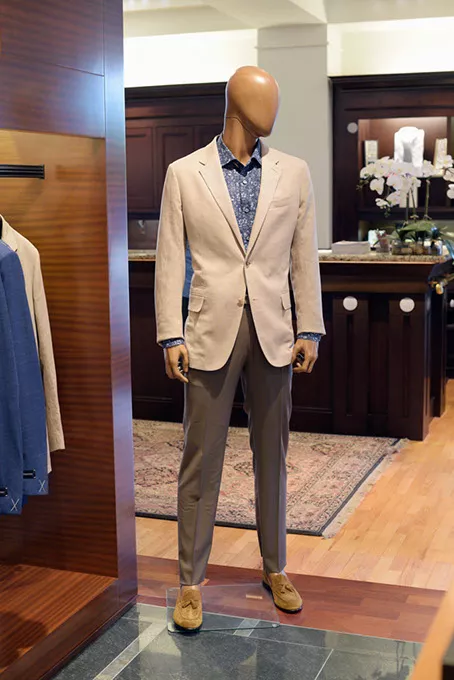 Garett Fisbeck
Menswear at Mr. Ooley's Tuesday, May 23, 2017.
Mr. Ooley's
1901 Northwest Expressway, Suite 1023A
mrooleys.com
405-879-0888
The problem was never that your dad didn't want a tie for Father's Day; he just didn't want an ugly one. That won't be an issue at Mr. Ooley's, one of Oklahoma City's finest menswear shops. In addition to high-end tailored suits from Giorgio Armani and Ermenegildo Zegna, Mr. Ooley's carries more budget-friendly options. Get your father into the cool kid's club with a bowtie or help him up his fashion game with a pair of silver cufflinks.
Byron's Liquor Warehouse
2322 N. Broadway Ave.
byronsliquor.com
405-525-2158
"Have a drink with your old man!" is a phrase many children wait decades to hear. Sitting down as equals, hearing a father's old stories and sharing a glass of bourbon is a rite of passage. Make the process go smoothly by picking up a bottle of dad's favorite brand at Byron's Liquor Warehouse. The selection is vast, and the service is wonderful. While you're there, grab a few locally brewed craft beers and a bottle of wine to accompany your Father's Day dinner.