Does the first day of October have you singing Andy Williams' "It's the Most Wonderful Time of the Year"? Do you start planning your fall activities in June and have your Halloween costume figured out by July at the latest? If that's you, and you've found yourself at a snag, here are seven places in the metro that might help you out. Happy fall, everyone! — Devon Green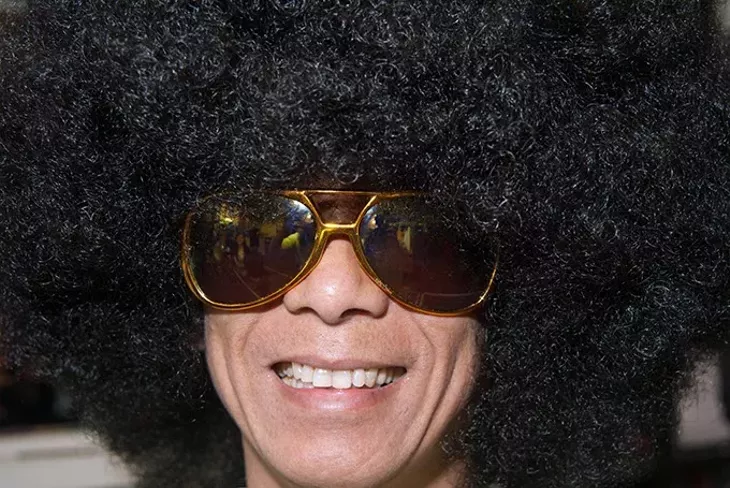 Mark Hancock
Employee Hoang Nguyen rocks the afro and a big smile at Masquerade
Masquerade Costume and Tuxedo Rental 3434 N. Classen Blvd. 528-1373
Masquerade, with its unmistakable Bride of Frankenstein mural, has been a staple in the Oklahoma City metro for many years, and its unmistakable building in the Asian District makes it the immediate go-to for costume rentals. It has quality costumes in a wide range of choices. If you are thinking of stepping it up a little from a bagged costume, Masquerade should definitely be on your list.
Mark Hancock
Masks of all shapes and varying levels of terror grace the walls at Costume Fun House
Costume Fun House 4917 NW 23rd St. costumefunhous.net 947-573
Costume Fun House specializes in weekly rentals during Halloween and has a huge selection of costume rentals year-round. It was started by owner Dean Johnson's great-grandmother, who made her own dresses and was approached about making them for others. The majority of its costumes are hand-made. The shop's specialty is a unique costume experience for a very reasonable price. Make sure to check out the Halloween special: a week of costume rental for a day's price.
Party Galaxy 300 N. MacArthur Blvd. partygalaxy.com 948-1234
If you are hosting any kind of party, Party Galaxy is a one-stop shop. They have almost everything you could need for a soiree, up to and including party hats, disposable cutlery and costumes. You never know what tiny detail might complete your party or costume, but chances are you can find something that will do the trick at Party Galaxy.
Mark Hancock
Lorena Ballard (left) and Lesa MacDonald admire the fabric selection at Helen Enox Fine Fabrics
Helen Enox Fine Fabrics 1332 SW 59th St. helenenoxfabrics.com 685-1279
This shop on the south side of the city specializes in some of the most delicate, unusual and ornate fabrics in the city. Making the perfect princess or fairy costume? Need just the right fabric for a satin gown worthy of Lana Turner? It has the loveliest fabrics perfect for your fairy princess. If you are making a costume, your only limit is your imagination.
Woody Candy Company 922 NW 70th St. woodycandy.co 842-8903
For more than 90 years, this OKC-based business has handcrafted some of the finest, delectable treats around. From truffles to toffees, you'll gaze upon the selection and be amazed that you've never visited Woody's before. It also carries specialty candies such as its own family recipe sweets, Aunt Bill's Brown Candy and seasonal lemon and peppermint ice. The company has been around since 1927 and shows no signs of stopping.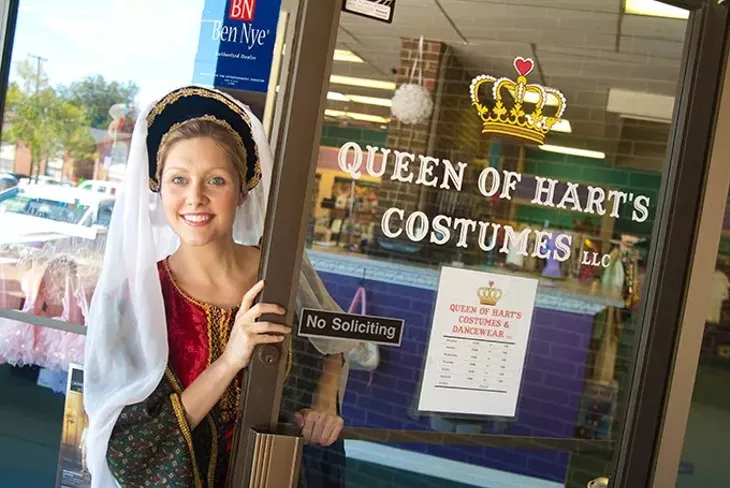 Mark Hancock
Anne Boleyn welcomes you to Hart's Costumes and Dancewear
Queen of Hart's Costumes and Dancewear 924 24th Ave. SW, Norman queenofharts.net 573-1800
Did you ever fantasize about being a ballerina-princess-pirate? Please tell us you haven't given up on that dream. Queen of Hart's bills itself as the "premiere dancewear and costume source for Oklahoma," and with good reason. With a huge selection of costume rentals — most designed and made in-house — the specialty here is high-quality, one-of-a-kind costumes. Whether you want to live that dream of pirate queen or shoot-'em-up cow- boy, Hart's is definitely the place to go.
Bryan Crump modelmayhem.com/413 facebook.com/thecrumpeffect
If you are looking for something out of the ordinary this year, alter yourself with the help of local transformational specialist Bryan Crump. A professional photographer and self-taught body transformation artist, Crump's work is a sight to behold. He likes to sit down with the client and get a feel for the full vision of the transformation, and then the fun begins. Things get pretty hectic for him this time of year, so don't waste time booking him.
Print: Eat, drink and be scary