Alexa Ace
Posh Beauty Bar & Lash Studio offers both classic and volume lashes as well as lash lifts, microblading and powdered brow services.
Shellica Jordan and Micah Lauren are passionate about beauty. Together, they run Posh Beauty Bar & Lash Studio, 1933 NW 142nd St., a salon where clients can receive a variety of modern and trendy beauty treatments.
The salon is near the busy Quail Springs Mall area but is tucked away on a quieter street between residential developments. Inside, a pink velvet couch invites guests to sit in a bright, airy waiting room.
Owners and business partners Jordan and Lauren are both licensed estheticians as well. Jordan began her career as a makeup artist, attended esthetician training to start doing lashes and opened Posh Beauty Bar in March 2015.
Lauren has been working for three years in the industry. She began as a client of Jordan while in college and decided to join her after esthetician training. She started out renting a booth in Jordan's salon and then joined her for a brief stint at a partnered Chisholm Creek location.
"We already owned a laser business together, so we knew that we worked well together," Lauren said. "So I went to an extreme training, and then I liked how she did the lashes, so she trained me on how she does them specifically. And she just mentored me through this business."
The previous co-owned business she referred to is their medical spa, Posh Body Sculpting, which they continue to operate. Jordan paints a similar picture of their cooperation through the years.
"We decided, 'OK; let's just do this together,'" Jordan said. "'We're doing the lasers; we work well. Let's do the lashes and stick together.' Because it was just so hard."
In October 2018, Posh Beauty Bar moved to its current location.
"We advertised and marketed ourselves, and now we're a packed house," Jordan said. "There [are] no empty spaces."
Posh Beauty Bar has seven employees including five lash artists.
"What makes this salon different is [that] I feel like we have everything beauty," Lauren said.
Indeed, numerous services are offered at Posh Beauty Bar, starting with lash extensions, lash lifts, lash and brow tints, microblading and permanent makeup.
Lash extensions involve an esthetician gluing individual false lashes to each natural eyelash at the root. It is a process that takes about two hours for a full set and requires regular appointments for replacement lashes, or fills, every two to three weeks. Those appointments are shorter, at about an hour.
Lauren said she has had lash extensions for around four or five years.
"As long as you keep up with your fills, you never have to get the full set again," Lauren said.
Posh Beauty Bar has two options for lash extensions: classic lashes or volume lashes. Jordan and Lauren said the voluminous lashes are incredibly trendy with their clients right now.
"For the most part, it's just girls wanting to come in and look naturally pretty when they wake up," Lauren said of their clientele.
"That's a good way to explain it," Jordan said. "Having lashes, it still makes you look naturally pretty with no makeup on. So if you don't want to wear makeup and not look dead …"
"You still feel put together," Lauren said.
For clients who want a less time-consuming option, lash lifts are like perms for the eyelashes that provide a natural-looking curl. Lash lifts last six to eight weeks.
Microblading is the process of hand-drawing individual hairs onto the skin to shape and fill the eyebrows. It's a slightly more natural look than fully filled eyebrows. This treatment takes two hours as well and lasts about two years.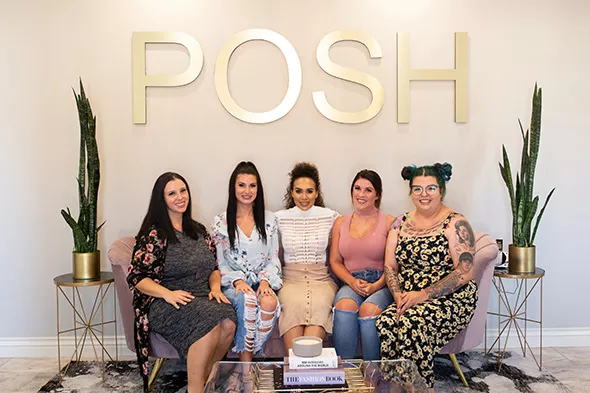 Alexa Ace
Ashley Morford, Micah Lauren, Shellica Jordan, Ashley Jackson and Sally Rowe provide an array of beauty services at Posh Beauty Bar & Lash Studio.
To offer this service, Jordan went through Oklahoma's medical micropigmentation certification program and is now a certified medical micropigmentologist.
Microblading is semipermanent, unlike traditional permanent eyebrows (which are also called powdered or machine brows). Jordan said she thinks the perfect look is a combination of the two techniques.
"Microblading plus the powder brow is my favorite," Jordan said. "Because it allows you to have the strokes naturally, the natural look up front, and then powder towards the end. Gosh, it's so beautiful."
Posh Beauty Bar also provides traditional salon services, including hair blowouts, hair extensions, braiding and bridal hair and makeup, as well as waxing and spray tans.
As mentioned, Jordan and Lauren still own and operate Posh Body Sculpting, which is on the second floor of the salon. On that side, in addition to Botox and lip injections, they offer laser lipolysis and a nonsurgical sculpting service for buttocks called "butt cupping."
"It makes your butt larger and more firm," Lauren said.
Butt cupping is a form of vacuum therapy, which is exactly what it sounds like — vacuum cups are applied to the buttocks to shape and plump them.
Lauren also runs a clothing boutique out of the salon called London Wardrobe. Near the front entry, guests can browse floral tops, lace dresses and distressed jeans. Lauren said it is perfect for clients to shop between appointments. They can also shop online at londonwardrobe.shop.
The pair is continuing to innovate and grow the business, and they plan to start a training program to teach estheticians their lash-extension techniques this year. They will also release their own lash extension line in the volume style.
"The value we're offering in our training is that for a two-day course, you're going to learn classic lashes and volume," Jordan said.
Previously, estheticians had to learn the two lash styles separately.
Visit poshbeautyok.com.