Summer is over, thankfully. It's time to get out your favorite shirts, push those sleeves up (because it is still warm, of course) and dig into the best season of the year with some of the best places for fall fun and apparel.
— By Greg Elwell and Laura Eastes | Photos by Mark Hancock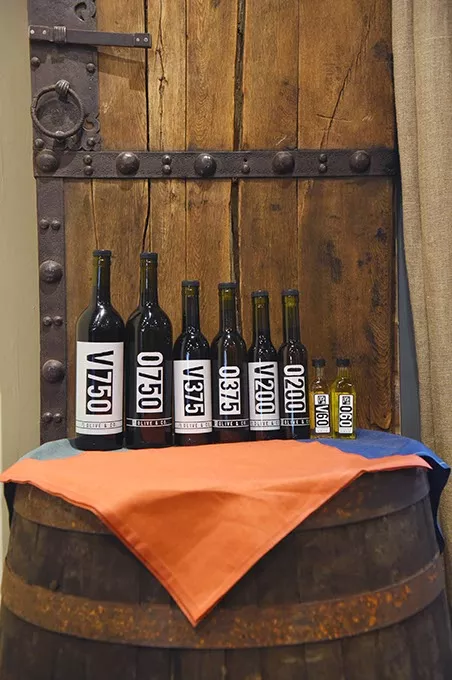 Mark Hancock
Their own label of olive oil sold not by the barrel but in this instance, on the barrel, at Olive & Co. on N. May Avenue, 9-25-15.
Olive & Co.
7602 N. May Ave.
242-6457
"Let's have a picnic!" someone might have said to you this summer. But while they got sunburns and ant bites, you waited. Now, it's fall. The weather isn't nightmarish. You can stop in at Olive & Co. to find gourmet ingredients for a picnic you'll actually enjoy. Surviving fall isn't enough. With grill glazes, high-end olive oil and aged balsamic vinegar, you will be ready to conquer fall with flavor.
Mark Hancock
Octoberfest and other beers for Fall at Freeman's Liquor Mart on N. Western Avenue, 9-25-15.
Freeman's Liquor Mart
4401 N. Western Ave.
524-8031
Scientifically, a nip of alcohol doesn't warm your body up. But sometimes science is stupid. Head to Freeman's for a selection of wine and spirits that will ward off autumn's chill with cheer. What sounds better than a soft wool sweater and a snifter of brandy? Is anything nicer than a hot toddy and a scarf? Set yourself up for a season worthy of greeting with a glass of fine port or any other beverage from Freeman's.
Mark Hancock
Shirts and other apparel at J. Lilly's in Nichoma Park, 9-29-15.
J. Lilly's Boutique
10901 NE 23rd St.
769-4789
Ooooooklahoma, where the wind comes sweeping down the plains and, if you're not careful, up your skirt. Guard against unwanted breeze entry with layers of cute tops and stylish pants from J. Lilly's near Nicoma Park. With its selection of Oklahoma-centric shirts, you can show your pride in a state determined to blow you away.
The Bleu Garten
301 NW 10th St.
Weather is the natural enemy of food trucks. If it's too hot, people won't stand in line. If it's too cold, customers won't come out at all. That is why fall is the perfect time to visit The Bleu Garten. With spacious patios, fire pits and a wide selection of beer and spirits, it's the best place to grab a bite from the ever-rotating roster of food trucks parked there. Barbecue? Tacos? Hot wings? There's always something new to nosh on here.
Mark Hancock
Gnomes at The Gardne Gnome Bonsai on N. Western Avenue, 9-29-15.
The Garden Gnome Bonsai
4141 N. Western Ave.
521-8733
Falling leaves and bundling up for brisk walks might be better fitted for November, but nothing can hold Oklahomans back from getting their pumpkins. The Garden Gnome Bonsai is the spot to pick out a pumpkin and snag a squash plant grown in our own red soil. What is hotter than shopping local and supporting local farmers? Maybe an Oklahoma jack-o'-lantern on the porch on All Hallows' Eve.
Folk.Life
1745 NW 16th St.
524-1500
Find everything needed to bring the Day of the Dead (Día de Muertos) holiday to life at Folk.Life. The unique store brings authentic decorations for the holiday celebrated in central and southern Mexico Nov. 1-2 to Oklahoma City. Folk.Life features decorative sugar skulls and sells sugar mold kits for fun crafts. For those who like pumpkin decorations but seek a colorful, cheery, no-carve option, check out its ceramics from Mexico. With products from about 30 countries, Folk.Life is the place for putting an international spin on fall decorating.
Mark Hancock
They have a wide variety of products for your soil and growing habits, at Organics OKC, 2800 N. Pennsylvania Avenue, 9-25-15.
Organics OKC Garden Supply
2800 N. Pennsylvania Ave.
528-4769
Fall is no reason to put a garden on hold. Growing plants using hydroponics allows a gardener to grow year-round, and Organics OKC is just the place to help anyone with buying or building a system. For those with a system already in place, the staff will recommend seeds and seedlings.
Interested in aquaponic gardening? Organics OKC can help you there, too.