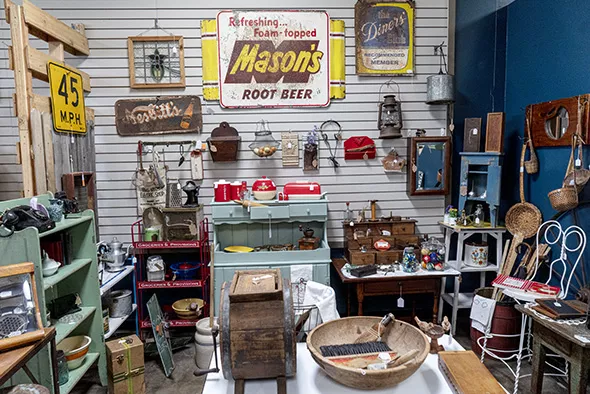 Phillip Danner
Decades Revisited Vintage Mall
For an antique enthusiast, Decades Revisited, 3639 NW 39th St., might be a dangerous destination, only because shoppers are sure to find something that will catch their eye.
Even a quick wander through the booths reveals some exceptional finds, like a 1930s porcelain gas stove in almost perfect condition, the "Estate Fresh Air Oven" decal still gleaming on its front.
That one's already sold, but what about antique quilts, industrial wooden cabinetry, commemorative Oklahoma plates or even bagged and boarded comic books and magazines?
I found myself lingering in front of a huge 1937 Camel cigarette ad, a framed lithograph on cloth. There was also a Kodak Brownie Starmatic camera in its original box that I didn't need but definitely wanted.
Decades Revisited has been open for about six and a half years. Current owners Andy Rapoport and Dale Kremeier took over the business in March 2019 after the former owners decided to retire.
Rapoport said he and Kremeier got into antique buying and selling as a hobby, starting a booth called FunkyJunky roughly 10 years ago. They sold items at both Decades Revisited and another nearby antique mall in Bethany.
For Rapoport, this soon became a full-time job in addition to his position in the corporate world, which he left when he and his partner decided to dedicate more time to antiquing.
Despite the time commitment that the work requires in order to keep the stock fresh and ever-changing, Rapoport is passionate about the business. He loves the fact that vintage items are usually of a higher quality than mass-produced goods, especially furniture.
"If it's made it this long, it's going to hold up, and oftentimes at a more affordable cost," he said.
Currently, Decades Revisited houses about 60 dealers, with an emphasis on true vintage products in each booth. The store is also an exclusive seller of Wise Owl Paint, and some food items are available as well.
Rapoport is proud that the store caters to a wide audience. It has retained a loyal clientele and much of the store's group of existing dealers while also expanding and updating the store's image.
"I always like to say, 'We're not your grandma's antique store,'" he said. "We appeal to a variety of people. Right now, we're seeing a surge of young people coming in, especially with the midcentury crowd."
Keeping the store from appearing "junky" and maintaining a high standard of customer service has been a focus.
Another way they've maintained a devoted customer base is through honoring one of the store's established quirks.
"We are very well known for our Hot Tamales," Rapoport said.
He explained that the previous owners always kept a bowl of the candies near the front entrance, and when the business sold, many customers specifically asked that the homey tradition continue. Now Rapoport and Kremeier even include Hot Tamales in store giveaways.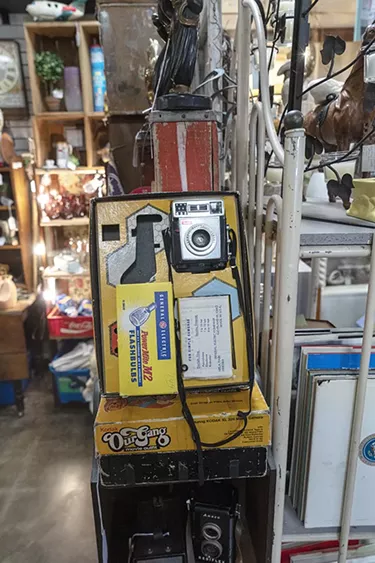 Phillip Danner
Decades Revisited, 3639 NW 39th St.
They have also incorporated several special events and extended hours.
Each week on Thursday, Decades Revisited hosts Shop Like It's the Weekend. The store stays open until 8 p.m., and from 6 to 8 p.m. everything is 10 percent off.
It also hosted a Leap Day event on Feb. 29, Leap into Spring, a sidewalk sale that focused on outdoor goods like patio furniture and garden items.
Currently, they are planning the store's next series of outdoor flea markets that take place once a month throughout the spring and summer. Vendors spill out into the mall's parking lot, and food trucks are invited to serve attendees.
The next outdoor flea market will be in late March.
Rapoport keeps an eye on trends within the industry to better cater to Decades Revisited's customers.
For instance, he said farmhouse style will remain a mainstay among Oklahoma City buyers, but he's also seeing customers move toward unpainted midcentury modern style and industrial pieces.
Rapoport said there are booths to supply any style, including 3 Dog Decor, which specializes in industrial items, and MidBin, which sells midcentury furniture.
Adam Bradshaw from MidBin has been selling with Decades Revisited for a couple months now.
"Working with Andy and Dale has been nothing short of great, and their cooperation in helping me get started there has been extremely helpful," Bradshaw said via Facebook, "especially in the area of midcentury modern and vintage furniture in Oklahoma City."
Treasure Hickingbottom is with Treasures with Mom and has been selling with Decades Revisited since May 2019. She has seen Rapoport and Kremeier work hard on the store.
"It's like being a part of great team with a family feeling," Hickingbottom said via Facebook. "To be friends and work with them is a very special honor."
Lee and Angie Ward with 3 Dog Decor also said via Facebook that those in the antique world feel like "a big family."
Rapoport said the excitement of searching for and finding treasures is what keeps the business exciting.
"The thing that I like most about it is the adrenaline that you get from finding the coolest piece that you don't find anywhere else," he said. "It's the search and the hunt for that."
When he's able to share that item with customers, it's another level of enjoyment bringing the process "full circle."
The thrill of the hunt was certainly a feeling I had as I walked through, and I could see how it would be difficult to leave without a purchase. But I noticed the bowl of Hot Tamales on my way out and departed with a smile.