This Thanksgiving season, while you're out shopping for friends and family and get-togethers — or just for yourself — take a moment to think about giving to your community, too. Ask local retailers about discounts, "buy one/give one" opportunities and what you might be able to share with your neighbors in need. Retail therapy always makes us feel good, especially when it helps keep everyone's spirits up. Here are a few options to foster community thoughtfulness, too. — By Brittany Pickering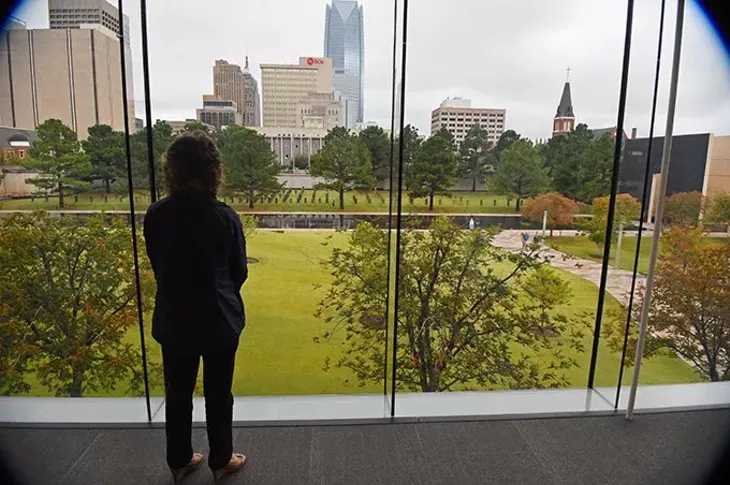 Mark Hancock
Mary Anne Eckstein at the new, large Oklahoma City National Memorial viewing window, from inside the Memorial Museum where she serves as Director of Media, 10-23-15.
Oklahoma City National Memorial & Museum
620 N. Harvey Ave.
oklahomacitynationalmemorial.org
235-3313
Take a moment to reflect on everything this great city has, including its residents, who never fail to help out friends and neighbors in a crisis. Stop by the Oklahoma City National Memorial & Museum and remember and support those involved in the Alfred P. Murrah Federal Building tragedy. All donations go toward museum upkeep and help "ensur[e] that future generations will continue to learn how our community and our country came together as others were trying to tear us apart."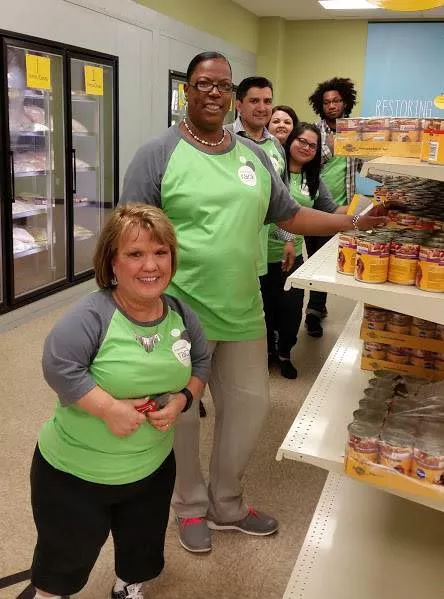 Blessing of the Animals
9 a.m. Nov. 14
Skyline Urban Ministry
500 SE 15th St., Moore
632-2644
Skyline Urban Ministry is setting aside a day this month to honor pets. So gather Snickers and Garfield up in their carriers and take them to 500 SE 15th St. in Moore for a day of fun and remembrance. Blessing of the Animals is 9-11 a.m., a free lunch will be 11-11:30 a.m. and a memorial service begins at 11:30 a.m. Pets get a free goody bag and St. Francis medallion, and Oklahoma City Pet Food Pantry will be on hand so your little buddies won't go hungry. Skyline Urban Ministry's Food Resource Center and Clothing Closet also will be open.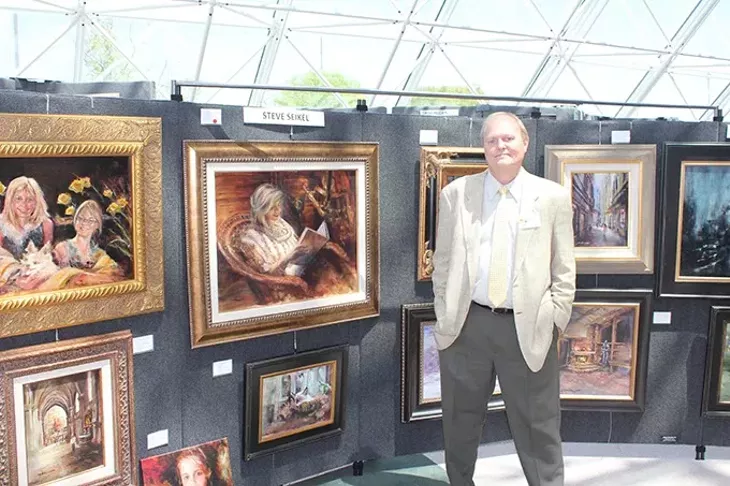 Steve Seikel, an artist who will display paintings at the Oklahoma Artists Invitational Benefit November 13-15 at North Park Mall, which supports the Mercy Foundation Stroke Education & Treatment program. Dr Richard V Smith speaks at 2pm on Sat & Sun. Steve and Karen Seikel are the owners of Steve's Rib in Edmond.
Oklahoma Artists
Invitational Fall Art Benefit
4 p.m.-8 p.m. Nov. 13, 10 a.m.-8 p.m. Nov. 14 and 11 a.m.-5 p.m. Nov. 15
Shoppes at Northpark
12100 N. May Ave.
751-1453
Oklahoma Artists Invitational Fall Art Benefit is selling art to raise money for Mercy Foundation Stroke Treatment and Education Program. The nonprofit will set up at Shoppes at Northpark 4-8 p.m. Nov. 13, 10 a.m.-8 p.m. Nov. 14 and 11 a.m.-5 p.m. Nov. 15. Twenty-two artists are contributing paintings, portraits and jewelry. Dr. Richard Smith will talk about new stroke treatments at 2 p.m. each day.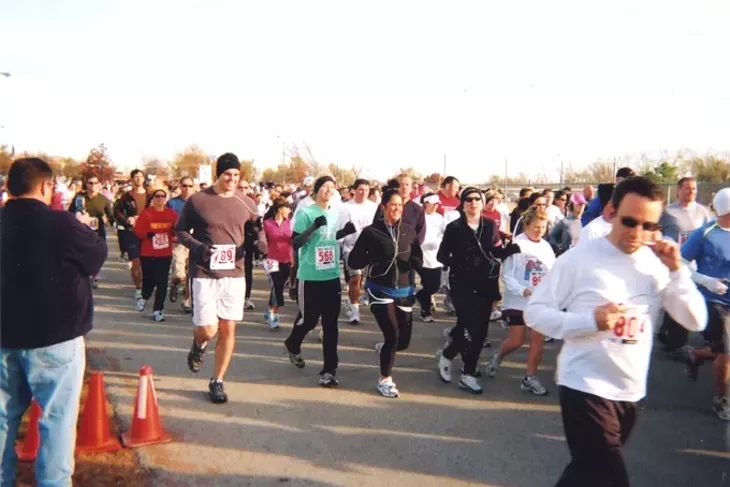 Oklahoma City Turkey Trot
8 a.m. Nov. 26
Lake Hefner East Wharf
3701 S. Lake Hefner Drive
463-7533
Free-$30
Put on your running shoes and wait a few hours to gobble up your Thanksgiving feast. Oklahoma City Turkey Trot kicks off 8 a.m. Nov. 26 at Stars & Stripes Park at Lake Hefner, 3701 S. Lake Hefner Drive. All proceeds from race registration are used to support Eagle Ridge Institute, a local organization that provides foster care, youth mentoring and substance abuse prevention and treatment to Oklahomans.
Students Against Hunger
Food and Fund Drive
600-3174
Oklahoma students are taking a stand against hunger by gathering food for those in need. Regional Food Bank of Oklahoma's 11th annual Students Against Hunger Food and Fun Drive runs through Nov. 13. Schools in OKC, Edmond, Yukon and Moore are participating. The food bank especially needs canned meats, canned fruits and vegetables, peanut butter and rice and beans. Monetary donations are also accepted, as the food bank is able to provide five meals for every dollar donated.
Turkey Day 5K & 1 Mile Fun Run
8:30 a.m. Nov. 26
Norman High School
911 W. Main St., Norman
$30-$45
Norman's Turkey Day 5K & 1 Mile Fun Run is back. The 5K begins at 8:30 a.m. and the fun run kicks off at 9:30 a.m. Both take place on Norman High School's campus, 911 W. Main St. This year's fundraising goal is $20,000, and proceeds benefit Cleveland County Habitat for Humanity, which will build houses for 10 families who were affected by the May 2013 tornado in Moore.