It's January, a winter month in which we delude ourselves into thinking there's nothing to do, nowhere to go and no Christmas gifts left to return. But January is also filled with fancy celebrations like Dress Up Your Pet Day, Male Watcher's Day and Peculiar People Day. Here are a few ways to break yourself out of your icy shell and warm up this oh-so-special time.
— By Jennifer Chancellor | Photos by Mark Hancock
Mark Hancock
For Peculiar People Day, Bad Granny herself, Diana Harris, owner of Bad Granny's Bazaar, in the Plaza District of Oklahoma City, 12-16-15.
Bad Granny's Bazaar
1759 NW 16th St.
facebook.com/badgrannysbazaar
528-4585
Jan. 10 is Peculiar People Day, and we know the best place to peculiar people watch is at Bad Granny's Bazaar — because sometimes they read "fiercely local" alternative newsweeklies in there. Most any day, Bad Granny herself, shop owner Diana Harris — who just might be decked out in genuine faux fir and authentically aged denim — is happy to point you to the phattest racks and shelves overflowing with local art, vintage coats and games. And if you're lucky, you'll also see peculiar people trying on gold lamé house slippers.
Mark Hancock
Woman's hat at Marla Cook Fine Millinery in the Paseo District of Oklahoma City, 12-17-15.
Marla Cook, fine millinery
3001 Paseo St.
facebook.com/LadiesandGentlemenPaseo
601-7776
Ladies and gentlemen, Ladies & Gentlemen Fine Millinery Shop is now Marla Cook, fine millinery at 3001 Paseo St. That's great news because Jan. 15 is National Hat Day, and this shop sells fine women's headwear! Woven, fur, felt, floppy or tied with an elegant bow, now you know where to find your hook-up for this holiday.
Mark Hancock
Dress up your pet, at Barking Dog Bakery on north May Avenue in Oklahoma City, 12-17-15.
Barking Dog Bakery Boutique
10455 N. May Ave.
barkingdogbakeryokc.com
879-2280
Jan. 14 is Dress up Your Pet Day. Treat your hirsute pal Harry to a swell cable-knit sweater vest and a tie from Barking Dog Bakery Boutique. If wearing clothing makes Harry nervous, well, too bad. But if sweaters look ridiculous on your dog, the shop also offers a selection of pet goggles, sports jerseys and tees. While you're there, you might as well order him a large, bone-shaped peanut butter cake with his name on it, too. This is his day.
Tea Cafe
788 Asp Ave., Norman
okteacafe.com
310-6655
This month also celebrates National Hot Tea Month. Tea Cafe, located off Campus Corner in Norman, steeps dried, leafy hot or iced black, green and herbal tea concoctions every day — because at Tea, every month is National Hot Tea Month. It also offers coffees, frappes and juices as well as a full menu of Asian-inspired eats like ginger salad, sweet and sour chicken and chef's specials.
Mark Hancock
Carolyn Gresham-Fiegel, who Co-owns Oklahoma Sport Fencing with her husband Bob Fiegel, instructs at the Edmond facility, 12-21-15.
Oklahoma Sport Fencing
24 NW 144th Circle, Edmond
oksportfencing.com
755-4195
January is National Hobby Month. It's also the month when many of us fail at our New Year's resolutions to be more active and to swing pointy things at people while engaging in friendly competition. The good news is now you can do both! You're no loser. No, sir. Why? Because you're going to study fencing at Oklahoma Sport Fencing. Novice to competitive teen and adult classes offer foil skill and technique training. Épée and sabre lessons also are available.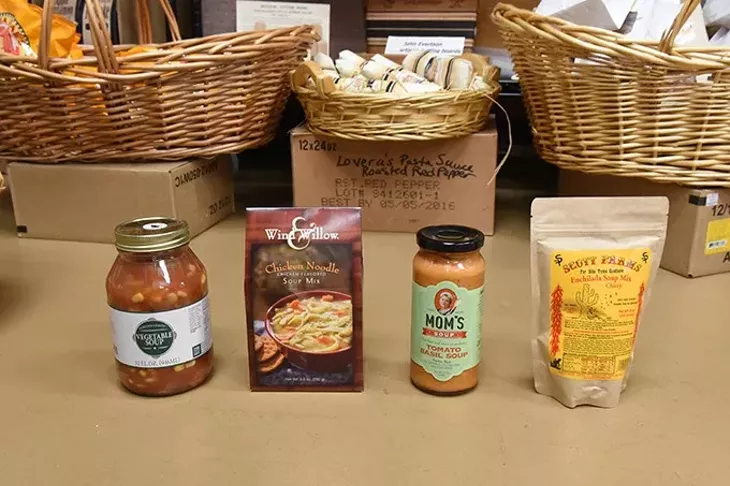 Mark Hancock
A lineup of soups at Gourmet Gallery in Northpark Mall, Oklahoma City, 12-14-15.
The Gourmet Gallery
1532 S. Boulevard, Edmond
thegourmetgallery.com
715-3663
This gourmet and specialty grocer in Edmond stocked its gift baskets and store shelves with soups and mixes, chili kits and more just in time for National Soup Month. Find tortilla, tomato basil, chicken noodle, creamy potato and enchilada soups and mixes six days a week right in the heart of Edmond.
Thunder From Down Under
8 p.m. Feb. 25-27
Sugar Creek Casino
5304 N. Broadway Ave., Hinton
542-2946
$20-$55
Jan. 8 is Male Watcher's Day, which means you now have the perfect excuse to spend the rest of your Christmas bonus on tickets for Australia's Thunder From Down Under male tour when it, uh … swings through Sugar Creek Casino Feb. 25-27.
Print Headline: Happy otherdays!