During those long summer months out of school, we lost track of how many times Mom and Dad hollered, "In or out! Make up your mind!" and "We don't pay all that money just to air-condition the front yard!" Now, you're a grown-up, too. Ah, the cycle of life. When not yelling these epithets at your own kin, get out there with them and remind yourself just how fun those summer days can be.
— By Kory B. Oswald and Jennifer Chancellor
Photos by Garett Fisbeck and Mark Hancock
Oklahoma City Dodgers
Chickasaw Bricktown Ballpark
2 S. Mickey Mantle Drive
218-1000
With eight home games in July, the newly branded Oklahoma City Dodgers will certainly score an entertainment home run with your little ones. Take the tykes to Chickasaw Bricktown Ballpark, where they can roam free on the playground as they burn off calories from the soda, pizza and hot dogs you fed them before the game. The team takes on the Omaha Storm Chasers nightly Saturday-Tuesday.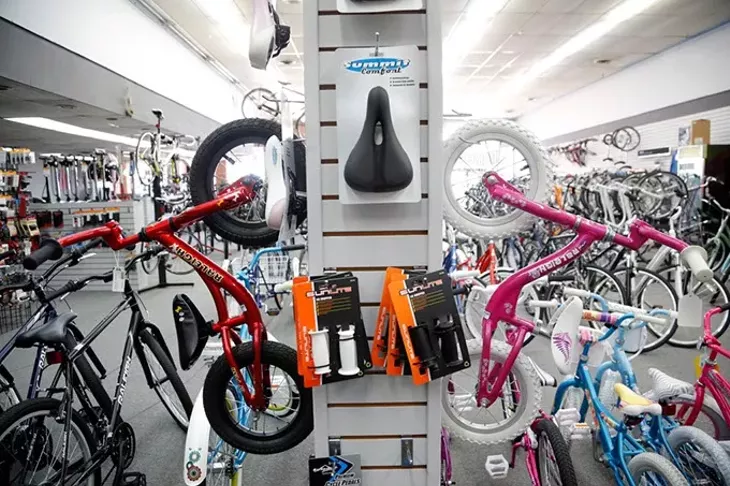 Garett Fisbeck
Al's Bicycles in Oklahoma City, Wednesday, June 24, 2015.
Al's Bicycles
7930 N. MacArthur Blvd.
728-7100
According to the experts at Al's Bicycles, cycling is a lifestyle. The self-proclaimed largest independent bicycle dealer in the state also says cycling enables good health, fun and freedom. 'Merica! So get to one of Al's four metro locations to find gear that suits every need and every family member.
Sam Noble Museum
2401 Chautauqua Ave., Norman
325-4712
Through September, kids ages 17 and under enjoy free admission the first Monday of each month. Why not celebrate the savings by buying everyone cookies from Redbud Café, located inside? Besides, everyone needs energy for the adventure ahead in the Discovery Room, where preschool and elementary school-aged kids can create, scavenger hunt, craft, touch, dig and discover.
Boathouse District
725 S. Lincoln Blvd.
552-4040
This might literally be the coolest place you visit this summer. The Boathouse District showcases outdoor activities such as kayaking, paddle boarding, rowing and the 80-foot tall SandRidge Sky Zip line that will whisk you away from everything. You'll also find festivals, youth camps, classes, whitewater adventures, training opportunities and competitive events in the Boathouse District. Half-day paddling camps for youth ages 8-16 run through July. Get the kids off their butts and into some water.
Porch School & Art Supply
5200 N. Santa Fe Ave.
524-3309
This locally owned shop was established in 1963 and offers 10,000 square feet of every art supply imaginable, such as print paper, easels, art markers, drawing tables, canvases, furniture, brushes and face, watercolor, acrylic and oil paints. (You can even browse the Duck Tape catalog!) We'd list more here, but there are approximately 16,000 items to choose from.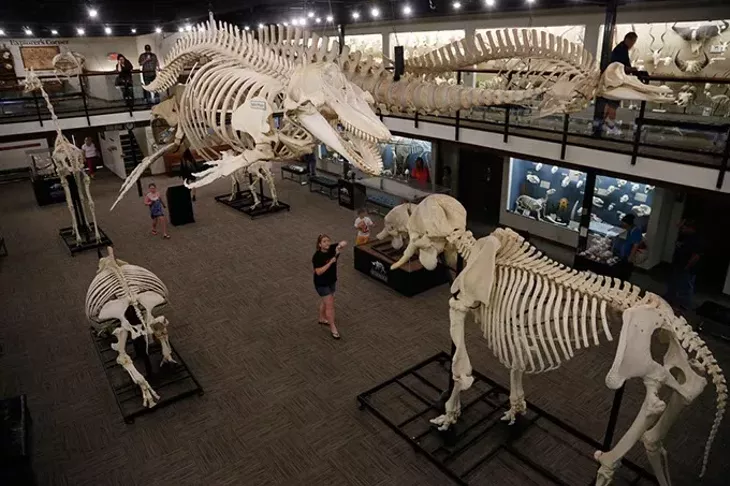 Garett Fisbeck
Museum of Osteology in Oklahoma City, Wednesday, June 24, 2015.
Museum of Osteology
10301 S. Sunnylane Road
814-0006
Take the gang out for a day of bone-picking good times. This museum displays around 300 skeletons from around the world so visitors can compare and contrast specimens as varied as mice, a Narwhal horn and a 40-foot humpback whale. The venue's website boasts that 98 percent of all exhibit items are real. Pack a lunch before you go, as the museum offers a place for picnics, too.
---
Print headline: Go outside!