Whether shopping for family, friends or yourself this holiday season, local retailers are the place to find charming and distinctive gifts and home-warming accents, from on-trend clothing and accessories to furniture, festive home decor, art and party accoutrements.
— By Jennifer Chancellor Photos by Mark Hancock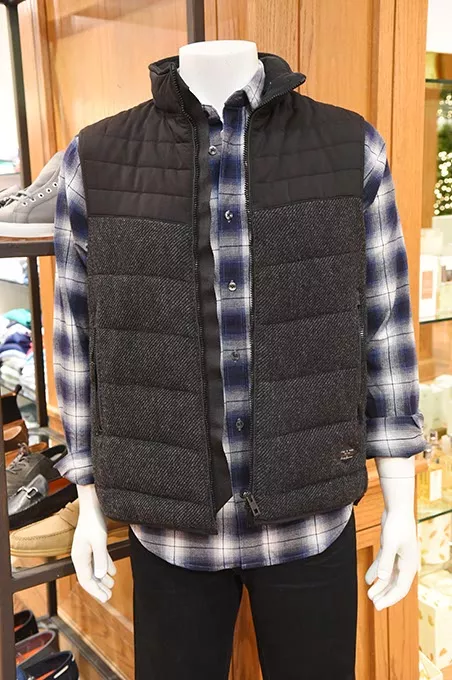 Mark Hancock
Rag & Bone warm-up vest, at Cayman's in Norman, 11-16-15.
Cayman's
2001 W. Main St., Norman
shop-caymans.com
360-3969
Find fashionable everything at Cayman's, with its selection of designer jewelry and handbags; home accents; men's shoes, seasonable warmup vests and flannel; and more. There's even a registry so you can share all your holiday wants and wishes with the ones you love.
Mark Hancock
Leather half chair and sofa, at Design to Consign, on North May Avenue in OKC, 11-11-15.
Designed to Consign
4932 N. May Ave.
designedtoconsign.com
949-1600
Need to make room for holiday guests while earning a little extra cash for the holidays? Looking for an additional couch, loveseat, dining room set or accent piece to complete your holiday look? Do it all at Designed to Consign.
Bow & Arrow Boutique
617 N. Broadway Ave.
shopbowandarrow.com
601-0605
Deck your halls with Okie-centric, artist-made tree ornaments, and make your house smell like a warm, friendly holiday home with Bow & Arrow's selection of scented candles. Before you head home, bundle up with an affordable knit hat and scarf, and maybe buy one for a friend, too.
Mark Hancock
A wide brimmed red hat, at Milo & Lily Boutique, on North May Avenue in OKC, 11-11-15.
Milo & Lily Boutique
9612 N. May Ave.
miloandlilyboutique.com
430-7915
Moms and daughters can shop together for rompers, tops, dresses, hats, handbags, vests, accessories and more. Heck, you can even find coordinating dog accessories for Spot and Fido.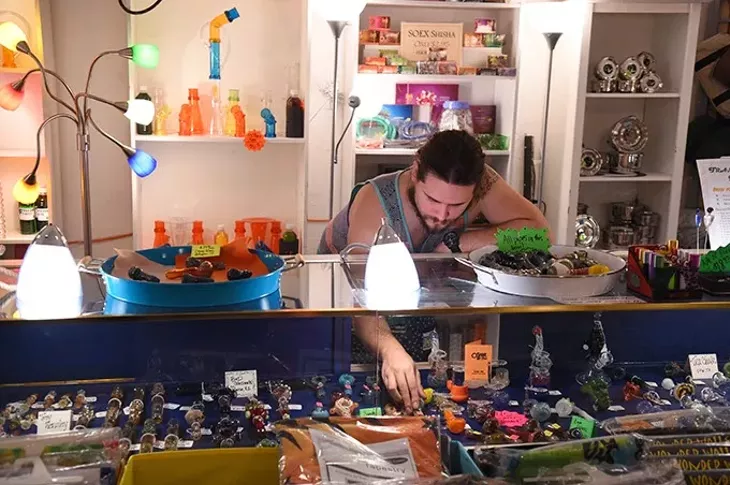 Mark Hancock
Brandon Martin, store manager, arranges glass pipes, at The Indigo Attic in Oklahoma City, 11-11-15.
The Indigo Attic
5012 N. Meridian Ave.
facebook.com/TheIndigoAttic
625-4006
This season is smokin,' especially with The Indigo Attic's gift selection, which includes a quirky selection of handmade glass pipes, deerskin accessory pouches, bottle light art and psychedelic banners.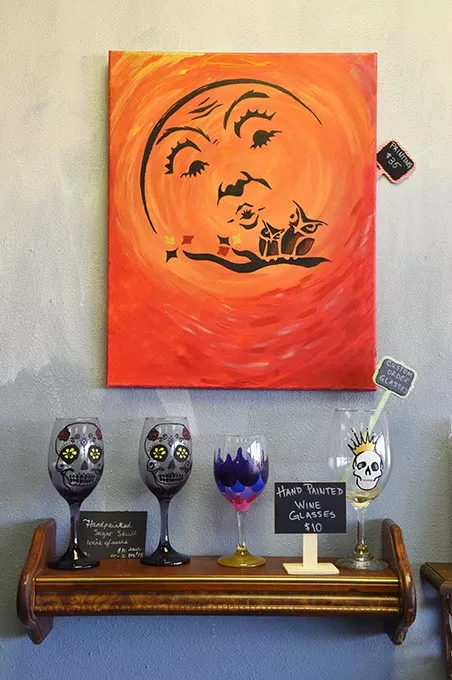 Mark Hancock
A painting overlooks hand painted wine glasses, at On the Edge with Skulls & Stones, at On the Edge with Skulls & Stones, in their new location in west OKC, 11-11-15.
On the Edge with Skulls & Stones
5924 NW 38th St.
facebook.com/OnTheEdgeOKC
652-9992
This out-of-the-ordinary gift and lifestyle shop features curious curios like sugar skull-painted wineglasses and Army-man lamps in addition to seasonal art, handcrafted jewelry and hand-decorated footwear, art classes, dolls, tees and clothing, holiday ornaments and more.
Print Headline; Local presents