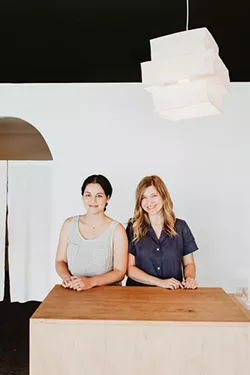 Alexa Ace
from left Angela Hodgkinson and Blakely Hiner are co-owners of Solare.
In this bright, 16th Street Plaza District shop, the smells of natural oils, earthy incense and homemade candles spice the air. Simple shelves display chic products like organic balms, modern jewelry and woven sandals. A stately black-and-white photograph of the artist Georgia O'Keeffe hangs on one wall.
Solare, 1757 NW 16th St., hopes to emulate the beloved painter's sensibilities through a similar spirit of independence, minimalism and intentional living. The store is a spare, light-filled apothecary carrying female-made and female-designed beauty and home goods as well as limited apparel and accessories.
Shop owners Angela Hodgkinson and Blakely Hiner both operated separate businesses nearby in the alleyway down the block, just inside the entrance to Plaza Walls, which is where they met and realized they had overlapping interests.
Hodgkinson's place was called Reference Point and was directly across from Hiner's business, Bison Shop, in the narrow Plaza Alley suites hallway. Bison Shop featured primarily vintage goods, while Reference Point focused on Hodgkinson's love of modern fine jewelry.
"It was kind of slow back in the alley," Hiner said. "So we would always end up in one another's space."
They pointed to some big life shifts, including the 2016 election, as motivations to share the same storefront in early 2017. They continued to run their separate brands for several months before truly combining in October 2017.
"We had pretty distinct tastes at that point," Hodgkinson said in agreement. "But we had a lot of overlap. And we also had a lot of overlap in our personal interests, with art and design. Georgia O'Keeffe is our muse, who you can see. We were both really interested in Georgia and the life that she created for herself."
They also both developed a love for natural beauty care and decided to focus on an apothecary approach to the shop, giving them a new, slightly more elevated retail direction. Now they choose new products together, and everything reflects their shared tastes and vision.
They relocated to their new Plaza-front location in November 2018.
They are aware of today's political and social climates and purposefully feature female artisans. Everything in the shop, except for a few blankets, is made or designed by women.
"We're really focusing on building up women and supporting women," Hodgkinson said. "And it seems really important to us, just as business owners, to create a space that we are following through with what we believe in."
The store is also founded on ideals of living what Hodgkinson called "an easy life," or a life focused on simple, beautiful, essential personal care. It openly embraces the feminine, but its products are for everyone.
"We're focused on self-care and wellness," Hodgkinson said. "Natural, apothecary-type items [are] the heart of the shop. But beyond that, sustainability is really important to us."
Hiner pointed out that many of the store's products are multifunctional.
"Like the Everyday Oil; you can literally use it head to toe," Hiner said. She gestured to Hodgkinson. "Everyone can benefit from a lot of what we sell, and they have more than one use to reduce your footprint, reduce the items you think you need."
The Everyday Oil is a plant-based, unisex, multipurpose oil made in North Carolina. Solare is one of only a handful of shops in Oklahoma that carries it.
Social media and online networking has allowed Hiner and Hodgkinson to join a community of like-minded business owners, which is how they often find new products for the store. They likened it to modern-day word-of-mouth.
Along with products like face creams and oils, the store carries natural wellness tools. Its delicate jade and rose quartz facial rollers, along with soft-bristled body and face brushes, are popular.
On another shelf, small jars of Austin-made Serota's Underarm Balm promise natural deodorant protection for men and women.
The store also features a line of in-house candles, which Hodgkinson makes herself. Hiner called the line their "baby." The signature scent is rose patchouli, and the candles are made with soy wax, organic beeswax and natural oils.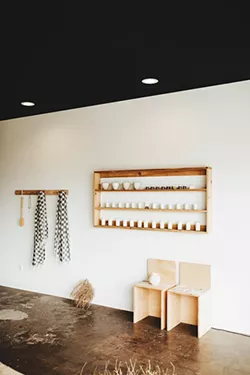 Alexa Ace
Taking many of its cues from the art and philosophy of Georgia O'Keeffe, Solare carries products to enrich the mind, body and spirit.
"The blend gives us certain properties that we appreciate, but it also helps to purify the air," Hodgkinson said. "So it actually cleans the air as it burns instead of putting more impurities into your household."
They are making their own line of facial and body products for release later this year.
Another exclusive item comes from Brooklyn ceramicist Nancy Kwon, who makes the store's custom stoneware incense bowls in clean, simple lines.
The jewelry cases include delicate rings by Michelle Hisae Meronek, made from recycled metals and reclaimed diamonds.
Solare fosters community through regular events. They held a traditional Japanese tea ceremony on May 25, led by Japanese-born (now Oklahoma-based) Yumie Farringer. Kwon crafted tea bowls for the ticketed event.
The store also incorporates To Be Magnetic meet and greet events into its calendar. The free meetings are part of a larger program from Lacy Phillips that focuses on self-realization techniques and how to manifest goals.
Hodgkinson and Hiner said they are happy to be in Plaza District as it grows and evolves.
"I wouldn't be able to do what I'm doing here there," Hiner said. "It just is not as feasible. There's not the community surrounding local businesses that there is here. We're very grateful to be here."
"There's opportunity," said Hodgkinson. "And if you have an idea, I really believe in Oklahoma City you can make it happen as long as you have that drive and persistence. And [if] you're creative at all, you can do it."
Visit solare-shop.com.