February welcomes Valentine's Day and Mardi Gras, and sometimes the best way to celebrate is by loving the one you're with — even if that person is you. Adult games, lingerie, costumes, sales, toys, fitness and couples classes offer plenty of reasons to tell your friends, "Sorry. I can't make it to the booze and paint social tonight; I'm tied up." — By Gazette staff | Photos by Mark Hancock
Mark Hancock
Valintine Hearts candy at Carlie's, 218 E. Main Street, Norman, 1-20-16.
Carlie's
6000 S. Interstate 35 Service Road
634-5900 Carlie's has everything you need for Valentine's Day. Find X-rated candy hearts ($2.99), Fuzu Glove Massagers ($20.99), glow-in-the-dark Lover's Dice ($3.99), Bedroom Commands Romantic Game ($7.99) and even a Truth or Dare Spinner Valentine's gift bag ($4.99) to wrap it all up in.
Mark Hancock
Sex Panther Cologne for him, at the Hustler Hollywood store, 500 S. Meridian Avenue in Oklahoma City, 1-20-16.
Hustler Hollywood
500 S. Meridian Ave.
605-3769
Hustler Hollywood has every kind of gift you can imagine: edible, kinky, lingerie, for her or him, couple's, silly and under $15. Get Sex Panther cologne ($44.99) for your man, the popular and often-joked-about Fleshlight ($64.99-$129.99) and Japanese drip candles ($11.99). While you're there, pick up a Hustler logo V-neck tee for her that says, "Relax ... it's just sex" ($20).
Adam & Eve
218 E. Main St., Norman
701-5881
Metal, rubber, silicone, plastic — football isn't your partner's only fantasy. This boutique offers a Super Bowl Sunday special 2-3 p.m. Sunday and in-store education classes on topics such as The Art of a Positive Relationship and stays open 6 p.m.-10 p.m. during the monthly 2nd Friday Norman Art Walk events in downtown Norman. Pick up a mister bottle of Adam & Eve's flavored lubricant ($9.95-$12.95) in watermelon, cherry or strawberry. Ask about Adam & Eve Video on Demand and Gay Mall movie service while you're there.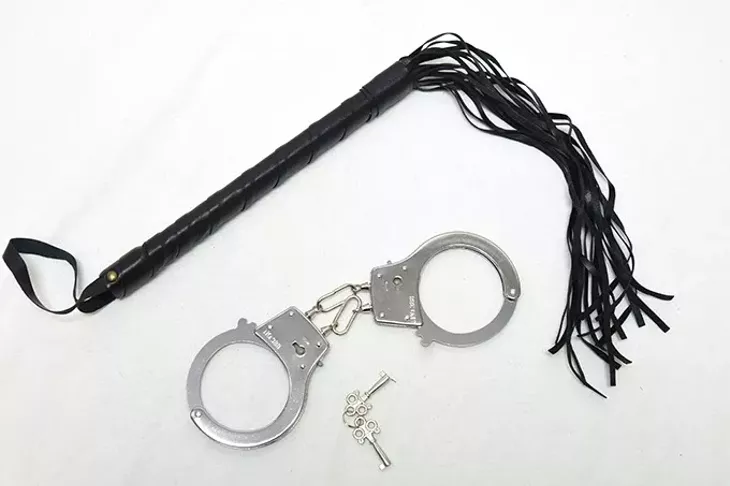 Mark Hancock
Whip and handcuffs come in a kit , "Fetish Fantasy Series", with other goodies like Butt plug, mini mite vibrator, nipple chain, and more, at Patricia's, 8009 W. Reno Avenue in West Oklahoma City, 1-20-16.
Patricia's
8009 W. Reno Ave.
792-2020
Patricia's is stocked full of supplies for your romantic Valentine's Day. Bond with your lover with the Fetish Fantasy Series kit ($19.99), which comes with metal handcuffs (and keys!), a small leather whip and an eye mask. Stay smooth with help from Coochy Shave Creme ($8.99-$13.99). Don't forget System Jo H20 lubricants, massage oils and toy cleaners ($6.99+).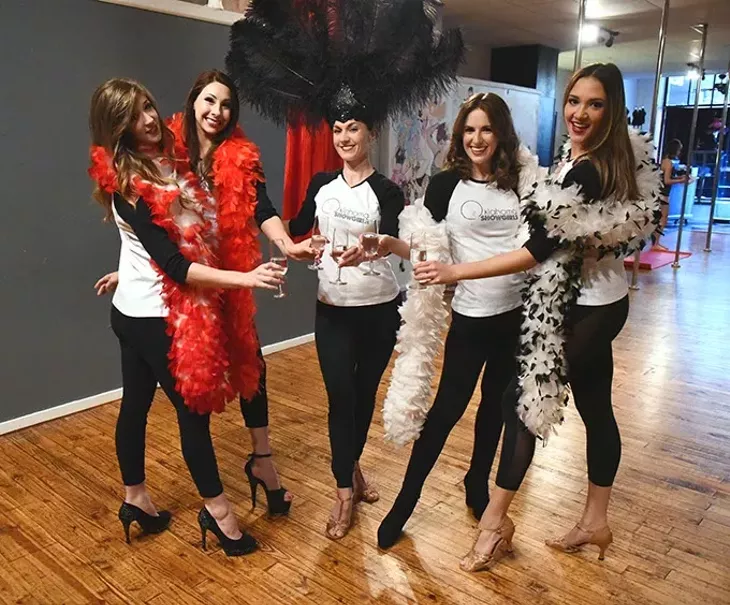 Mark Hancock
Lynn Crowe, owner, center, surrounded by her girls with feather fans, boas and champaign at Teaze Dance, on Broadway in Oklahoma City, 1-26-16.
Teaze Dance & Fitness
1112 N. Broadway Ave.
232-7653
If you're looking for a Mardi Gras pre-party, this might be the perfect warm-up spot for you and your pals. Established in 2009, Teaze offers party packages ($230-$400) including the use of its dance studio and 14 poles, music playlists, class instruction, a changing room and a lobby area. Props feature chairs, canes, feather fans and boas all in a private space. You can even hire a personal instructor and rent or buy your own pole so you can dance just about anywhere.
Christie's Toy Box
2106 W. Lindsey St., Norman
321-0555
Popular items at Christie's Toy Box include Wicked Ultra silicone-based lubricant ($27.99) and Doc Johnson's iRocket ($56.99) and iPlay ($67.99). Other popular items are Hemp Seed massage and body oil in scents like Dreamsicle and skinny dip. Christie's also sells costumes — everything from fake mustaches ($3.99) to body glitter ($6.99) and a (hello, nurse!) three-piece halter garter dress with cap and stethoscope ($27.99).
Print headline: Sense and sensuality