Alexa Ace
A necklace and ring made by Erin Merryweather
Not too long ago, Oklahoma City jewelry buyers were relegated to either BC Clark Jewelers, chain mall stores or gaudy costume jewelry that instantly turned the wearer's skin an unsettling shade of green. The emerging artisan jewelers would have to haul foldable card tables to dusty craft fairs stuffed into churches or swap meets set up in dicey parts of town. Then came a cultural shift to dedicated gallery shows and sprawling events focused on higher-end handmade products. Erin Merryweather along with the other founders of The Girlie Show were at ground zero from the beginning.
"I've been doing this forever, always," Merryweather said. "It was friendship bracelets back in junior high. In high school, I'd do a lot of native beadwork, peyote stitch. I'd find books about whatever was trendy and figure out how to do it. I was very fashion-conscious and dressed … differently."
When Merryweather graduated from friendship bracelets to jewelry, she developed a minimalist, architectural style that was all handmade so even within a specific line of earrings, no two pieces were ever alike. That extra touch gave the jewelry a personality lacking in mass-produced products. She uses sterling silver and other fine metals but strives to keep her pieces affordable. In the early 2000s, this made Merryweather a bit of an odd fit in OKC, but during a night of cocktails and fortuitous happenstance, she ended up in a conversation with Dawn Tyler Harth and Marilyn Artus that led to the launching of The Girlie Show in 2004.
"We were all creative women in the arts, and we started talking about having a group show of the different things that we make," Artus wrote in an email. "Erin suggested that we open up the show to other women, and we all looked at each other and knew that was what we were going to do."
The Girlie Show was meant as a platform for artists working in the middle lands between art museums and the state fair.
"It created a handmade art scene on a larger level, and artists came out of the woodwork," Merryweather said. "I wasn't a crafter; I wasn't going to do craft shows. I didn't feel like I fit in the art scene either. My work was good, but I felt inferior to paintings and sculpture or really high-end jewelry. We were in the middle, which is why we started The Girlie Show. We wanted a venue for our work."
The success of The Girlie Show inspired other events like Deluxe Winter Market. The collective energy helped encourage the buying public to look beyond traditional retailers and brands, which then led to a wave of shops and pop-ups that catered to patrons of the handmade, which tracked alongside the growth of the destination districts like The Paseo Arts District, 16th Street Plaza District and Film Row. One of the show's first vendors was Amanda Zoey Weathers, who would later open DNA Galleries where Merryweather now works as the business development manager and will be part of a jewelry show opening during November's Live! on the Plaza.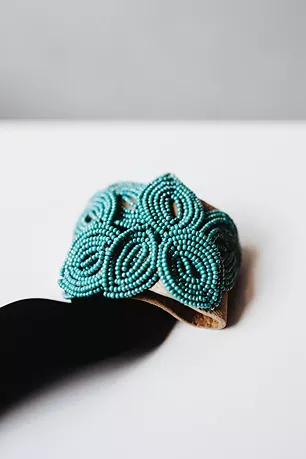 Alexa Ace
A beaded bracelet by Erin Merryweather
"People shop at those places and look for things from artists that are unique, something that no one else has," Merryweather said. "There are people that come into DNA every time they are in town for business or to see family because they can't find this stuff anywhere else."
Merryweather considers her work "demi-fine," a category of jewelry that is on the rise internationally according to a recent article by the jewelry writer for The Telegraph and Vanity Fair, Annabel Davidson. That trend is strong locally as well. Jennifer Woods was a patron of The Girlie Show before producing her own demi-fine jewelry and then eventually opening her own shop in The Paseo. She explained that demi-fine bridged the gap between costume and fine jewelry for people who want to accessorize without making a huge investment.
"I think a lot of it has to do with the younger generation wanting to be unique and create a more personalized image than what mass-produced costume jewelry affords," Woods said. "They are also looking to buy heirloom pieces without the hefty price tag found on fine jewelry. Since demi-fine jewelry is made out of long-lasting materials like sterling silver and semiprecious gemstones, it is a more affordable option for heirloom-quality jewelry."
Woods said shop local initiatives have also been an important boost to local jewelers. Pop-up shops, events and representation at boutiques like Betsy King Shoes help demi-fine jewelers develop followings. According to King, Merryweather was the shop's first jeweler when King's shopmate Marla Cook brought her in three years ago.
"She has a bit of a cult following," King wrote in an email. "I only carry jewelry by local artists. Each artist has a unique vibe to their work. Erin's is contemporary minimalist. I love the metals she uses and how simple and lightweight her pieces are. She also speaks to a broad age range. I have clients from [age] 25-85 who love and appreciate her pieces."
Because locally crafted, demi-fine jewelry also speaks to a shopper's core values, Merryweather said she is continually surprised by how many people she has never met will be just as likely to recognize her as they are her work. It's all a part of the brand she began creating with The Girlie Show.
"I want people to feel like they have something very special," Merryweather said. "When I get orders, every single thing I make is especially for that person. All of my work has my life and my energy in it. And the value of that added to the quality of the demi-fine aspect makes my jewelry something that I hope will be a part of a woman's wardrobe for years and years to come — becoming a part of their own quirky lives."
Visit erinmerryweather.net.