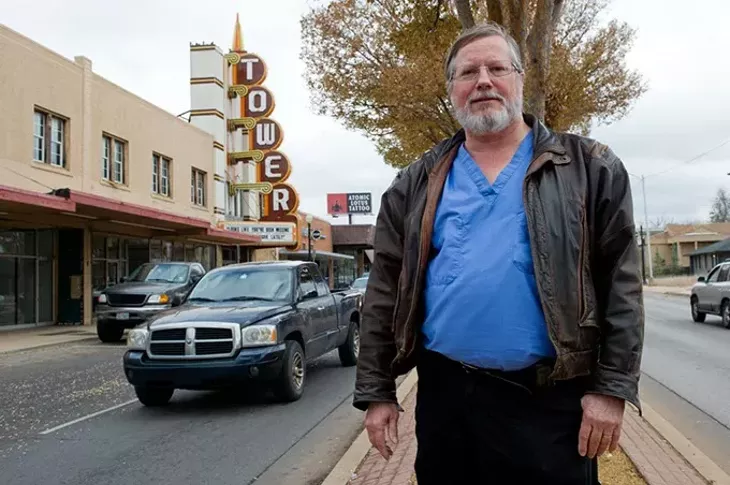 Garett Fisbeck
Larry Kincheloe, who managed Tower Theatre in 1974, reminisces about the venue's glory days. The building soon will be renovated and opened under new ownership.
Editor's note: To celebrate Oklahoma Gazette's 35th anniversary, we're updating stories from our city's past and our archives.
Larry Kincheloe supported himself through college by working at movie theaters in Oklahoma City in the early 1970s. He worked as a manager at Plaza Theatre, May Theatre and Will Rogers Theatre before becoming the last theater manager of Tower Theatre on 23rd Street in 1973.
"This was in the early '70s, and it was on the downhill decline at that point," Kincheloe said of Tower Theatre, which has sat vacant for several years before being purchased this month by three developers who plan to revitalize it.
Kincheloe remembers the last major movie shown at the Tower being Cahill U.S. Marshal, the 1973 film starring John Wayne.
"That was probably the last time people were lined up around the block," Kincheloe said.
As multi-screen theater complexes grew in popularity and the population dwindled in urban OKC, Tower Theatre slowly declined until abruptly closing.
"Me and my friend Mike got our last paychecks, but they didn't pay the projectionists or cleaning people, so we gave them some money," Kincheloe said. "We took a carload of candy bars. We took our last paycheck in candy bars."
Until it closed, Kincheloe said the theater was a great place to work.
"For a college student, it was the best job in the world," he said. "You don't go to work until 5 in the evening, you get off at 11. After the movies shut down, we would have our friends over, play spades in the lobby and have Coke and popcorn."
Kincheloe, who is now a medical doctor, said there were drawbacks to working in a struggling theater in a declining part of town, including the time a man came in wearing a cowboy hat and pulled out a revolver to rob the place. Being a psychology major at the time, Kincheloe said he thought back to his criminology class and tried to humanize the robber, even calling him a modern-day Robin Hood and offering him Coke and candy.
There was another time when a bomb threat was called into the theater and police had Kincheloe lead them throughout the building and check out suspicious objects.
"They had me acting like the bomb dog," Kincheloe said.
Following the closure, the theater hosted fringe concerts and other events in the '70s, '80s and '90s, but it was never a destination for moviegoers. David Wanzer, Ben Sellers and Jonathan Dodson, the theater's new owners, plan to turn the historic building into a mixed-use development, which includes the restoration of the old theater.
Kincheloe said he is excited to see new owners for the theater and looks forward to getting a chance to visit once it reopens.
"I'd like to see it come back," Kincheloe said. "I saw pictures of the inside, and that brought back so many memories."
Print headline: Moving picture shows, The Tower Theatre is making a comeback after decades of abandonment and disrepair.