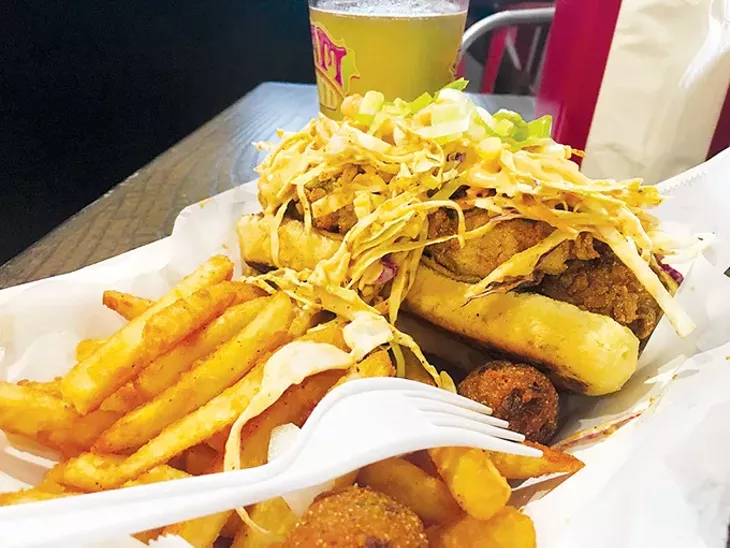 Jacob Threadgill
Fried oyster po'boy served with fries and hushpuppies
The children of Vietnamese refugees, Nam and Rick Nguyen were born in Beaumont, Texas, where their family found their footing in the shrimp boat industry.
The Nguyens moved to Oklahoma in the late 1980s, and brothers Nam and Rick became partners in successful restaurant Covell Park and transitioned Guernsey Park into Okie Pokie and Noodee.
Nam Nguyen found himself craving Cajun food and noticed that the Oklahoma City area doesn't have a ton of Cajun options. The craving led to the creation of Cajun Corner, a fast-casual eatery at 9200 N. Council Road, which is an 8-mile journey down Northwest Expressway from the city core.
"We decided we wanted to open a Cajun restaurant because it's comfort food," Nam Nguyen said. "It's not traditional Louisiana or Southern Texas-style Cajun, but Okie Cajun because we're up in Oklahoma."


The end result is a style that isn't exactly Asian-Cajun fusion or authentic Cajun, but the results are tasty all the same.
The Asian influence is certainly there. Seafood egg rolls are the most popular appetizers, its étouffée is served over jasmine rice and a bright red bottle of Sriracha is among the bottled hot sauces on the table, but what is authenticity anyway, especially when something tastes good?
Nguyen said that he was attracted to Cajun food while getting introduced to it in southeast Texas and then became even more intrigued while tracking the common French influence in both Cajun and Vietnamese cuisines. The nexus of that shared heritage is showcased with the seafood egg rolls ($4.49 for two pieces).
Served with a house-made chili sauce, the egg rolls were better in concept than in execution. They were served quickly and hot, but the filling was made with previously frozen shrimp and what seemed to be the bits of crab sticks — the imitation crab found in California sushi rolls that is made from pulverized pollock.
I'm certainly not belittling the use of frozen fish, especially in Oklahoma, but I found the egg roll somewhat unremarkable. Perhaps if the filling had a crunchy element like red bell pepper or even water chestnut, it might've been more memorable. I assume they wanted a softer filling to contrast the crispy wonton wrapper.
Oh boy, po'boys
Despite my slight disappointment in the egg rolls, that feeling was assuaged when the server brought out entrees of cream sauce étouffée ($10.99) and a fried oyster po'boy ($9.99) topped with spicy egg coleslaw.
The oysters are one of the few seafood products that arrive at the restaurant fresh, and it shows on the sandwich. The breading is a nice mixture of cornmeal and flour, and the oyster has plenty of its distinct natural flavor. Fried oyster and braised roast beef in gravy are my two favorite po'boys.
In addition to the oyster, the coleslaw was the star of the sandwich. Nguyen said he got the idea to mix a hard-boiled egg with coleslaw while thinking about sushi at Guernsey Park. The combination of textures in addition to a spicy mayonnaise kicked up with house-made blackened seasoning is a nice addition to the sandwich or any of the restaurant's entrees as a side. The fries and hushpuppies served with the po'boy were pretty generic Sysco entries but were well seasoned and hot.
So much of a good po'boy comes down to the bread. I missed a nice crusty French roll that's crunchy on the outside and soft on the interior. Cajun Corner uses a bun that is a soft potato roll, kind of like an oversized hot dog bun.
Nguyen said they tried 8-10 different buns from their supplier but couldn't get a consistent product out of the French roll.
"The ones closer to French roll almost tasted stale," Nguyen said. "The fried breading [on oyster, chicken or shrimp] has crunch to alleviate the non-crunch to the bread. It's not a true po'boy bread because we decided to go that way. We're more concentrated on the flavor profile."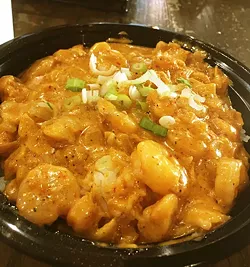 Jacob Threadgill
The cream sauce seafood étouffeé is served over jasmine rice.
The seafood étouffée caught my attention because of the variety of seafood used in the dish: catfish, shrimp and crawfish. At that price point, it shouldn't be a surprise when it was served with frozen seafood. The addition of cream sauce is important because, as Nguyen admits, they aren't trying for Cajun authenticity.
The result is something that resembles a Cajun Alfredo served over rice rather than an étouffée. I only tasted cream and its excellent blackened seasoning, and it missed the depth provided from a fresh seafood or chicken stock. I also missed not having a slice or two of toast to facilitate eating of the dish.
I went to Cajun Corner at dinnertime on a Friday, and the place was popular. A line formed behind the register, but the staff quickly worked through orders and food was delivered within minutes.
It's a very well-run restaurant that features deals like $3 draft beer on the weekends. It has earned enough business that Nguyen said he and his brother are eyeing a location in the Uptown 23rd District for a second location next year.
"We've had a very good approval rating from Southerners. To us, that's a positive thing," Nguyen said, noting that they've had more tips from Cajun Corner customers than at Guernsey or Covell Park. "A lot of people won't say definitively, 'I know sushi,' the same way they say, 'I know gumbo.' They want it to do well because good Cajun restaurants up here are few and far between."

As a Mississippian for more than 10 years, I'm still searching for a great authentic Cajun restaurant in the city. Brent's Cajun Seafood & Oyster Bar definitely does things well but left me wanting more on a few other things. Da Gumboman food truck is probably the best bet for truly authentic Cajun food in the metro area, but Cajun Corner's Okie Cajun version tastes good, and at the end of the day, that's what matters.