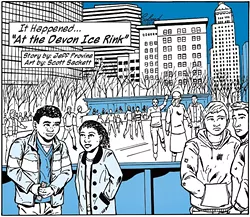 A frame from "It Happened at Devon Ice Rink" in the first issue of Okie Comics Magazine | Image Scott Sackett / provided
One page gives readers a look into what Interstate 35 might have looked like during the Permian Era 250 million years ago. Another black-and-white strip shares insight into the life of fictitious 1930s Oklahoma gangster Puddin' McGee.
Each of the comics in the inaugural issue of Okie Comics Magazine, which officially launched earlier this month, presents readers with a new and unique illustration style. But what they all have in common is that they are all comics made by Oklahoma artists about Oklahoma topics.
"Everyone can make some comics," magazine editor and publisher Jeff Provine said, "but, like, all the Marvel stuff takes place in New York City. That's kind of cool, but why don't we do that right here?"
The first issue of Okie Comics features ten artists and nine stories ranging in style from Archie Comics teen mystery to educational nonfiction. The glossy publication, scheduled to publish every two months, is available for free pickup at several area comic and bookstores like Half Price Books, downtown's Commonplace Books and Literati Press in The Paseo Arts District.
As Okie Comics grows, Provine hopes to expand into many more locations, including local restaurants. The magazine will maintain its status as a free publication through advertising dollars.
Local focus
Outside
Okie Comics
, Provine is mostly known for organizing the Oklahoma City Ghost Tour and authoring the books
Haunted Oklahoma City
and
Haunted Norman, Oklahoma
. The longtime comic book fan said he got more serious about comics after he started teaching a class about comic history and development at the University of Oklahoma.
In 2015, he adapted his curriculum for a summer program with Pioneer Library System called Unmaked! The Making of Superheroes. Through the program, teens and adults made their own amateur comics. Provine was impressed by how much talent many of them showed.
"It wasn't just one isolated instance," he said. "At least one person at every library was churning out what could be professional stuff — even the teenagers."
Ever since that program, Provine has felt that there was a lot of talent in the area, but local artists and storytellers needed some kind of conduit to get their work seen around the city.
Provine said he has worked for a few periodicals around OKC and Norman. One day, it dawned on him that there was no reason a local magazine could not exist in complete comic form.
"The newspaper has a comics section," he said, "so why don't we just have our own newspaper?"
For the last 18 months, Provine has been working on collecting the money and art necessary to get his first issue off the ground. While there are plenty of local fan zines that exist in other places, Provine said he has not been able to find an example of a similar freely distributed all-comic magazine in any other city.
Making connections
Provine grew up on a farm in northwest Oklahoma. Without big-city attractions to worry about, he and his siblings found other ways to occupy their time.
"Reading was definitely a big thing," he said. "It was always a race to the mailbox whenever the newspaper came — 'Who's going to be first to get the comic section?'"
Plenty of Calvin and Hobbes and Garfield comic collections could be found around the house. Provine read them over and over again.
He gradually got more serious about comics, and in college Provine started a daily web comic called The Academy. The series began in 2003 and ran every day for 10 years, ending in 2013.
"Looking back, I'm amazed that I did it," he said. "It's just a few minutes every day, but it all adds up. It taught me a lot about dialogue and pacing. I'm not so much of an artist, but I can sling some words together."
Provine said he gathered the talent for Okie Comics' first issue mostly through connections he has made attending various fan conventions and frequenting local comic shops through the years. The inaugural issue's artists include Matthew Brendle, Shelby Soto, Robert Henry, Katrina Younts, Nate Schroeder, Scott McClung, Mike Kennedy, Scott Sackett, Brad Gregg and Jerry Bennett.
The local comic community might be small compared to other cities, but Provine said those who are here make up for it in enthusiasm.
"We support SoonerCon and New World Comic Con locally, and we had Wizard World come through in just the last couple of months," he said. "They had thousands of people come; it was astronomical numbers. So there's tons and tons of comic interest; it's just that people aren't quite knowing each other yet."
Provine hopes Okie Comics will help raise outside awareness of the comic community and help lure new artists into the fold.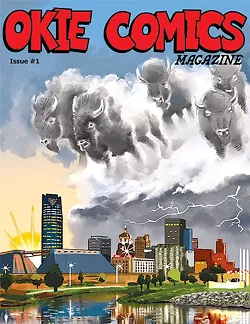 The first issue of Okie Comics Magazine launched early this month | Image Matthew Brendle / provided
Next panel
Web comics are gaining popularity, but Provine does not believe that print publications will ever be totally phased out.
"For whatever reason, you just retain more when you read a physical book," he said.
Provine hopes his print publication will show the city what kind of talent is in the area. Many people never stop to think about comics being made in their own state.
"It's kind of cool," Provine said. "You look at this painted cover and you're like, 'Oh, that's just Matthew Brendle down in Moore. If you want something, he'll paint it for you.'"
While Okie Comics is an anthology publication, Provine is interested in possibly publishing multi-issue comic series about local landmarks and businesses in the future. Okie Comics has already received email inquiries from artists the editor has never met. Provine is thrilled to already have that kind of feedback.
The publication has two simultaneous goals: to give the metro area comics unlike anything they have seen before and to provide a platform for local talent.
"It's people who, otherwise, would have never had a voice in comics," he said.
Visit okiecomics.com.
Print headline: 'Toon news; Okie Comics Magazine launches as a free illustrated periodical with a strong local bent.