provided
Water Won't Wait is an original production by OKC's Perpetual Motion Dance.
Promising a "fresh out of the ground, unrefined" experience, the inaugural Theatre Crude Fringe Festival offers 10 experimental stage shows Sept. 25-Oct. 6 at Capitol View Event Center, 5201 N. Lincoln Blvd., and The Venue at Plenty Mercantile, 807 N. Broadway Ave.
Theatre Crude Fringe Festival
Sept. 25-Oct. 6
Capitol View Event Center
5201 N. Lincoln Blvd.
The Venue at Plenty Mercantile
807 N. Broadway Ave.
theatrecrude.org
$15-$110
Some shows are locally produced, others are from out of state and some have never been seen before. Everything is one hour long or less. Sweater Curse: A Yarn About Love is a one-woman show starring Dallas performer and playwright Elaine Liner in which audience members are encouraged to help knit a scarf. The Ultra Conservative Theatre Summit is a satirical theater-festival-within-a festival presented by OKC theater troupe Next Stage. Those are two of the more traditional shows.
Festival founders and curators Jenny and Adam Brand moved to OKC three years ago after working with similar festivals in Minnesota, California and New Mexico.
Oklahoma Gazette: What made you want to start a fringe festival in Oklahoma City?
Jenny Brand: Fringe festival is this international idea, and we wanted to bring it to Oklahoma because it's such a good incubator for the arts scene and it's so fascinating to bring all this great variety of performance to the state. … We really feel like Oklahoma City is developing a new identity and developing a new culture, and we felt like this could be our contribution towards that new identity
Adam Brand: It's also a great way for people who don't have a lot of resources to produce their material, so if you've ever had an idea for a script, something you wanted to try, it's a nice, affordable, easy way to get it out in front of people
Jenny Brand: For the audience, it's great too because it's all 15 bucks or less to come see this sort of art and this sort of performance.
Adam Brand: It's only an hour of your time, and if it's terrible, so what? You've got a story. It may be the most amazingly unexpected thing you've ever seen. You never know.
Alexa Ace
Theatre Crude Fringe Festival founders and curators Jenny and Adam Brand moved to OKC three years ago after working with similar festivals in Minnesota, California and New Mexico.
Jenny Brand: Really what you're buying is adventure. Going out and having an adventure for the night and being able to see multiple different things in a single evening is also really great. You don't have to commit to a whole evening of one show. You can see one show for an hour and then go have a drink in the bar and come back and see another show.
OKG: How did you find shows for the festival?
Jenny Brand: A lot of fringes are first come, first served, but because fringe is a new concept here in Oklahoma, we wanted to ensure the variety that we know can come from this art form, so this is a curated festival. We didn't want all local, and we didn't want all out-of-state, but besides that, it was about ensuring variety so that we can have things that are family-friendly and we can have things that are really not family-friendly and we can have things that are accessible and things that are really weird and everything in between. That was our only real criteria.

OKG: What show would you say is the least family-friendly?
Adam Brand: It might end up being 3/4 Empty. It's one of the shows that we know the least about because it is a purely devised work, where they gave us this concept that they are artists in the future, in a society where art is illegal, so they are attempting to create art in a dystopian future. That was the concept that they sold us on, but how that has changed and developed, we don't know if it's gotten darker or not, so it might be one of these where it's just incredibly depressing or it might have an uplifting ending. We don't know, which is great. But yeah, I think they probably stand to be the least suitable for children.
OKG: What show would be most suitable for children?
Adam Brand: If your kids like to play, Being for the Other is probably the best way to go. One of their selling points to us on that one was, "We want to invite people to jump-rope with us," so they're going to get the audience up out of their chairs, bring them onto the stage, and they're going to start swinging a rope and they're going to see if they can get 12 people to jump-rope in a line over the same rope.
Jenny Brand: It's an immersive piece that's about learning. The process of the play is the starting point. It partially has a plot but also partially is devised along the way and improv-ed as it goes along, so it's really informed by the audience that comes in for that particular performance so every one will be slightly different. The nice part about bringing your kids to that one is kids are such a great tool to teach adults how to play again. The three performers in the show are all highly trained workshop facilitators, so they're used to going in and creating around the energies that are brought into the room.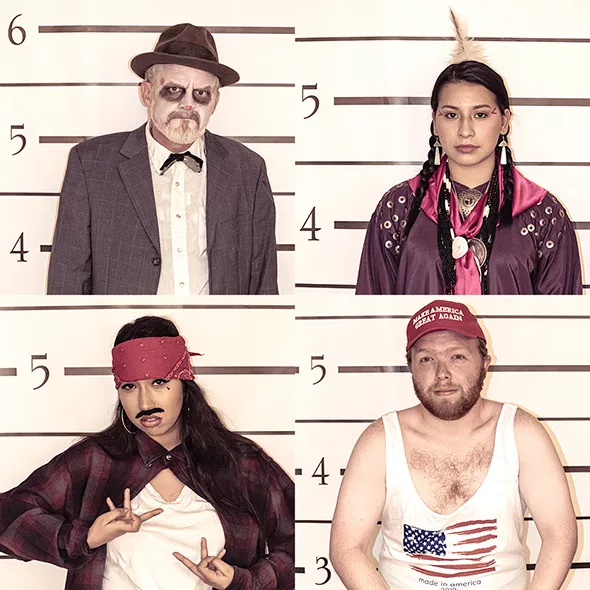 provided
The Gravel Road Show Presents Oklahoma, USA! is a cabaret set in the Old West.
OKG: For someone who hasn't been to a fringe festival before, how would you advise approaching the lineup?
Adam Brand: I know my approach for fringe is usually to read the show descriptions and find something that's about a subject that I like, but then I intend to stay for whatever the next show is. So show up knowing you're going to see something that you're interested in, but buy an extra ticket for the next show and just stay. You might like it; you might hate it, but at least you have now branched out and seen something.
Jenny Brand: The other part about a fringe festival is that there really is this festival feel. Because it's an hour worth of show and then a half-hour break hour, then an hour worth of show and a half-hour break, if you really want to fringe, then you should hang out for that half hour in between. … It's really more about the adventure and the gathering together with people who are just up for whatever, just want to have fun, just want to play. This is our way of playing — "Hey let's go see some really depressing theater and then go to the bar for a half hour, have a drink about it and then come back into the same space and see an interactive piece about how we're all just learning how to play together, and then go to the bar and have a drink afterwards and then come back in and see a piece that's just a lovely story about trying to knit a sweater for the one that you love and the curse that places upon that relationship, and oh, no, but it's going to turn around at the end. And then go home."
Tickets range from $15 for individual shows to the $110 Black Gold Pass for unlimited shows. Visit theatrecrude.org.