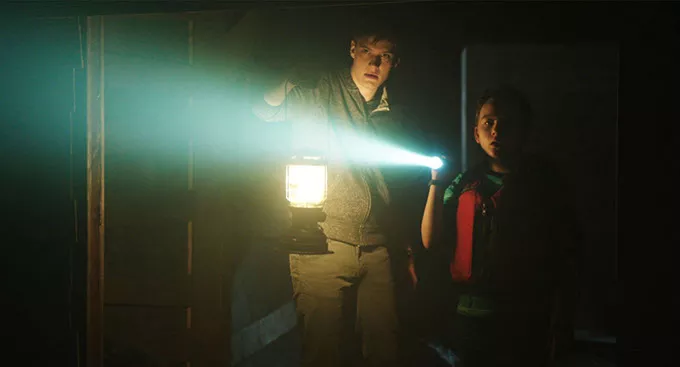 Justin Kelly and Benjamin Stockham in Lost & Found Photo Lost & Found Film, LLC
The way producer Scott Bridges tells the story, he stumbled into his profession almost by happenstance.
"I just kind of fell into producing in 2002 in Los Angeles when my girlfriend at the time was producing a short film. Suddenly, her boss at her day job required her to go out of town, and I suddenly had to step in to produce this short film," Bridges said. "I had no idea what I was doing. ... I pointed a lot and pretended to know what I was talking about."
More than 10 years later and with a number of projects under his belt, Bridges, originally from Edmond, returns to Oklahoma for the premiere of Lost & Found, a film he produced through his Sure Crossing Films production company and distributed through Sony Pictures.
Bridges said he selected the metro as one of ten cities to show the film, which begins screening Friday at AMC Quail Springs Mall 24 for a special weeklong engagement, during its limited release not only because of his Oklahoma roots but also the community it represents.
"I think the connection to family and community is very important [in Oklahoma]," Bridges said. "When it came to releasing the film, in many ways, I made this film for that community."
He added that an additional benefit included the ability to screen the film for his family, which still lives in Edmond.
"My mom and dad get to go see with their friends, which is always a plus for any kid," he joked.
The film relates the story of Andy (Justin Kelly) and Mark (Benjamin Stockham), two brothers sent to spend a summer with their uncle on a remote island. While there, they learn their eccentric grandfather once owned said island and vanished without a trace along with the secret to a vast fortune. The two set out on a complex treasure hunt leading to wealth and a means to heal their broken family. However, time is against them as forces work to stop them.
Viewers might notice the film sports a darker edge, an element Bridges said was by design. He described the project as a throwback to iconic movies of his youth in the 1980s like Stand By Me and The Goonies. It even features two icons from the era in supporting roles: Cary Elwes (The Princess Bride) and Jason Patric (The Lost Boys).
Bridges said the film is meant to support a demographic he feels is largely underserved, namely preteens and young teens ready for material that skews toward heavier situations without being too intense.
"It's kind of this forgotten little medium because those 10- to 15-year-olds don't want to watch a movie about a kid and his dog," Bridges said.
Director and cowriter Joseph Itaya passed along the script to Bridges nearly a decade ago. Bridges said he knew the film needed a higher budget than one that could be accrued at the time in order to do the story justice.
As the years went by, he said, the project eventually found its way back to Sure Crossing. It finally came together when financing was secured through multiple investors.
For his part in the production, Bridges spoke on the shifting and expanding roles producers are forced to take in the modern moviemaking process.
"What does a producer do now?" he asked. "He does anything and everything that needs to get done."
As a producer, Bridges' hands extend to every facet of assembling the project's production, from securing financing to ensuring craft services is on hand to feed the cast and crew.
"Hopefully, if I've done my job right," he said, "I will show up on day one of the picture and I will have nothing to do."
Print headline: Lost & Found, Edmond-raised filmmaker Scott Bridges celebrates his homecoming with screenings of his new '80s-era throwback film.