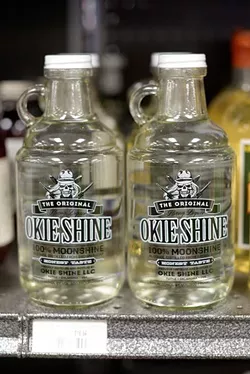 Garett Fisbeck
Okie Shine at Byron's Liquor in Oklahoma City, Monday, July 25, 2016.
When he was 14 years old, R.D. Sowers was given an assignment from his parents, who were homeschooling him. They told him to write an essay about ethanol, which was increasingly being added to gasoline after passage of the Energy Policy Act of 2005.
It wasn't long before Sowers got in trouble for fermenting various food products around the house. Essentially, Sowers was a teenage moonshiner.
"I became fascinated with everything it could be made from, which is basically anything with starch or sugar in it," Sowers said as he stood in the metal barn where he now legally distills Okie Shine. "It's not limited to just a few certain products. Grass, trees, grain, jelly, honey, sugar, vegetables, fruit — it can all be turned into alcohol."
Sowers and his wife, Georgia, started Okie Shine in early 2016 on their property near Tuttle. Since getting the operation up and running, Sowers has placed Okie Shine in about 400 liquor stores and dozens of bars throughout Oklahoma. An Okie Shine tasting event is 6-8:30 p.m. Aug. 17 at 9east Liquor, 751 Canadian Trails Drive, in Norman.
"Moonshine" can be a confusing term since it derives its name from the practice of distilling at night to avoid discovery and prosecution. Sowers, 24, uses "moonshine" partly as a term of marketing, but also because he learned proper techniques from actual illegal moonshiners.
"I decided to call it moonshine because it's a moonshine recipe or a moonshine way of doing it," Sowers said.
Love fuel
Sowers said the dirty little secret behind much of the moonshine that has hit liquor store shelves in recent years is something called grain neutral spirits, or GNS. He said many moonshiners simply order a supply of 190-proof GNS for pennies on the dollar, add water to bring the alcohol percentage down, redistill it and call it moonshine.
Sowers is doing it the old-fashioned way, and even among the traditionalists, he is working in a highly specialized area. Most moonshiners use corn or grain as their fermentation material, but Sowers said Okie Shine is one of only two domestic shine companies using brown sugar. As such, Okie Shine is technically rum.
"We're a brown sugar recipe, so it's real simple: brown sugar, yeast, water," Sowers said. "Any rum recipe is going to be very similar. There was a lot of trial and error — that's the only way to really do it. There's a ballpark: I know that if I do this, it's going to make alcohol, but is it going to taste good? You can make it out of so many different things, but is it going to taste worth a dang?"
Early success indicates that the fledgling shine is worth much more than a dang, and Sowers is continually working to perfect his spirits. He said current batches are smoother than his initial output, and Okie Shine is developing new flavors including apple pie, pecan pie and serrano chile. Sowers chose serrano because it creates the right level of burn for his spirits. He also plans to deploy a 180-proof version that he will call Jet Fuel.
"I prefer my sipping at 140, 150-proof," Sowers said. "I want to have the smoothest product I can possibly get. I have yet to find a moonshine out there at more than 110-proof. I need a higher proof for my flavoring anyway, so being as how I'm going to distill it anyway, I might as well add it to the line. Our 180-proof is actually sweeter than our 100-proof."
In addition to his research and development, Sowers is building up his distribution. He's pushing to expand Okie Shine's reach into north Texas and Arkansas while he has time to make deals, before his daughter is born. Meanwhile, he said he is reaching maximum capacity in the barn and will have to expand his square footage soon to meet production and warehousing needs. Because Okie Shine is a labor of love, nearly part of the distillery was built by Sowers, and any expansion will be, as well. While he said that his operation is not as pretty as others, it's all about what goes into it.
"Just about everything we've got in here you can pick up at a Lowe's or Home Depot," Sowers said.
Print headline: Sugar shine, Okie Shine produces a smooth spirit that transcends the concept of moonshine.