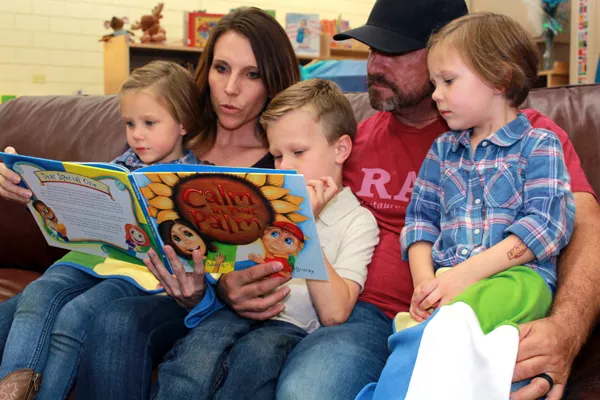 Calm In Your Palm / provided
Calm in Your Palm is a book designed to calm children who feel anxious.
Most people probably conceive of reading as a solitary pursuit, as a matter of eyes scanning silently over pages.
Renee Adams, author of the book Calm in Your Palm, approaches reading in a different way. Adams described her debut children's book as having "a multisensory approach."
Released in mid-December 2016, Calm in Your Palm is not simply text and pictures on pages; rather, the book includes a blanket, a mobile app and a song to create an experience both familiar and new that requires participation from the reader — or readers.
Calm in Your Palm can be purchased for $48.77 at calminyourpalm.com. With each purchase, 10 percent of proceeds go to charity.
Adams conceived the idea in the car on the way to her daughter's musical theater audition.
"We had just finished a voice warm-up CD in the car, and I thought, 'Wouldn't it be cool to have something that would calm [her] before an audition?'" said Adams, who recently moved from Edmond to Boulder, Colorado.
Adams' daughter responded that a book and a blanket would be great for such a purpose.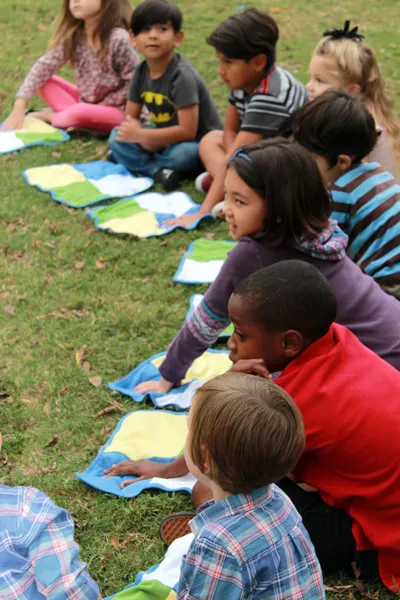 Calm In Your Palm / provided
Calm in Your Palm comes with a blanket that gives children something to do with their hands to help distract them.
"I immediately, even that very day, started researching anxiety and nervousness," Adams said. "As I researched, the idea just developed and took off from there. What I was after is making reading the picture book more of an experience on different levels."
Calm in Your Palm incorporates imagery, physical touch and electronic augmented reality to help children cope with anxiety. The book is also designed to equip children with the tools to be calm even without the book or blanket.
"They can mentally go through that same process," Adams said. "It's teaching a child to use their imagination … to tap into calming images."
Adams said the blanket — which features quadrants of yellow, green, white and blue that signify seasonal change — requires hand movement, and this physical motion helps take the reader's mind off his or her anxiety.
According to Adams, the book "begin[s] with a prayer and end[s] with a dare." She said the prayer works for people of many different faiths and the dare, a call to laughter, helps combat stress.
"It's really hard to be anxious and worried and laugh at the same time," Adams said.
In order to best allow each reader to adjust the book to her or his situation, the dare stays away from specificity; the reader can laugh at whatever is funny to him or her.
"It makes it personal," Adams said. "The conversation that results from talking about these things creates stronger bonds between people, whether it's between siblings, or the parent and child or grandparents."
While the age range for Calm in Your Palm includes children between the ages of 4 and 8, Adams said that she received positive feedback from younger and older readers.
"Even adults are commenting on how much they're enjoying it," she said.
Calm In Your Palm / provided
Calm in Your Palm comes with a blanket, a song and an augmented reality app.
Beyond books
In order to bring her multimedia vision to life, Adams collaborated with Oklahoma illustrator Lauren Holloway and Trifecta Communications, a PR/tech firm based in Moore.
Trifecta Communications worked on the app, including its 4-D and video elements. While using the app, the reader hovers his or her device over the book in order to experience reading as augmented reality featuring videos, interactive screen images and song. The app is available on both Apple and Google platforms.
It also features a karaoke-style song that Adams said is both fun and allows children to learn the words easily.
Even as Adams wrote Calm in Your Palm, she continued to get inspiration for other projects, including her upcoming book The Birthday Angel.
"When I started thinking, 'How am I going to get all these ideas into reality?' that's when I decided to form an LLC," Adams said.
After consulting with the Chamber of Commerce and various businesspeople, Adams decided to create the brand Calm In Your Palm (CIYP).
"It's a startup," Adams said, "and 10 percent of every sale goes towards helping with child poverty relief."
Oklahoma sales benefit Positive Tomorrows, a nonprofit focused on educating children in poverty.
"Poverty is very real here in our own country, and there's a lot of great work being done, and they need more money," Adams said.
As CIYP expands, Adams said Calm in Your Palm will be available on Amazon and later in bookstores and gift shops.
Adams' startup and books, with their focus on interaction and innovation, might make room for a new type of reading in the digital age.
"It really brings the book to life like I've never seen before," Adams said.
Print headline: Reading redefined, Oklahoma author Renee Adams makes reading more interactive than ever before through her new startup and book.