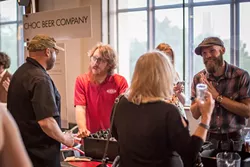 Oklahoma Hall of Fame's mission is to tell the story of the state through its people. And what better way to tell a story than over a beer? For the second year, the organization joins Oklahoma Craft Brewers Guild to present Oklahoma Born & Brewed 7-10 p.m. Wednesday, Aug. 19 at Gaylord-Pickens Museum, 1400 Classen Drive.
"It's a beer tasting and small plate pairing event," said Hall of Fame development director Bailey Gordon. "There will be brewers from across the state, some of which create special brews just for the event. We'll also have a few breweries that are still in planning, so it's a chance to get a first taste before their beer hits the market."
Guests can sample beer from 405 Brewing Co., Anthem Brewing Company, Black Mesa Brewing Company, Bricktown Brewery, COOP Ale Works, Elk Valley Brewing Co., GarryOwen Brewing Company, Iron Monk Brewing Company, Kolibri Ale Works, Marshall Brewing Company, Prairie Artisan Ales, Renaissance Brewing Co., Roughtail Brewing Company and Vanessa House Beer Co.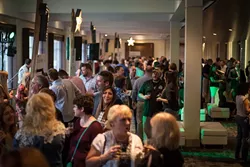 Those who prefer liquor can try a signature cocktail created by Prairie Wolf Vodka.
Born & Brewed is organized by the Hall of Fame's Second Century Board, a group of young professionals who want to raise awareness of the hall and inspire the next generation to achieve great things. Event chairman Matt McCombs said the first one was so successful that the board immediately began planning this year's event.
"It's our second go-around with this event," he said. "This year is going to have Kam's Kookery as our caterer and there will be more food."
For people excited about the state's booming craft beer industry, the event is a great showcase of established and up-and-coming breweries, McCombs said. It's also a great showcase for Gaylord-Pickens Museum, which houses the Hall of Fame.
"Beer tasting events probably aren't what people think of when they think about the Hall of Fame," he said. "It gets new people into the museum."
Perhaps it will drive residents to think more about how to contribute to the city and state, he said.
"People are going to leave, but we want them to always remember where they come from," McCombs said. "Maybe they'll think about staying to help us continue to grow and develop."
It's hard to imagine better inspiration than tasting food locally grown by Kamala Gamble and Barbara Mock of Kam's Kookery, who run Guilford Gardens, an urban farm in Oklahoma City.
Gordon said last year's event drew more than 300 people, so this year, they bumped up the number of tickets to 350.
Acoustic artist Erick Taylor will perform covers of oldies, pop and country music.
"It's a little more upscale than your typical beer event, but there's no assigned seating and it's very laidback and fun," Gordon said.
Event proceeds benefit the guild and Hall of Fame educational programming.
Print headline: Foam & fame, Oklahoma Born & Brewed celebrates the state's Hall of Fame with locally made beers and food.