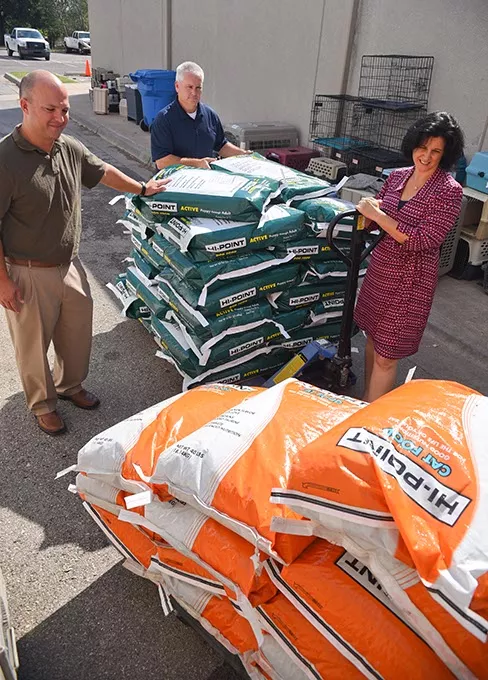 Julie Bank, animal welfare superintendent with the Oklahoma City Animal Shelter, receives donation of dog and cat food from Shawnee Milling Company's, left to right, Joe Ford, vice president of operations, and Brent Thompson, feed sales director 9-24-15. (Mark Hancock
An Oklahoma business helped improve animal welfare in Oklahoma City by donating enough food to feed thousands of animals.
Shawnee Milling Company recently pledged to donate and deliver 50 tons of Hi-Point pet food each year for two years to the Oklahoma City Animal Shelter.
"We are so thankful to Shawnee Milling Company because these types of public-private partnerships where the community [comes] forward go a long way in making things better," said Animal Welfare Superintendent Julie Bank.
The shelter houses about 24,000 animals each year, with about 700 at any one time, including cats, dogs, horses, snakes and guinea pigs, Bank said.
"I noticed their staff [spends] a tremendous amount of time looking for [food] donations," said Joe Ford, senior vice president of operations at Shawnee Milling Company. "Our hope is they can focus on the care for the animals and getting more of the animals adopted."
The company makes Hi-Point, a high protein kibble for pets of all ages, from Oklahoma grains and other ingredients. The business is a member of the Made in Oklahoma Program and is owned by third- and fourth-generation family members of founder J.L. Ford.
The donation equates to over five semitractor-trailor loads, and Shawnee Milling Company will coordinate deliveries as needed, Ford said.
Added Bank, "From a staffing perspective, this will certainly allow us to spend more time directly hands-on with the animals."
In the past, shelter staff has had to mix as many as six types of food, but when animals receive an inconsistent diet, it can lead to health problems.
"Consistency in diet goes a long way in helping to keep animals healthy and safe," Bank said. "Mixing food [negatively] impacts animals' digestive systems. So it makes it difficult for continuing the health of the animals."
Banks said the shelter has not received a food donation on this scale before.
The shelter serves the metro area and assists when pets are displaced.
"When disaster occurs, we are the agency that handles the animal situations," Bank said. "That would include everything from field rescues to temporary sheltering of lost or displaced animals due to a disaster."
The shelter also coordinates an Animal Disaster Brigade of community volunteers that assists with relief services.
Banks said the nonprofit animal welfare organization's live release rate, which includes animals adopted and reclaimed by owners, is almost 70 percent.
"To put it in perspective, five years ago, we had a 23 percent live release rate," Bank said. "In the past five years, there has been a huge incline of animals getting reclaimed and getting adopted. We're doing something … right and want to continue doing something … right."
To feed hungry animals in the community, the shelter also runs a Pet Food Bank, which accepts dry and canned donations.
Learn more about Oklahoma City Animal Shelter at okc.gov/animalwelfare.
---
Print Headline: Kibble provider, A local company donates 100 tons of food to the Oklahoma City Animal Shelter.