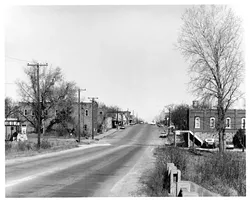 The Coltrane Group hosts one of the first Oklahoma City-based tours of historical black towns on Nov. 21 as it takes guests through four of the state's 13 long-surviving all-black communities, including Boley, Brooksville, Clearview and Langston.
"The main purpose is to make people more aware, because you'd be surprised how many people don't know the history of these black towns," said André Head, CEO and founder of The Coltrane Group/History in Progress, an Oklahoma-based organization focused on preserving the history and of all-black towns throughout the state, "whether it's on the national basis or statewide, Oklahoma basis."
Head said he noticed that most tours of this type begin in Muskogee or Tulsa and saw a need to base one out of Oklahoma City. Tickets for the educational road trip are $60 and include meals and entertainment.
"When we go to the towns, the mayor or a historian will be there to represent the town and give the history of the town," Head said. "They will also have some type of entertainment for us and it will be a walking tour. They have several older buildings that have history to them. It will be pretty interesting."
Buses depart at 8 a.m. from Oklahoma History Center, 800 Nazih Zuhdi Drive, and the tour's first stop is in Brooksville, founded in 1903 and one of the two all-black towns founded in Oklahoma Territory. Next will be Clearview, home to the African-American Educators Hall of Fame. Then, it rolls through Boley for a homemade barbecue lunch before visiting the bank where members of infamous Pretty Boy Floyd's crew attempted a robbery in 1932. The last stop will be Langston, the second black town settled in Oklahoma Territory and home to Langston University. Once there, guests will enjoy an abbreviated dinner and a performance from the Langston University Concert Choir.
While traveling, Head and his wife Jessilyn Hall-Head, chief operating officer of The Coltrane Group, along with special guest Judge Henrietta Hicks of Boley will join passengers for discussion.
Last month, Hicks participated in a discussion sponsored by The Coltrane Group at Redlands Community College, Black Towns Then ... Black Towns Now, with mayors and trustees of historic black towns across Oklahoma.
"We're trying to bring new life back into these towns because it is a part of not only Oklahoma history, but it's a part of American history and a part of black history," Head said. "It's definitely part of Oklahoma that has helped to shape not only those communities, but it did help mediate this state."
The tour and Redlands event grew from a collaborative pictorial exhibit by Oklahoma History Center and The Coltrane Group. Colored Memories ran January through June at the Oklahoma History Museum. More than two dozen photos of Boley (the town of Head's ancestors) in the 1920s and '30s were colorized and put on display.
More than preserving bygone times, Head's mission is to reunite former town residents and their families with each other and their shared history.
Deadline to RSVP for the tour is Nov. 21.
Print Headline: Road trip, The Coltrane Group launches its first Oklahoma City-based tour of historical, all-black communities on Nov. 21.