In some ways, The Super Swell Berkowski is just another way for Lenny Vanhorn to reinvent himself.
In the short film written by and starring the local comedian, Vanhorn plays a graceless nerd with assistance from a long list of fellow Oklahoma City funnymen.
He said part of his inspiration for the project came from a hard-to-place curiosity he has long held for a part of society that is unfamiliar to him.
"I know it sounds weird, but I've always wondered what it would be like to see out of the eyes of a super fanboy," he said. "I've never really been a part of that world. If you sat down with me to play some Magic: The Gathering, I wouldn't know where to start."
In the 15-minute version of the film, which is all Vanhorn was able to produce at this time, Berkowski is a sleep-apnea-suffering comic book store employee who manages to find trouble and taunts at almost every turn. Particular troublemakers include an archrival, played by Matthew Henson, and the leader of a group called Eastboro Baptist Church, played by BradChad Porter.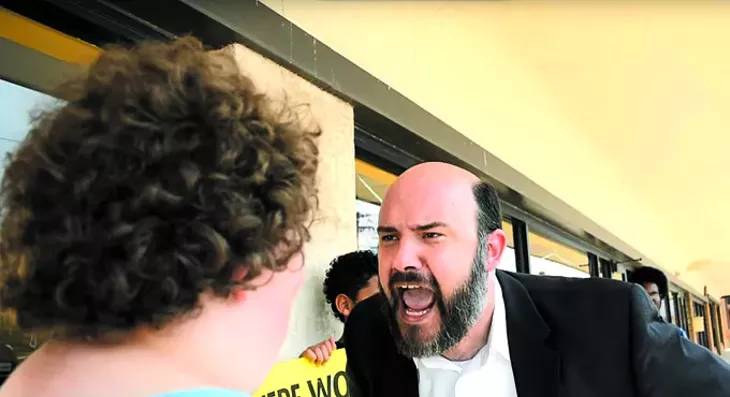 Vanhorn said Berkowski's character is most like some combination of the leads in Joe Dirt and Napoleon Dynamite. The movie was shot for free at New World Comics and neighboring Honey Bee Donut in Del City.
A local musician for several years, Vanhorn said he eventually fell out of that scene, let himself go and began his journey into stand-up comedy.
"I thought, instead of trying to be a rock star, maybe people would rather laugh at me," he said.
Still, stand-up is not necessarily his goal, which is why he wrote Berkowski. He said he wants to prove there is depth to his comedic talent, that he can develop characters from ideas.
Real comedy
Vanhorn said he is mostly thankful for the support from the local comedy community. Local comedians, including Porter, Henson, Justin Keithley, Spawn Simmons, James Curtis, Michael Mann, Tiffany Watt and others, agreed to appear without pay.
"I don't know what it would have been like if I just used actors," he said. "I imagine I may not have had as much fun, but with the comedians in between the takes, we would just go at it on each other."
The film does not have a firm premiere date or venue set yet, but Vanhorn said he hopes those details are worked out soon. Ideally, he would like a premiere to be combined with a comedy show at The Paramount OKC, located on Film Row, which would also be a thank-you party for all those who participated.
Originally, the project was intended to be a longer-running movie. Vanhorn said he hopes the short film debut will bring him the backing he needs to finish it.
He said he would not be opposed to writing more screenplays.
"I hope I have the ability to write more films because I definitely like to do it," he said. "It really depends on if I have that creative impulse."
https://youtu.be/iZAzXRU0Lfc
Print headline: Super fanboy, Comedian Lenny Vanhorn explores the life of a downtrodden nerd in The Super Swell Berkowski.