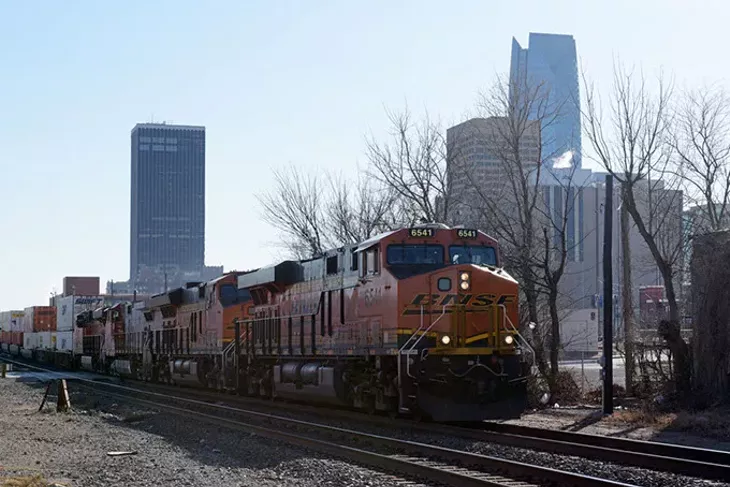 Garett Fisbeck
A train rolls through Oklahoma City, Wednesday, Jan. 4, 2017.
For more than three decades, Oklahoma City Ward 6 Councilwoman Meg Salyer has listened countless times as trains approached her Automobile Alley office. The sound of the horns steadily increased as the train inched through the urban district and into downtown.
"There have been so many occasions over the years where you had to stop a conversation," Salyer said. "We used to have a conference call every Monday at 4 p.m. with our offices in Tulsa, Kansas City and Wichita Falls. Everyone on that call knew at 4:20 p.m., the train was coming."
Railroad regulations require conductors to blow their whistles 15 seconds before reaching a crossing as a way to alert pedestrians and drivers nearby. In Oklahoma City, conductors blow their trains' whistles repeatedly as they travel through the N. 16th to SE 23rd streets.
For close to two decades, the need for a quiet zone has grown as the city's urban core witnessed a revival with new businesses, stores, restaurants and residential living opened in a once predominantly industrial area. When Salyer was elected in 2008, she was determined to create a railway quiet zone.
By the city investing in approved safety features — such as four-quadrant crossing gates, enhanced pedestrian crossings and raised-curb medians — locomotives could travel through downtown and neighboring areas only sounding their horns in emergencies.
The quiet zone project, which first took shape in 2009, was completed late last year with city leaders sending their final application to the Federal Railroad Administration last week.
With federal approval, trains blaring their horns will become a rarity in downtown Oklahoma City, which some believe could further spur economic activity and enhance the quality of life of citizens.
Project history
Back in 2009, the Oklahoma City Council took the first step to establish a quiet zone by approving a zone east and west along the Burlington Northern-Santa Fe rail line between NE Seventh and NE 16th streets. A year later, funding constraints stalled the project from moving forward.
That wasn't the end of the quiet zone discussion around City Hall or among those in the downtown business community, Salyer explained. Led by Mickey Clagg, who was then president of the Automobile Alley Association, a group of donors raised more than $600,000 to contribute to the project.
Tax Increment Finance (TIF) money helped round out the funding package, which was approved by the council in 2013. The quiet zone project cost the city around $3.9 million over the course of three years.
"When a project comes to us with private dollars attached to it, it speaks volumes about how serious citizens are about an issue," Salyer said. "May it be the residences living in the nearby apartments, diners seated outdoors or people seated in their offices, this really is going to enhance our quality of life."
Safety first
For those who live or work near the railroad, the quiet zone is a quality-of-life issue, explained Salyer.
Federal railroad authorities contend that crossings in quiet zones can be as safe, or safer, than traditional crossings. For example, Oklahoma City installed curb medians at six crossings. The medians discourage motorists from attempting to drive around lowered gates.
In emergency situations, such as when a vehicle or pedestrian is on the tracks, a conductor is permitted to the sound the horn.
"At the end of the day, it is about safety and preventing any kind of technique people use to beat the train, which can have deadly consequences," Salyer said.
Print headline: Safety zone, Citizens in Automobile Alley continue to seek safety and quality-of-life updates with a railroad quiet zone.