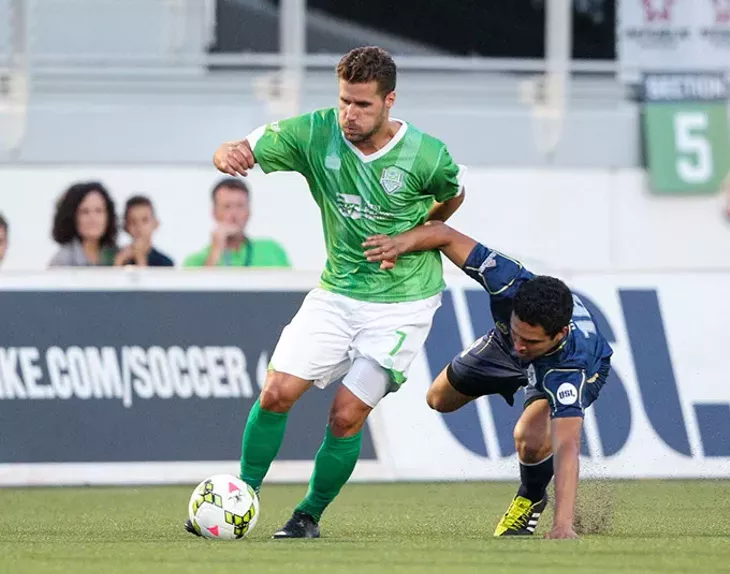 Steven Christy
May 31, 2015: The OKC Energy FC plays the Austin Aztex in a USL game at Taft Stadium in Oklahoma City, Oklahoma.
Oklahoma City Energy Football Club Assistant Coach James Ritchie had a good dilemma on his hands recently. His team defeated fellow United Soccer League (USL) club Tulsa Roughnecks FC 1-0 during the third round of the 2015 Lamar Hunt U.S. Open Cup, the oldest cup competition in United States soccer.
It meant that Ritchie, who directs Energy FC's youth soccer camp program, would have to reschedule an upcoming camp to work around the team's next game, a fourth-round matchup against Major League Soccer (MLS) powerhouse FC Dallas on Tuesday.
"It's not ideal, but it will still be fun," Ritchie said of rescheduling the camps. "We're playing one of the best teams in the continent, so we're very, very excited about that."
Designed for boys and girls of all skill levels and abilities, the youth soccer camps feature Energy FC players and coaches as instructors and use age-appropriate exercises that ensure all players are challenged in a fun and dynamic way.
There are three camps available. The recreational camp (ages 4 to 14) focuses on individual development and fun; the advanced camp (ages 10 to 16) is for experienced players, focusing on individual skills, small group concepts and small-sided competitions; and the goalkeeping camp (ages 10 to 16) offers specialized training, including handling, shot stopping, crossing and distribution.
The goalkeeping camp runs concurrently with the advanced camp, and keepers will join other players in small-sided games at the end of each day.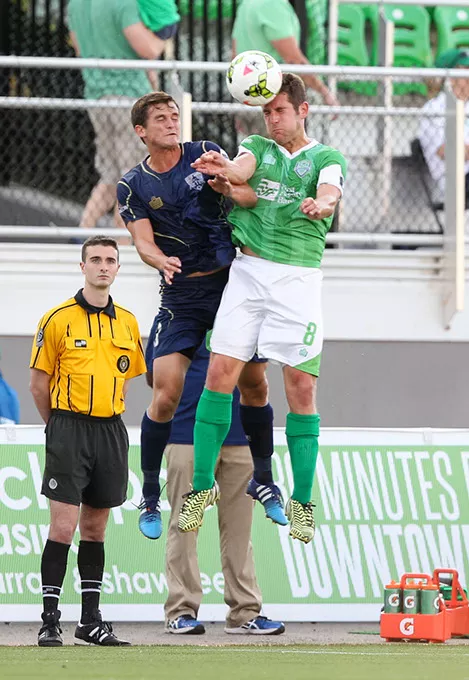 Steven Christy
May 31, 2015: The OKC Energy FC plays the Austin Aztex in a USL game at Taft Stadium in Oklahoma City, Oklahoma.
"I've always loved working with young players," Ritchie, a Glasgow, Scotland native, said. "It's something I enjoy, trying to push the game, especially in the USA. Back home, kids just play it in Scotland. It's natural."
The recreational, advanced and goalkeeping camps that were scheduled for Monday-Wednesday, June 17 at North Oklahoma City Soccer Club (NOKC), 11711 N. Portland Ave., have been moved to new dates. Now, the camps will be held from 2 p.m. to 4:30 p.m. Sunday; 5 p.m.-7:30 p.m. Wednesday, June 17; and 5 p.m.-7:30 p.m. Thursday, June 18.
A recreational camp originally scheduled for June 1-3 at Northwest Optimist Soccer Club has been combined with the recreational camp at the NOKC soccer complex, Ritchie said.
Additional recreational camps have also been planned in Kingfisher on June 22-24 from 5 to 7:30 p.m. at Briscoe Park, 301 N. Main St., and in Mustang on July 27-29 from 5 to 7:30 p.m. at Wild Horse Park, 1201 N. Mustang Road.
Registration for all summer camps is $120. A parent or guardian must complete a liability waiver before campers can attend. Campers will receive a T-shirt and a ticket to an upcoming Energy FC match.
This is Ritchie's second year in Oklahoma City after joining Energy FC in 2014. Before that, he spent three years as head coach of Premier Development League (PDL) Kitsap Pumas, based in Bremerton, Washington. Ritchie also served as the Pumas' indoor head coach, director of coaching for its youth academy and youth summer camp director.
"It's something I feel very passionate about," he said.
Visit energyfc.com or call 235-5425 to register for the camps.
Print headline: High Energy, Get your kicks at one of OKC Energy Football Club's upcoming youth soccer camps.