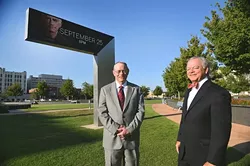 Mark Hancock
Left to right, Dr. Kent Kidwell, 2015 honorary Jazz Ambassador, and Mike McAuliffe, founder, in front of the marquee with headliner David Benoit displayed, on the lawn at the Civic Center Music Hall and Bicentennial Park, one of the locations for performances for this, the 2nd Annual OKC Jazz Fest, 9-15-15.
Oklahoma City Jazz Festival, a weeklong musical event celebrating Oklahoma City's history with jazz, is underway, courtesy of veteran performers and the next generation of musicians. It continues through Saturday.
It showcases performances by jazz pianist, composer and producer David Benoit and United States Navy 32nd Street Brass Band. Olivia Jordan, Miss USA 2015, is also scheduled to appear.
Most of the event is free, with performances at locations throughout the arts district. Benoit's concert on Friday is the only ticketed event, and Thursday's Jazz on the Rooftop requires a $5 cover.
"From the '30s and '40s when jazz started in Deep Deuce to today, jazz is still playing an important role in central Oklahoma," said Mike McAuliffe, festival coordinator.
In addition to celebrating the past, present and future of the eclectic genre, OKC Jazz Fest also serves to elevate new talent and further musical education through event workshops, including a session taught by Benoit at University of Central Oklahoma's Jazz Lab.
El Sistema Orchestra, one of the younger groups at the event, performs Saturday at Civic Center Music Hall in Bicentennial Park. The orchestra program teaches elementary students, primarily fifth-graders, about music at St. Luke's United Methodist Church. The group held its first public concert during last year's festival.
"That group is now up to 200 students. Last year they had 90 students," McAuliffe said. "They practice during the school year — every day for an hour — and they coordinate transporting all of these kids to that one central location."
Proceeds from the event will support Oklahoma City Public Schools' music program and as well as the UCO music program.
Visit okcjazzfest.com for more information.
Print headline: Jazz jam, A festival celebrates the history and future of American music.