Only one American bank has ever faced criminal charges following the financial crisis of 2007-08. It was not an institution that runs commercials during the Super Bowl or regularly gives loans to wealthy corporate real-estate suits. It was a small, family-owned bank with an original location nestled between two noodle shops in Manhattan's Chinatown neighborhood.
Abacus: Small Enough to Jail tells the story of New York's Abacus Federal Savings Bank and its yearslong legal battle against a slew of mortgage fraud charges leveled by the New York County District Attorney's Office. The 2016 film by celebrated documentarian Steve James (1994's Hoop Dreams, 2002's Stevie, 2011's The Interrupters) screens July 28-30 at Oklahoma City Museum of Art, 415 Couch Drive.
Questionable motives
The film opens with couple Thomas and Hwei Lin Sung watching James Stewart's 1946 Christmas classic It's a Wonderful Life. As Stewart's banker George Bailey is to the fictional Bedford Falls, Thomas Sung is to Chinatown. Sung, born in Shanghai, opened Abacus in 1984 not because he needed a job, but because he felt compelled to provide banking services to the mostly immigrant community. He is not a faceless bank CEO, but an important, recognized and respected figure in Chinatown.
To most, the bank seemed like an unlikely target for prosecution following the last decade's subprime mortgage bubble burst. Yet in 2012, the bank and 19 of its employees were charged with procuring money from the Federal National Mortgage Association, commonly known as Fannie Mae, for use in fraudulent mortgage loans (totaling a nine-figure sum).
The issue here is not whether wrongdoing was ever done by employees of Abacus. The bank, in fact, was the one that first discovered and reported fraud by loan officers within the institution. It fired the employees involved.
Instead, the crux of the film is the lengthy legal battle Abacus engages in against the idea that there was institutional knowledge or willful ignorance of the fraud — or worse, a bankwide cover-up.
Bank statements
For many small community banks, the substantial charges alone would be a death sentence and few would be capable of defending themselves against a team of state lawyers. Perhaps that was what the DA was counting on when it brought the charges against Abacus. Though not made implicit by any of the prosecutors in the film, there seems to be a general sense that they were looking for a small institution to make an example of amid alleged gross misconduct by larger banks deemed "too big to fail."
While the widespread fraudulent lending practices of the United States' largest banks rippled into an epic financial crisis (called by some experts the worst financial debacle since the Great Depression), none of them were ever charged. Many believed that those banks and institutions were so connected to the global market that prosecuting them would capsize the world's economy.
The DA's desire to make a statement with this case might be best epitomized by a highly reported and photographed scene of district attorney officers leading a row of defendants handcuffed and chained together through the halls of the courthouse after their arraignment. The film speculates that the scene was mostly a DA public relations move.
Still, any thoughts that Abacus would quietly accept its role as the banking industry's sacrificial lamb greatly underestimated Sung's fighting spirit, not to mention his family of hard-nosed, accomplished lawyer daughters.
The most compelling part of the documentary is the family at its core. The Sungs clearly have a deep love for each other as well as fierce loyalty to their patriarch. The stress of a long legal battle, especially one of this magnitude, can take its toll on any unit, and the Sung family can be seen truly pressed to its limits in the stress of it all.
At stake in the trial, Thomas Sung says, is not just the bank or its reputation in Chinatown, but the reputations of Chinese people as law-abiding citizens. Through the trial, it was discovered that it was not only the bank's loan officers who were committing fraud, but that those applying for the loans sometimes lied or misrepresented themselves to get approved.
While there was no doubt some intentional deception going on, the film makes a point to say that there are cultural differences between the way finances are handled in China and the U.S. Because some lending is done on a more by-faith basis in China, it is possible that some lendees were not aware they were breaking the law. For some immigrants, Abacus is the first American bank they have ever dealt with.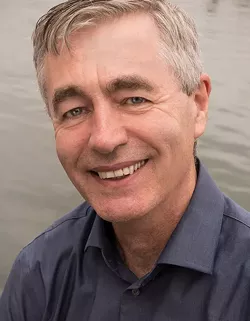 Underdog story
The Sungs' bank is clearly a David facing off against the New York County DA's Goliath legal team, but director James sometimes oversells the point. For example, while it is true that Abacus is a community bank, it includes several branches within the area and serves the Manhattan Chinatown neighborhood of more than 100,000 people, which would be enough to make it one of Oklahoma's five largest cities.
It is not Bedford Falls.
The film blatantly puts itself in the Sungs' corner. Not much time is spent playing devil's advocate or digging deeper into the possibility that Abacus management was turning a blind eye to the illicit dealings of its loan officers. This could be because James was partisan to the fighting family story angle or because the DA's singling out of Abacus was obvious. It is hard to know for sure which is the case, and unfortunately, the film does not give viewers much room to draw a conclusion on their own.
It is also easy for the average viewer to glaze over parts of the documentary that delve into more intricate detail about the misdealings. Combining court jargon with finance lingo leaves most directors with an unenviable cocktail of over-your-head exposition to overcome. James, however, should be commended for keeping everything on a level that keeps the layman (such as myself) engaged, especially in comparison to some other films that try explaining the mortgage bust debacle.
Niche piece
Abacus is actually more of a documentary about the family of a valued immigrant community member and his fight to save face against state charges than it is about the actual court proceedings or the larger financial crisis. James' ability to recognize that and make what could easily be a niche piece about a small Chinese-American bank into a widely relatable underdog story is the film's greatest accomplishment.
While some of James' other documentaries might be flashier or tackle bigger subject matters, Abacus finds some larger societal truths within its story that make it a strong addition to his catalogue.
Print headline: Counted out, Abacus: Small Enough to Jail is a classic underdog story and a worthy addition to director Steve James' canon.