Garett Fisbeck
Lobster bisque at Museum Cafe, Tuesday, Nov. 29, 2016.
The word "cafe" is important when discussing a visit to Oklahoma City Museum of Art.
"Let's eat at the museum" could give one the impression that you're planning to dine on a painting by Fauvism co-founder André Derain before a light dessert of Dale Chihuly glass. Museum security guards made it clear that eating the art is strictly forbidden.
But add just one word — "Let's eat at the Museum Cafe" — and all is right with the world. That's because the cafe, 415 Couch Drive, deals almost exclusively in edible art.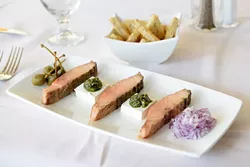 Garett Fisbeck
Smoked salmon appetizer at Museum Cafe, Tuesday, Nov. 29, 2016.
The smoked salmon appetizer ($15) features three thick slices of hot-smoked salmon that are evenly placed across a white, oblong plate with piles of pickled caper berries and finely diced red onion placed on either side for balance. Between the slices are squares of cream cheese topped with dollops of dill pesto.
It looks gorgeous. It tastes even better.
The house-cured salmon is solid and flaky, unlike the cold-smoked version, which has a texture more like raw salmon. On the side is a bowl of toast points, which make perfect tiny canvasses for your inner artist to create an ideal combination. A little cream cheese, a sprinkle of onion and a chunk of smoky salmon or a bit of pesto, a smashed caper berry and salmon; test them all and make a masterpiece.
There's a little less artistic liberty in the lobster bisque ($6 a cup, $9 a bowl), but it's no less stunning. The ample serving of creamy, peach-colored bisque whets one's appetite for the meal to come. A disc of puff pastry topped with sour cream and caviar floats in the center of the dish.
Lobster is mild and sweet. The cream in the bisque brings it to the fore, and the sour cream provides a tart counterbalance. Swirl it in slowly, so each bite is like an abstract painting with salty pops of caviar and sour cream hitting the taste buds in random bites.
The subtle bisque is Johannes Vermeer, and the bold seafood macaroni and cheese is Andy Warhol. The $15 lunch portion (a larger dinner serving is $28) had an incredibly rich and flavorful mix of cheeses, pesto and seafood. Gorgonzola and Parmesan are sturdy cheeses, and pesto, with its bright herbal notes and oily texture, can sustain a dish on its own. They are a powerful combination for lovers of big flavors. It might not be that great for seafood lovers, though, as the sauce can overpower the perfectly cooked shrimp, lump crab meat and langostino.
Garett Fisbeck
Cuban Sandwich? at Museum Cafe, Tuesday, Nov. 29, 2016.
A Cuban sandwich ($13) might seem out of place on an elegant menu like the Museum Cafe's, but it's like my mom told me during my awkward phase (age 11-present), "True beauty is on the inside." Take one bite and its beauty becomes apparent.
This meaty, lunch-only sandwich stacks thick slices of roasted pork with ham, salami, caramelized onions and Swiss cheese between hoagie buns.
Cuban sandwiches are traditionally served pressed, which minimizes the height and intensifies the flavors. Museum Cafe's version is less compact. The roasted pork is a standout with its fatty, savory taste that's further enhanced with the spice of the mustard and salami.
The restaurant does press its panini, for those seeking out a lower-profile sandwich. Lump crab avocado panini ($14) is naan filled with a lump crab and corn salad, chipotle Gouda and avocado mayonnaise. This is a better showcase for crab's subtle flavor than the macaroni and cheese.
Vegetarians are not the only ones ordering the grilled asparagus panini ($9). The tender asparagus snaps off with most bites, though diners might unintentionally pull out a spear or two. Melted Brie and toasted almonds also hide between the slices of grilled sourdough bread and provide bursts of sweet, creamy flavor.
Ravioli is available in lunch-sized ($13) and dinner-sized ($23) portions, and either one is a joy to devour. The ravioli is filled with fresh ricotta cheese and covered with a cream and Parmesan sauce, so there's a lot of richness in each bite. To balance, the pasta is surrounded by bites of roasted butternut squash, grape tomatoes and Swiss chard. Add a little pepper to give the dish a bit of crunch and heat.
Museum Cafe is an elegant spot for any meal, but I especially love it for lunches. The menu prices are a bit lower, and the dining quality and food presentation are always impeccable. Giant picture windows fill the restaurant with natural light and give each visit a relaxed feeling that lasts through the day.
Print headline: Vibrant palate, Located inside Oklahoma City Museum of Art, elegant Museum Cafe serves artfully prepared dishes.