Mark Hancock
Chef, Author, and drummer, Craig Whitson, photographed at Pizzaria Gusto, 10-5-15.
Flour + yeast + salt + water + heat + time = pizza crust.
There are variations here and there, but for the most part, pizza crusts are made of the same ingredients around the world, said Craig Whitson, co-author of the new book Passion for Pizza: A Journey Through Thick and Thin to Find the Pizza Elite.
Even in Naples, Italy, where a group tightly controls aspects of the dough to be considered true Napoli-style pizza, every pizza shop's dough that starts the same ends up tasting different.
Whitson was born and raised in Oklahoma City, but he has spent most of his life in Norway. Norway is where he met his wife. Norway is where he had kids. Norway is where he went from a drummer to a baker to a restaurateur and, eventually, became Grillkongen, "king of the grill."
After bringing Mexican, Italian, American and Creole foods to Norway, he's now enmeshed in the world of low-and-slow barbecue in his adopted homeland. But his hobby and his passion is pizza.
"If you like pizza, it's probably one of your favorite foods," he said. "There's something about it that's fascinating. It's amazing how much variety you can create with just these ingredients."
Whitson and his friends like pizza a lot.
"We're more interested in pizza than is considered normal," he said.
So they went on a trip around the world, stopping in at all the pizza capitals — Naples, Rome, New York City, Chicago, Los Angeles — and at all the best shops in between.
What they found were little things that make a big difference. They spoke with people who make the pizzas, deliver them, farm the tomatoes that make the sauce and cure the meats that become toppings.
"It's incredible to see all the work that goes on behind the scenes to create a pizza," he said.
Three and a half years of Whitson's experiences, along with those of Tore Gjesteland, Mats Widen and Kenneth Hansen, are chronicled in Passion for Pizza along with several recipes from around the globe.
Though Whitson has published plenty of cookbooks in Norway, he said there's something special about having a book come out in the U.S.
He will be signing and discussing his book at 6:30 p.m. Thursday at Full Circle Bookstore, 1900 Northwest Expressway. Much like the pies he's passionate about, Whitson said the signing is also bringing him full circle.
"My mother loved to read," he said. "She used to take me to Full Circle all the time as a kid."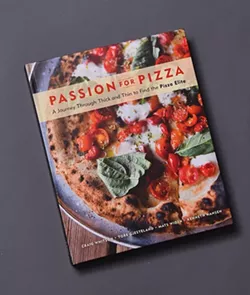 Mark Hancock
Passion for Pizza co authored by Craig Whitson, 10-13-15.
Print headline: Pizza world, An Oklahoma City native living in Norway returns to Full Circle Bookstore with a new cookbook.