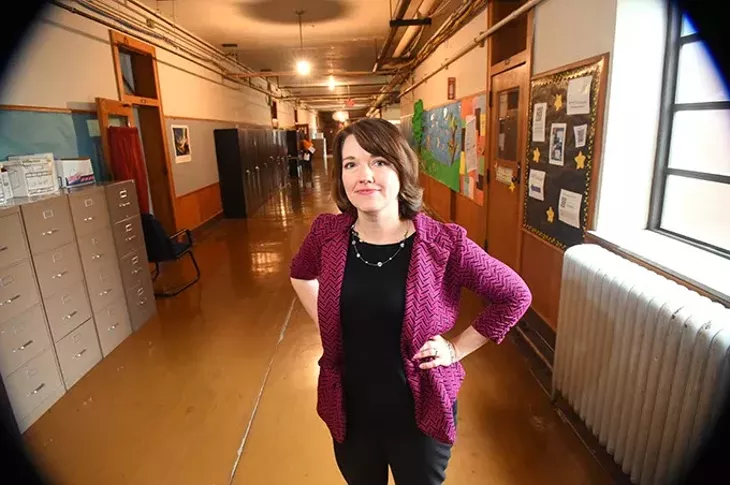 Rhonda Taylor, the OKC Public School system's director of fine arts, in the 4th floor, dimly lit hallway outside her office at the OKCPS Aministration Building. mh
Following years of inconsistent arts and music funding through the A+ program, Oklahoma City Public Schools is looking for ways to redistribute funds in a more equitable and efficient manner.
The changes coming over the next year could result in decreased funding for school art staffing and the removal of some A+ programs, district officials said.
"When it came to what schools received through A+, it was all over the place," Aurora Lora, associate superintendent of student achievement and accountability, said about the arts integration program currently in 15 Oklahoma City schools. "But any reductions [in funding] will only come if that school was already getting more than its equitable share."
Funding changes
Rumors of the changes had some parents worried arts programs would be cut, but Lora said the reductions would be minimal and some schools would actually receive an increase.
A+ schools receive additional funding for arts and music staffing at certain schools and incorporate other lessons into the arts program. The funding changes come at a time when the district will increase its number of A+ schools by two next year while not having any additional money from the program.
"Every year, our student base allocation [of arts funding] changes as student enrollment numbers change," said Rhonda Taylor, the visual and performing arts director for the district. "How much time [an arts or music teacher] spends at a school is based on student enrollment numbers, and that changes every year."
Lora said some A+ schools fully embrace the program and its standards while others are not as committed.
"It might have been that a school signed up for [A+] several years ago, but after a new principal and new staff, there isn't as much buy-in," Lora said. "I think we have kind of gotten ourselves into a situation where more and more schools signed up, some are doing a great job with it, some are enjoying the extra [funding] but are not following the true intent of the program. Nobody wants to give up any extra funding, but we don't have to come to some type of agreed-upon program."
Lora and Taylor said the district will look at which schools might not be as interested in the program and consider a removal of their A+ status.
Biggest needs
Like a lot of departments in the district, new leadership has said over the past year that staffing levels are far below what would be found in other school districts of similar size.
"Most successful districts with arts our size would have more than one arts administrator," said Taylor, who oversees 266 visual and performing arts programs. "If I could change one thing, it would be to have an additional arts director."
Lora agreed that another administration position would be valuable but had no timeline for an addition. She said that funding for traditional arts and the A+ program is not likely to change anytime soon.
"If we are able to start working with our arts community to help us support our programs, I think that would help," Lora said. "Right now, we are scraping up every penny we can."
Oklahoma City faces its share of fine arts funding challenges, but Taylor said there are an impressive amount of programs offered that are unique to the district, such as a variety of dance programs at several schools and classical guitar programs at three high schools.
Despite those programs, Taylor said one of the biggest needs is for more instruments.
"You can have a great choir without a lot of funding, but our biggest need is the instruments," Taylor said. "We have had programs where there is only a third of the instruments for the students that signed up for band. If we just had instruments, that would help so much."
More support
While the district might look for outside help with arts funding, it also plans to look for help among parents and other community leaders through the creation of an arts advisory committee.
"The arts advisory committee would look at what should we be giving to all A+ schools and how much, as a district, can we afford in terms of staffing and see how many schools we can supply," Taylor said.
Ryan Marshall, a parent of students at Cleveland Elementary School, one of the district's A+ schools, said he was asked to join the committee and views it as a positive step toward keeping parents and the community in the loop.
"I think it could provide an open communication channel from the parents and community to the district, really be something that goes both ways," Marshall said.
Marshall said it's common for talk of changes in arts funding to be perceived as planned cuts, especially when there is no direct line of communication between the district and parents. He is optimistic that the proposed advisory committee would improve communication and demonstrate a growing commitment by the district toward arts integration in all schools.
"Right now, A+ is just our means to get more arts in school," Marshall said. "But my opinion is every school needs this. There is a huge value for exposing kids to the arts; it gives them the ability to reimagine what their world is."
Print headline: Creative funding, The OKC public school district reevaluates its arts funding program and forms an advisory committee.