Mark Hancock
From left, Katherine Holzheuser, teacher at Northwest Classen High School, and Andrea Melendez, student, during the Gazette interview, 12-9-15.
As an educator, it's common to experience a student learning for the first the time.
Northwest Classen High School teacher Katherine Holzheuser observes her students grasping new concepts and ideas and expanding their vocabulary many times throughout the school day. To illustrate her point, the veteran teacher shared a recent lesson in which she wrote a series of words in English and Spanish on her classroom board.
Two male students pointed at the word "octopus" and showed no understanding. Holzheuser called the students to her desktop computer, pulled up an Internet browser and typed "octopus."
"They both had reactions of horror," recalled Holzheuser, who opened her eyes wide to demonstrate the students' reactions. "They asked if that was a real animal."
The two teenage students are Guatemalan and enrolled in Oklahoma City Public Schools after arriving to the United States. They might be short on their English skills, as they speak indigenous languages, but they are giving English and American education their best shot as students enrolled in the district's Secondary English Language Learners Newcomer Program.
"We have some students who had regular education before they came here, and we have other students that had little to no education," said Holzheuser, who works with students in the program. "Those that have little to no education have so many gaps in their knowledge."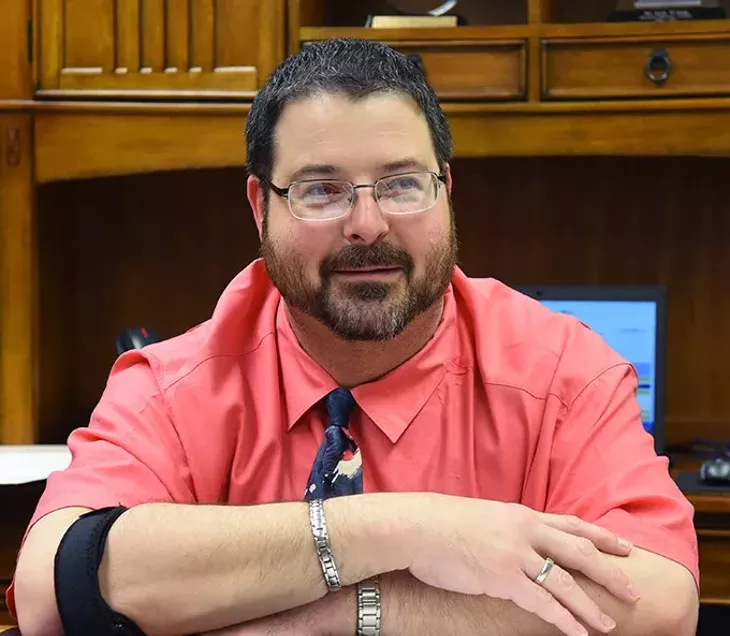 Mark Hancock
Northwest Classen High School Principal, Kirk Wilson, 12-9-15, at the OKCP school.
Meeting needs
Closing the achievement gap and helping immigrant students graduate high school is the goal of the Newcomer Program, which began more than three decades ago in the state's largest school district. Newly arrived immigrants, including undocumented migrants, refugees and those with visas, enroll at OKCPS throughout the year. Immigrant students who reside north of Interstate 40 are assigned to Northwest Classen. U.S. Grant and Capitol Hill high schools operate similar programs for southside residents.
At Northwest Classen, students are from nations such as Myanmar (Burma), Vietnam, China, El Salvador, Honduras and Mexico.
A high school's role is to educate students for mastering academic content. Northwest Classen Principal Kirk Wilson said that applies to immigrant students too, but teachers must also work with those students to learn English and adapt to American culture. That's no easy task, as some students lack formal schooling and others show signs of low literacy skills in their own native language.
"We have kids that can't add two plus two," Wilson said. "They don't know the strategy to count on their fingers. We have kids that are on that basic of a level. We have others who have been in the program for several years and are now taking regular core classes for credit."
English language learning departments are a common sight in school districts across the country. Often, immigrant students are identified as English language learners (ELL) and receive specialized services to ensure a quality education that allows them to progress academically while learning English.
Of the 46,500 students enrolled in OKCPS, 12,658 are ELL students, according to district figures.
Specialized programs, like OKCPS' Newcomer program, target immigrant students with additional support and services to successfully integrate them into the traditional high school setting. In the first year, Newcomer students earn only three to four credits toward graduation, fewer than the typical freshman. The first-year class load includes inclusive Newcomer classes — in listening, speaking, reading and writing — that move at a fast pace to aid the students in learning English.
As Newcomers progress, they enroll in core science, math and language arts classes. The students stick together as a cohort with an ELL teacher assigned to offer assistance in classes such as geography, biology and English.
Like their peers, Newcomers must complete course requirements and pass End of Instruction (EOI) tests in order to walk across the stage at graduation. Unlike their peers, they are learning a new language, which serves as their foundation for academic achievement. For some Newcomers, it takes more time than the traditional four years of high school.
"You can't learn how to add, subtract and divide and complete credits for a high school diploma in four years," explained Wilson. "That doesn't work. They are really on a five- to six-year plan."
Northwest Classen's graduation rate drops when ELL students take an additional year or two to earn their diplomas. The drop impacts the school's grade issued through the A-F Report Cards from the Oklahoma State Department of Education. Additionally, the school loses students who choose to return to their home countries or are deported. In both situations, the students are counted as dropouts.
That's the furthest thing from the minds of Wilson and the school's ELL teachers.
"We don't do this for the graduation report and we don't do it for a letter grade," Wilson said. "It's for the kids and to get them where they need to be. We want them to be successful when they leave here."
Moxie required
In Holzheuser's classroom, learning mixes with students expressing their frustrations. Language translation books are stacked on three-tier bookshelves. Above one bookshelf, large white paper displayed the question, "What did you eat for dinner, and how much did it cost?"
"It is a real challenge," Holzheuser said. "Some of the kids will rise to the challenge and say, 'I will get this no matter what it takes.' If they have that kind of moxie, they will be successful. Others give up, and that's sad."
A few students who abandoned the program shared with Holzheuser that learning English was too hard and they thought they didn't need it.
Newcomer students are not stupid or uneducable. Instead, they're street smart and many have lived through situations unimaginable to their peers or teachers. Holzheuser recalled conversations with students about crossing the United States' border with coyotes and the price the family paid to come to America. Other students' families resettled in the United States after a parent's life was threatened. Some are political refugees from Southeast Asia.
Andrea Melendez is one of the 75 students in Northwest Classen's Newcomer Program. She attended public school in her native Honduras until her family moved to the United States two years ago. Dressed in a purple Northwest Classen T-shirt, Melendez shared in English that her language skills are improving thanks to the Newcomer program.
"I make new friends, and I learn about other countries," Melendez said with a bright smile.
She continued speaking in English, talking about her Burmese friend.
"He says he wants to learn Spanish and English because so many of the students speak Spanish," she said.
American movies didn't prepare Melendez for Northwest Classen. She was surprised to learn about a school principal and school resource officer; both positions didn't exist in her Honduran school, which didn't start until noon, with classes dismissed at 5 p.m. She thought it would be easier to attend school in America, but she finds most people don't understand what she says.
That's why Melendez is focused on improving her English. Her goal is to graduate and pursue higher education.
"It is more difficult to complete school in Honduras," she said through a translator. "Students are usually 19 or 20 [when they finish secondary school]. People don't study, and they don't go to school. … I want to graduate and become a teacher."
She switched to English before adding, "Like Ms. H (Holzheuser)," and hugging her teacher.
The program was designed for students like Melendez, offering her a unique opportunity to overcome education barriers faced by immigrants.
The two educators admit it's tough to see a student deported or struggling to adapt to American school. It takes time and patience for a Newcomer student to succeed in the classroom, especially when that student is starting from scratch. Often, that long road begins with learning about something simple, like an octopus.
"You see those kids coming in, not knowing English and not knowing anything about high school," Wilson said. "Then, you see those kids as seniors and ready to get their high school diploma. That is really cool."
Print Headline: Welcoming Newcomers, Educating immigrant students can be challenging, but the district doesn't shy away from doing it.