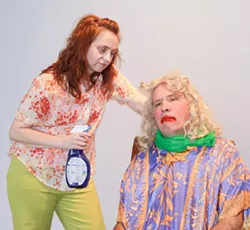 In Oklahoma City Theatre Company's Hir, a dishonorably discharged war veteran returns home to find himself in another type of combat zone.
After serving in the mortuary affairs department, Isaac (portrayed by Dakota Lee Bryant) returns home to a world he does not recognize. The war veteran also has post-traumatic stress disorder (PTSD). He learns his once-battered mother Paige (J. Christine Lanning) is now head of the household. Her abusive husband Arnold (Grant Brittan) is virtually incapacitated. Additionally, Isaac's former tomboy sister Max (Matthew Zodrow) is transitioning to a male.
The play's title refers to Max's pronoun of choice, but director Kory Kight-Pagala said the play is not just about gender identity. It touches on everything from family dynamics to changing times and what happens in the aftermath of transition and upheaval.
"It gives you something to talk and think about," Kight-Pagala said.
Performances run 8 p.m. Thursday through Saturday and May 4-5 at CitySpace Theatre at Civic Center Music Hall, 201 N. Walker Ave.
The director has been a fan of playwright Taylor Mac for several years, but Mac's earlier works were too long or too complicated for OKCTC to produce. Hir is Mac's first mainstream work.
It also fit in nicely with the company's new direction of producing plays that depict underrepresented or marginalized groups.
The play opened in New York and was a critical hit. Kight-Pagala took it to the OKCTC board and said it was probably the best play he had read in 20 years.
"It's a tragic comedy," Kight-Pagala said. "It's very sad in one moment, but it's still really funny."
In his introduction to the play, Mac calls the work "absurd realism," which he describes as a "realistic but heightened point of view," using the example of wearing sunglasses when the blinds are broken instead of simply repairing or replacing the blinds.
In Hir, the characters follow sometimes questionable and even sinister paths to dealing with their demons and their suffering. Now that her husband is incapacitated, Paige finds her revenge for his years of abuse by dressing him up in women's clothing, slathering him with makeup and even feeding him a milkshake laced with estrogen.
Their treatment of each other is one of the most shocking parts of the play, Kight-Pagala said.
The production also touches on themes of transition and what happens to people and groups when their roles change and their world is supplanted by a new way of being.
"What is the responsibility of the new civilization toward the one that's either being left behind or abandoned? That's the biggest theme. What happens to the past civilization when a new one arrives? It just happens, and what do you with the past?" she asked. "When you think about their hurt or their feelings, how do you deal with that as well?"
Directing comedy is always challenging, Kight-Pagala said, because what's funny to one person isn't necessarily funny to someone else. Attempting a dark comedy adds another layer of complexity.
"It's making sure that jokes are delivered in a way that they're meant to be and they don't come off as being insensitive instead of just a joke, and also not ruining the joke by putting your own commentary on it," Kight-Pagala said.
Visit okctc.org.
Print headline: Layered laughs, Oklahoma City Theatre Company's Hir features complex issues in its captivating dark comedy.