Hector Lopez points to the back of his T-shirt, which features one of his illustrations and his logo.
When Hector Lopez was a boy, he got lost at a theme park. Friends and family searched the places a normal kid might be, but he wasn't standing in line for a roller coaster or binging on cotton candy.
"I was watching the caricature artist," Lopez said. "I'd never seen anybody do that, and I was amazed."
Two decades later, Lopez is the guy amazing people. As the official caricature artist for the Oklahoma City Thunder, Lopez and his quick-draw portraits have become a sight every bit as synonymous with home games in the 'Peake as Rumble the Bison and $8 beers.
He works 41 home games a year, plus however many playoff games the Thunder happens to have in it. He works VIP events, farmers markets, school functions and arts festivals.
His portraits grace the walls of more local homes than those of maybe any other local artist, and it's not just because he's prolific. It's because he's good.
"Practice," Lopez said. "I was a bad caricature artist when I first started, but I knew I could draw really good dragons and airplanes. It's just something that I made my mind up to work on, and it came over time."
Family encouragement
Originally from Tabasco, Mexico, Lopez credits his parents for fostering his burgeoning talent as a kid and giving him the confidence to parlay it into an adult occupation.
"Me being an artist now all has to do with my parents complimenting my doodles when I was little," said Lopez, 32. "I caught that early. That's the reason I continued drawing, and so I drew all the time. I never had anybody tell me I sucked at it, so I just never stopped."
However, he didn't envision being a caricature artist early on. In addition to drawing, Lopez experimented with oils, acrylics, digital photography and skateboard design. Shortly after his family moved to Monrovia, California, Lopez took a job as a concept artist designing inflatables at a party supply store in Los Angeles, and one afternoon, his new path revealed itself.
"We were all loaded up, ready to go to a party, and we saw that I really didn't have anything to do while they were gone," Lopez said. "So the manager told me to just take my stuff and draw caricatures at the party."
It took. Lopez continued honing his new craft until he eventually landed a full-time job drawing portraits at Universal Studios. As happy as he was to finally be a working artist, he said the money just wouldn't stretch far enough in LA and he began looking for other options.
"The mother of my son lived here, so I moved to OKC in 2008. I was working as a designer for El Nacional (OKC's Spanish-language newspaper), and that was OK, but I don't want to have a 9-to-5 where an art director tells me what to design," Lopez said. "And then, all of a sudden, Seattle gave up their Sonics. There must be somebody out there looking out for me. It's a very lucky position after struggling financially for so long."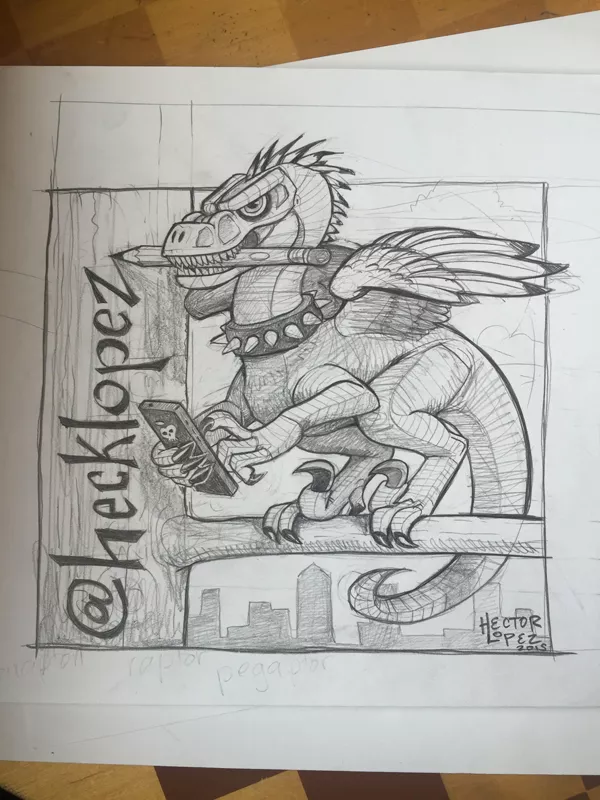 A recent sketch by local caricature artist Hector Lopez
For Dad
Lopez said he earns around $400 per game, and even though it's seasonal work, it's enough to get him through the rest of the year while he takes freelance design jobs. It's a living, he said, but it's not the life he wants.
"I'm in a very lucky position, but this year is all about me growing," Lopez said. "For starters, everybody knows I'm a caricature artist, but deep down, I know I've got more art in me. Caricatures are like the fast food of art. You pay some money, you sit down for a few minutes and you get something to take with you. And that's fine, and it pays the bills, but I feel like I owe Oklahoma City some fancy paintings soon."
He also said he's becoming increasingly frustrated with the constant financial pinch all too familiar to most working artists, and his close proximity to the bright lights and bling of an NBA franchise only exacerbates his feelings.
"I'd like to at least be middle-class again," Lopez said. "But in all seriousness, all day, I think about how to grow my business. I guess I have been running one; it's just been 'ghetto.' You know, I work at a place where you're always in front of the example of young, famous millionaires — the cars, the houses, all of that. Just being around it makes me want it. I want a rapper lifestyle, and I'm not ashamed to admit it."
Even if he never achieves rich-and-famous status, Lopez said he'd settle for having a few more creature comforts.
"People with normal jobs, even if they hate them, they can still afford to have their own car and go to Hawaii on vacation," Lopez said. "I'm borrowing my brother's car right now, and I can't afford to go anywhere. But I can't quit because of my pride, and if I don't do this 'business' thing right now, I won't ever do it."
Money troubles and aspirations aside, Lopez said his ultimate goal is to keep growing and working as an artist. When asked what inspires him to keep going, he fought back tears. He spoke about his father, who died when Lopez was 14 years old.
"I want my dad to see me, if he's watching," he said. "I want him to see that I can pull this off, that I can make it this way."
Print Headline: Art, character, Local illustrator Hector Lopez takes pride in his gig as a caricature artist at Oklahoma City Thunder home games, but his success only makes him aspire for more.