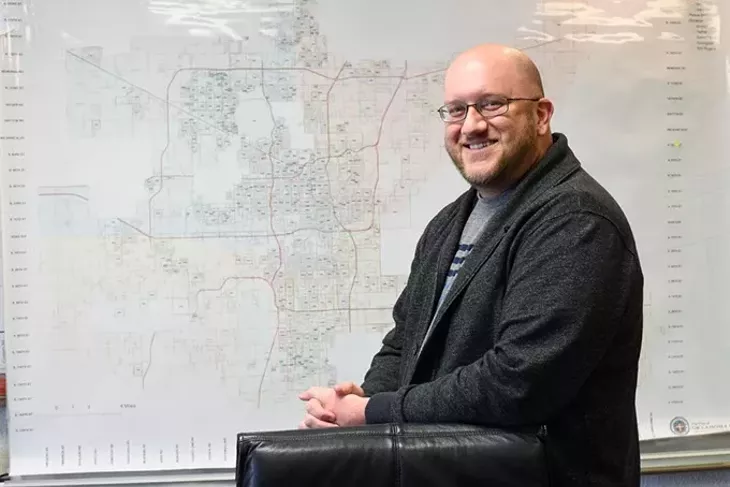 Garett Fisbeck
Jayme Shelton of the Neighborhood Alliance poses for a photo, Friday, April 1, 2016.
When Shannon Entz strolled the sidewalks in urban neighborhoods North Highland Park, Classen-Ten-Penn and Culbertson East Highland, she joined others enjoying the block.
"We've built a lot of sidewalks and planted a lot of trees," said Entz, Strong Neighborhoods Initiative (SNI) planner for the City of Oklahoma City. "When I walk, I notice how healthy a tree is and remember who planted it. I see more seniors walking around or siting on their porches. I see moms with strollers. I see a lot of new houses and houses painted by volunteers. It is tremendous."
Entz is not alone in admiring the three neighborhoods. Neighbors and visitors alike observed the renewal thanks to committed residents, Neighborhood Alliance of Central Oklahoma (NACOK) support and the city's strategic planning and funding.
Through SNI, residents came together to shape the future vision for their area, which included rehabbing sidewalks, adding streetlights, updating parks and removing debris. The neighborhood redevelopment shot a much-needed boost into unique areas plagued by blight and neglect over the past few decades.
One common problem among the three neighborhoods was vacant homes. Entz said more than 400 abandoned buildings were located in those neighborhoods when SNI launched in 2013.
"It doesn't matter how many new houses we build; if it is right next to an abandoned house, boarded-up house or a vacant lot, that leaves some risk for the new buyer and anyone who wants to invest in that neighborhood," Entz said. "It has been a hindrance."
For SNI and many OKC neighborhoods, the abandoned building and property maintenance hurdle became easier to clear with the arrival of new city code enforcement programs.
City's approach
In 2013, Oklahoma City took on its blight challenge by first discussing the creation of an abandoned building registry. At the time, there were more than 12,000 vacant and abandoned structures located throughout the city's eight wards.
The registry discussion halted after opposition by local realtors and state lawmakers took up the issue at the Capitol.
In fall of 2014, the Oklahoma City Council passed an ordinance to collect fines from abandoned building owners for police and fire expenses. City officials believed the new law would be a deterrent for building owners who failed to maintain properties. A police or fire call can be expensive for owners, as the city can collect up to $63 per hour per officer and $67 per hour per firefighter for emergency public service calls. Annually, the city spends about $6.5 million on calls to abandoned buildings.
About four months later, the council declared 21 buildings abandoned, marking the start of the city's new program. Now, during city council meetings, the nine-member council reviews inspection reports on dilapidated, unsecured and abandoned properties.
As OKC's chief building inspector, David Oen witnesses his fair share of structures visibly marked by blight: roofs caved in, walls scarred by fire, broken windows and foundation issues.
"It's a quality-of-life issue," Oen said as he described houses the city's 30 inspectors come across. "[The program] puts the houses back into use and it keeps people out from doing bad things in those houses."
A city inspector reviews anywhere from 20 to 50 properties a day. Residents call the city's Action Center to report property concerns. Last year, 8,728 property maintenance reports were recorded at the center.
Some residents might think a disheveled property is abandoned, but inspectors find people who own vacant properties and pay their property taxes, but do not perform regular upkeep. That's where the exterior property maintenance program comes in. Over the past year, the city averaged 486 notices issued per month, compared with 120 per month before implementing the program. Property owners are responding, as the city averaged 273 owner violation abatements per month, compared with 71 per month before the program.
"You drive around the lower-income neighborhoods, you will see a lot of new paint on these properties," Oen said. "I've been here 27 years, and I've never seen this much paint splattered."
Oen credited the city's success to the residents and neighborhood associations that contact the Action Center.
The goal of the abandoned buildings and exterior property maintenance programs is to bring property owners into compliance. If an owner needs more time to work on the violation, Oen recommended calling the inspector to share their timeline.
"We are not the bad guys," Oen said. "We just need you to take care of the property. We don't want to cite you. We'd rather see the money go into fixing the problem. ... The ultimate goal is the vibrancy of the neighborhood."
Neighborhood partnerships
At Neighborhood Alliance of Central Oklahoma, Jayme Shelton hears concerns from residents about boarded-up homes. Worries vary from property value impact to attracting unwanted pests.
During those phone calls and emails, Shelton recommended working with city officials on the concern. The city's Action Center is a resource for sharing concerns or asking about code violations. Shelton said residents should remember it takes time for an inspector to visit a property. If the city issues a citation, the property owner receives a deadline to make the correction or face fines.
"You might not see action happening immediately, but there could be a plan," Shelton, who serves as programs and communications director, said.
In the event a home is not abandoned or vacant but is suffering from tall weeds, chipped siding, vehicles parked in the yard or broken windows, Shelton said neighbors can exercise a neighborly approach before calling the Action Center.
"The neighborhood can approach the individual in a way that is caring and open-minded," Shelton said. "If you have a neighbor that is 80 years old, they likely can't climb a ladder to paint. As a neighborhood, help find some volunteers. There are programs that help winterize or perform home improvement projects. There are nonprofits that help paint the facade or help with exterior maintenance."
Part of NACOK's work is training neighborhood association leaders to work with the city on improving their neighborhoods. A healthy neighborhood has strong relationships with city officials from parks and police to code enforcement and elected officials, Shelton said.
Equally essential is engaged neighbors who desire to transform their communities. Sometimes, Shelton said, a single action like one neighbor flying an American flag can make a big difference along a street. A few weeks later, more neighbors are flying flags. The same is true for neighbors planting flowers.
"It takes time, but those things start to happen," Shelton said.
Walking the streets of North Highland Park, Classen-Ten-Penn and Culbertson East Highland neighborhoods, Entz sees the domino effect and the profound impact on the character and composition of the three neighborhoods.
"I don't think for a second SNI should take credit for this," Entz said. "[These are] neighborhoods that have committed to making their neighborhoods better. If they didn't do that, it wouldn't matter what we did. It wouldn't be successful."
Print headline: Cultivating renewal, Blight removal efforts accelerate as the city and local neighborhoods utilize new programs.