It's easy to rattle off the most prominent museums in the Oklahoma City area, but once you get past Oklahoma City Museum of Art, Oklahoma Contemporary Arts Center, the National Cowboy & Western Heritage Museum, Sam Noble Museum and 21c Museum Hotel, the rest don't readily trip off the tongue. But research and word of mouth can reap great rewards when it comes to finding unique museum experiences.
Museumgoers could fill an entire summer's worth of weekends visiting collections in central Oklahoma. We've assembled a starter tour of metro museums that provide unique, expertly curated deep dives into specific interests.
American Banjo Museum
11 a.m.-6 p.m. Tuesday-Saturday
noon-5 p.m. Sunday
9 E. Sheridan Ave.
405-604-2793
Free-$8
In the 1920s, the banjo was omnipresent in popular music, achieving a level of ubiquity only matched by the guitar's current dominance. While it was largely pushed out of the spotlight by its six-stringed cousin, the banjo is at the heart of bluegrass music and is currently enjoying a renaissance thanks, in part, to American jam bands, folk revivalists and the eternal genius of Steve Martin.
Banjo lovers can be almost religious about their instruments, and for such enthusiasts, American Banjo Museum in Bricktown is a sacred reliquary containing over 400 instruments ranging from early banjo prototypes to a recently acquired Gibson TB-18 Mastertone valued at over $100,000. The museum also hosts regular jam sessions for bluegrass, jazz and old-time banjo players and displays a trove of videos, printed music and other memorabilia from the banjo's 400-year history.
But American Banjo Museum is not just for the ardent lovers of the instrument — as the ornately designed jazz-age banjos prove, it contains work that anyone who appreciates timeless art will enjoy.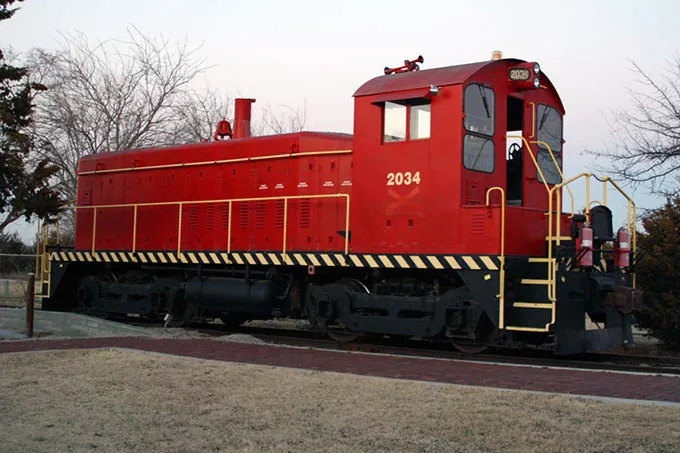 KONICA MINOLTA DIGITAL CAMERA
Oklahoma Railway Museum
9 a.m.-5 p.m. Thursday-Saturday
3400 NE Grand Ave.
405-424-8222
Free
In the early stages of railway travel, scientists worried that human bodies might not sustain the pressures of traveling over 25 miles per hour. Once people realized their bones would not be crushed at such high velocities, train travel became a major transportation and economic force that helped power the Industrial Revolution and shape the Western growth of the United States. Many European-American settlers in Oklahoma came to the state via railroad, and Oklahoma Railway Museum tells the story of the majestic machines that brought them here.
The museum, which is currently undergoing an ambitious expansion project, includes locomotives like an 1879 Santa Fe Railroad steam engine that was in service for nearly 80 years and Pullman cars dating back over a century.
In April, the museum acquired a historic 100-foot Frisco turntable used to rotate cars 180 degrees in Sapulpa, substantially adding to the facility's extensive array of equipment and memorabilia. The museum also offers train rides on the first and third Saturdays of each month April through August, and for two weeks in September and October, children can enjoy A Day Out with Thomas featuring PBS' Thomas the Tank Engine.
A headdress on display at Red Earth Museum in Downtown OKC. mh
Red Earth Art Center
10 a.m.-5 p.m. Monday-Friday
6 Santa Fe Plaza
405-427-5228
Free
In 1992, two important organizations celebrating the culture and artistry of Native American tribes — Center of the American Indian and Red Earth Festival — merged to create Red Earth, Inc., an organization that promotes Native arts through education, fine art markets, its annual festival and its comprehensive and inclusive museum.
Recent exhibits include Spirits Rising, a collection of thrown pottery by contemporary Choctaw artist Carolyn Bernard Young, and a collection of photography by Otoe-Missouria photographer Lester Harragarra chronicling the Kiowa Black Leggings Warrior Society.
The museum's permanent collection includes over 1,000 paintings, beadwork, textiles, pottery and basketry works ranging from the ancient to the modern.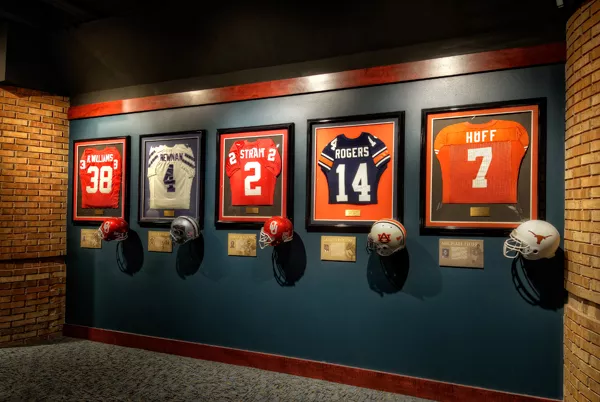 Jim Thorpe Museum & Oklahoma Sports Hall of Fame
10 a.m.-5 p.m. Tuesday-Saturday
4040 N. Lincoln Blvd.
405-427-1400
Free
Every year, the Oklahoma Sports Hall of Fame inducts a new class of legendary athletes who distinguished themselves on the field of college or professional sports. On Aug. 14, University of Oklahoma Heisman Trophy winner Jason White and Oklahoma State University basketball legend Bryant "Big Country" Reeves will be inducted into the hall. They join over 160 members memorialized in the hall of fame, including Jim Thorpe, who grew up in the Sac and Fox Nation in Oklahoma and went on to win two Olympic gold medals in 1912 and play professional football, baseball and basketball. As such, Thorpe is the gold standard by which all Oklahoma athletes are judged, and at the Oklahoma Sports Hall of Fame, their triumphs and glories are displayed for posterity.
The Ninety-Nines Museum of Women Pilots
10 a.m.-4 p.m. Monday-Saturday
4300 Amelia Earhart Drive
405-685-9990
Free-$5
Nearly 90 years ago, 99 women — including aviation legend Amelia Earhart, the first elected president of The Ninety-Nines, Inc. — took part in an all-female transcontinental air race.
The Ninety-Nines Museum of Women Pilots, located near Will Rogers World Airport, celebrates the accomplishments of not just Earhart and the original Ninety-Nines, but the great journeys of female pilots throughout history, from Harriet Quimby, the first woman to fly across the English Channel, to U.S. Air Force pilot and current Department of Defense official Kim Campbell, who sustained damage to her A-10 in a 2003 mission over Baghdad. Part of her plane is on display at the museum alongside documents and memorabilia from 106 years of female aviation history.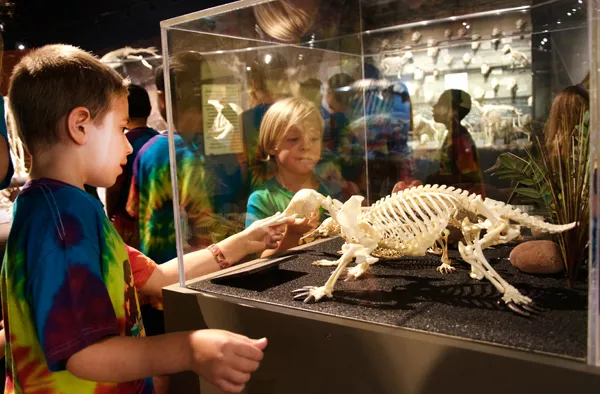 Skeletons Museum of Osteology Oklahoma City
8 a.m.-5 p.m. Monday-Friday
11 a.m.-5 p.m. Saturday
1 p.m.-5 p.m. Sunday
10301 S. Sunnylane Road
405-814-0006
Free-$8
No bones about it; Skeletons Museum of Osteology is one of the great recent success stories of Oklahoma City's museum community. The largest private collection of osteological specimens in the world, the Museum of Osteology grew out of Skulls Unlimited, an Oklahoma City-based skeletal cleaning and restoration business founded by lifelong collector Jay Villemarette. Over time, Villemarette collected over 300 skeletons from around the world, ranging in size from field mice to humpback whales.
The museum covers a wide range of subjects, with exhibits geared toward deeper understanding of how animals move, how their skeletons are similar and how their bones adapt under external conditions. Following its 2010 opening, the Museum of Osteology quickly became a hit with young visitors for its interactive, kid-friendly exhibits that make them think differently about what exists under skin.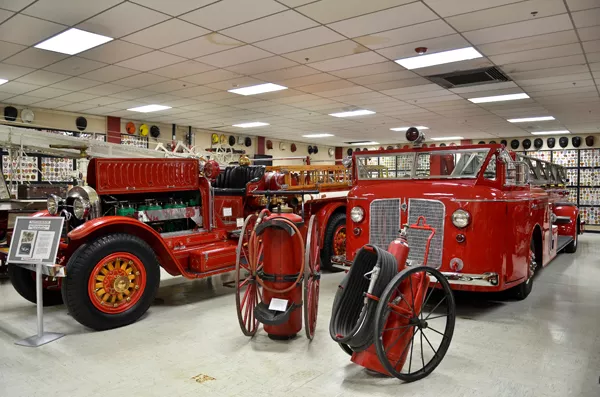 Oklahoma Firefighters Museum
9 a.m.-4:30 Monday-Saturday
1-4:30 p.m. Sunday
2716 NE 50th St.
405-424-3440
Free-$6
Many kids go through a phase where firefighter is their top career choice, and fortunately for the rest of society, some of them display good follow-through on their goals. But few ever lose their fascination with firefighting equipment, and Oklahoma Firefighters Museum is filled with antique and modern examples.
Some of the highlights include the Fort Cobb Fire Truck, a 1928 Chevrolet Chemical Truck that served Fort Cobb until 1941. Four decades later, the truck was recovered from the back of the Fort Cobb Fire Station and restored by the Anadarko Fire Department. In addition, visitors can see a 1920 Stutz, a replica of a classic mid-20th century fire station and the Oklahoma Rescue Memorial, which pays tribute to the women and men who responded to the bombing of the Alfred P. Murrah Federal Building on April 19, 1995.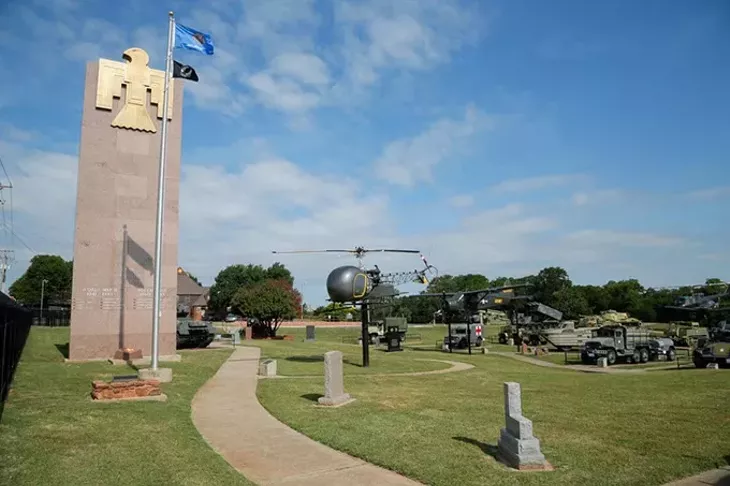 Garett FIsbeck
45th Infantry Museum, Friday, June 9, 2017.
45th Infantry Division Museum
9 a.m.-4:15 p.m. Tuesday-Friday
10 a.m.-4:15 p.m. Saturday
1-4:15 p.m. Sunday
2145 NE 36th St.
405-424-5313
Free
In World War II and the Korean War, the 45th Infantry Division of the National Guard was called up to fight, and they did so with uncommon bravery, taking part in the liberation of Dachau Concentration Camp and fighting alongside the 7th Army in Sicily. The division's valor prompted General George Patton to tell the soldiers that the Thunderbirds were "one of the best, if not the best division in the history of American arms."
Though the 45th Infantry Division was disbanded 48 years ago, the museum keeps its history alive. The 15-acre Thunderbird Park features over 60 pieces of large military equipment, including tanks, aircraft and large guns, while exhibits inside the museum offer a wide-ranging history of the Thunderbirds, from the liberation of Dachau to the world's largest collection of wartime cartoons by Pulitzer Prize winner Bill Mauldin.
National Softball Hall of Fame and Museum
8:30 a.m.-4:30 p.m. Monday-Friday
Check USA Softball Hall of Fame Complex for weekend hours.
2801 NE 50th St.
teamusa.org/usa-softball/about/national-softball-hall-of-fame.aspx
405-424-5266
Softball's ever-growing popularity at the collegiate level and Oklahoma schools' standing in the game makes the National Softball Hall of Fame and Museum an essential destination. This is especially true during the Women's College World Series held the first week of June at ASA Hall of Fame Stadium/OGE Energy Field. Inside the museum, visitors can see lively displays detailing the accomplishments of the 394 players, coaches, umpires and administrators who left an indelible mark on the game, along with team photos and exhibits celebrating Olympic victories.
Oklahoma Territorial Museum & The Carnegie Library
9 a.m.-5 p.m. Tuesday-Saturday
406 E. Oklahoma Ave., Guthrie
405-282-1889
Free-$7
A trove of information about Oklahoma's settlement history, the Oklahoma Territorial Museum & The Carnegie Library displays document archives and artifacts from the Land Run of 1889, the experience of homesteaders in the pre-statehood era and the formation of territorial and state governments in Guthrie.
In the Oklahoma or Bust gallery, visitors can see historic photos of the 1889 land run and everyday clothing items and implements from the period. In addition, the museum hosts fascinating exhibits on territorial medicine, the African-American settlement of Oklahoma and painful Victorian fashion ideals like corseting.
Adjacent to the museum, the Carnegie Library was built in 1902 and was the site of the inauguration of Oklahoma's first governor, Charles Haskell. One of the over 2,800 libraries endowed by Andrew Carnegie, the library served as Guthrie's public library until 1972 and now serves as part of the museum, offering materials for researchers looking into Oklahoma's early days.
Print headline: On display, Oklahoma City's smaller museums deliver big cultural and learning experiences.