Oklahoma Contemporary Arts Center will bring fall break art activities and education to kids ages 5 to 13.
At the first camp, Oct. 13-17, youth can learn about storybook illustrations, put their super sleuth skills to the test or create landscapes inspired by K. Yoland's photography, said Erin Oldfield, director of education and public programming at the nonprofit.
The following week, Oct. 20-24, youth will have the opportunity to play with palettes of festive fall colors, build their confidence through performance art or experiment with 3D materials like clay, rope and repurposed objects.
"Art is for everyone, and we try to make it accessible to everyone," Oldfield said of Oklahoma Contemporary's (OC) mission.
OC was formed in 1989 as a nonprofit with the goal to provide "the community with quality, accessible and affordable arts programming and education," according to its website. Its offerings include classes, lectures, workshops, exhibits, art camps and film nights.
During this year's fall camps, young artists will not only spend time in the studio and the gallery but also get their wiggles out with friends through fun activities like yoga, freeze dance or theater, Oldfield said.
Classroom instructors and teaching artists will work together during the fall break camps to bring their talents to classes capped at 12 students.
Oklahoma City mixed-media printmaker and installation artist Erin Latham will teach photography, printmaking and bookmaking centered on mysteries and mischief to 8- to 10-year-olds during the first week of camp. During week two, local actor Morgan Brown (The Gunslingers) will guide young performers ages 8 to 10 in creating characters, memorizing lines and auditioning for parts.
For artists ages 5 to 7, Del City Schools teacher Debbie Elledge will lead students in creating art based on popular children's storybooks, and amateur artist Elisha Gallegos will showcase color palettes and art history. The more seasoned artists — ages 11 to 13 — can study the mixed media art of Yoland with instructor Kelly Koenig to produce landscape sculptures, paintings, drawings and carvings. Students also will learn about contemporary form, function and design from Andrea Wijkowski, co-owner of Atlas Pine Creative and OC youth camp coordinator.
It all culminates at the end of each week, when youth present Camp Contemporary Showcases for friends and family.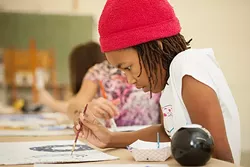 Print headline:
Contemporary Camp: Get your kids' creativity flowing during fall break.