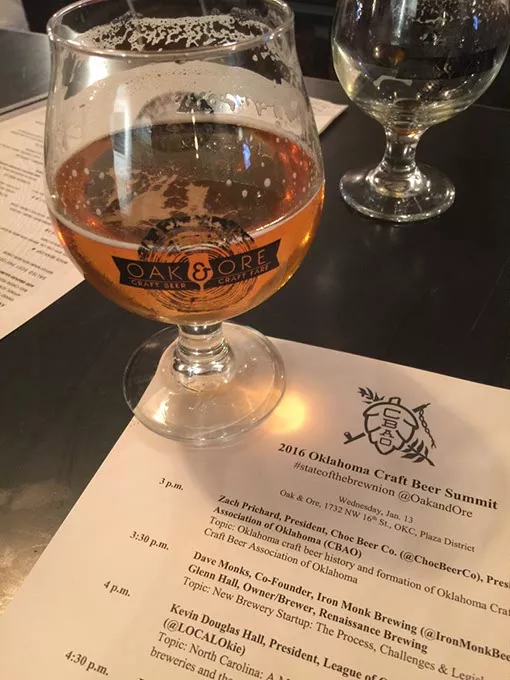 It's the time of year for craft beer lovers to rejoice, as Oklahoma Craft Beer Summit returns for its second year Aug. 5 at Tower Theatre.
The summit features an array of craft beers — from barrel-aged brews to strong ales — by 20 breweries across the state.
"It's a great event for people who want to support local craft beer because all of the funds after expenses go to the Craft Brewers Association of Oklahoma," said Oklahoma Craft Beer Summit founder and owner of Oak & Ore craft beer bar Micah Andrews.
Craft Brewers Association of Oklahoma's goal is to educate and create awareness about the issues the state's craft brewing industry faces. It also promotes an economic environment of choice and access for consumers and brewers.
The event is intended to be informative and features sessions, panels and guest speakers.
Special keynote speaker Damon Scott, technical brewing projects coordinator at the national Brewers Association, will discuss craft brewing trends across the country.
"We didn't really have a voice or a way for the public to really understand what they're working on," Andrews said. "So as [Oklahoma Brewers Association has] gotten more organized, we've tried to be an outlet for them, and the summit really allows for the breweries to come together and have a voice to the public and to legislators."
Oklahoma Craft Beer Summit kicks off 5-9 p.m. Aug. 4 with a pre-conference party at Stonecloud Brewing Co., 1012 NW First Street, where attendees can tour the city's newest brewery, learn more about the revitalization of the Sunshine Laundry building and, of course, try some Stonecloud beer.
Summit registration begins 9 a.m. Aug. 5 at Tower Theatre, 524 NW 23rd St., and a breakfast and stout beer tasting follows at 9:30 a.m. featuring Anthem Brewing Company's Coffee Domestique, Twisted Spike Brewing Co.'s Black Snake and 405 Brewing Co.'s FDR.
It continues with a panel featuring speaker Bernardo Alatorre, production manager at Avery Brewing Co., who will discuss upcoming challenges in the industry and quality assurance.
The State of the Brewnion address begins at 11 a.m. with key members of the Craft Brewers Association of Oklahoma discussing how recent liquor law changes have affected the outlook for the industry.
The day moves onward with more beer tastings, a draft systems demonstration, a hops and malt panel and a lunch sponsored by Hideaway Pizza.
The tasting floor is open 1:30-4 p.m. and features Oklahoma breweries including Skydance Brewing Co., Angry Scotsman Brewing, Frenzy Brewing Co. and OK Cider Co.
"We want to show the public and legislators the support there is for local craft beer," Andrews said.
Tickets are $75. Guests must be at least 21 years old. Visit oklahomacraftbeersummit.com.
---
Oklahoma Craft Beer Summit
9 a.m.-4:30 p.m. Aug. 5
Tower Theatre
425 NW 23rd St.
$75
21+
---
Pre-Conference Party
5-9 p.m. Aug. 4
Stonecloud Brewing Co.
1012 NW First St.
---
Print headline: Mash meeting; Oklahoma Craft Beer Summit returns Aug. 4 to OKC.