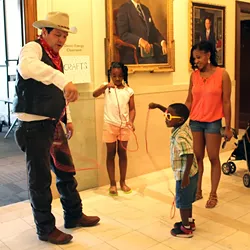 Provided
Children learn roping skills during a themed See You Saturdays event hosted at Oklahoma Hall of Fame.
The Oklahoma Hall of Fame and Gaylord-Pickens Museum rounds up its family-friendly summer activities program this weekend with its Frontier Country-themed See You Saturdays event, which begins 10 a.m. Saturday at Oklahoma Hall of Fame, 1400 Classen Drive.
"It's great because people can come and get a little slice of Oklahoma in one place," said Shelley Rowan, hall of fame and museum director of marketing and communications. "It's like you're taking a trip without having to go far."
Through the summer, See You Saturdays programming and the museum have offered activities and crafts themed around Travel OK's six tourism countries: Green, Red Carpet, Chickasha, Choctaw, Great Plains and Frontier.
From 10 a.m. to 5 p.m. Saturday, the museum features the last tourism country for the summer: Frontier Country, which is located in Central Oklahoma.
The museum will offer Olympics-themed crafts and highlight Oklahoma Hall of Fame members like Jim Thorpe, Wayman Tisdale, Bart Conner and Kevin Durant, who are also past and present Olympians.
Gymnast Shannon Miller, who is featured in the gallery, also will be honored.
"It's visitor guided," Rowan said. "So you come and you decide which things you want to see first and how to time out your Saturday. We've actually seen people staying for longer than we usually see here at the museum."
Yoga instructor Alexis Persico will lead yoga classes for kids at 10:30 and 11:30 a.m. From 11 a.m. to 2 p.m., Momma Oaktree's Kitchen will sell lunch in the museum's parking lot.
Additionally, Riversport Adventures, 800 Riversport Drive, hosts kayaking and rowing demonstrations from 10 a.m. to 3 p.m. In the spirit of the 2016 Olympics, activities include yoga on the front lawn, an inflatable obstacle course will be set up 10 a.m.-3 p.m. and Nike, Inc. Access to Sport will offer a relay course for kids.
"Part of the Oklahoma Hall of Fame is instilling pride in Oklahoma by telling stories of Oklahomans' accomplishments," Rowan said. "We thought it was a good way to continue our mission for the community by raising awareness about what our state has to offer."
See You Saturdays admission is $1 per person and free to children 5 and under, families can enjoy the rest of the museum, including the Oklahoma Hall of Fame gallery of 677 members and the current temporary exhibit O. Gale Poole: Rediscovered Oklahoma Master, on display through Aug. 27.
"The Oklahoma Hall of Fame inducts people who've made great strides in their industry," Rowan said. "We don't necessarily induct famous people in the way our pop culture uses the word."
See You Saturdays has been so popular that Rowan said the museum plans to hold monthly events — organized around industries or themes relating to Oklahoma — in 2017 so guests can learn more about Oklahoma places and hall of fame members.
Learn more oklahomahof.com.
Print headline: Super Saturday, Oklahoma Hall of Fame and Gaylord-Pickens Museum wraps up its family-friendly summer program with its Frontier Country event.